Xiaomi
Xiaomi Redmi Watch: 50 euro watch in Apple Watch design soon also available in Germany?
XIAOMI
Xiaomi is now also selling smartwatches under the Redmi brand. The first Redmi Watch looks very similar to the Apple Watch, but costs less than 50 euros.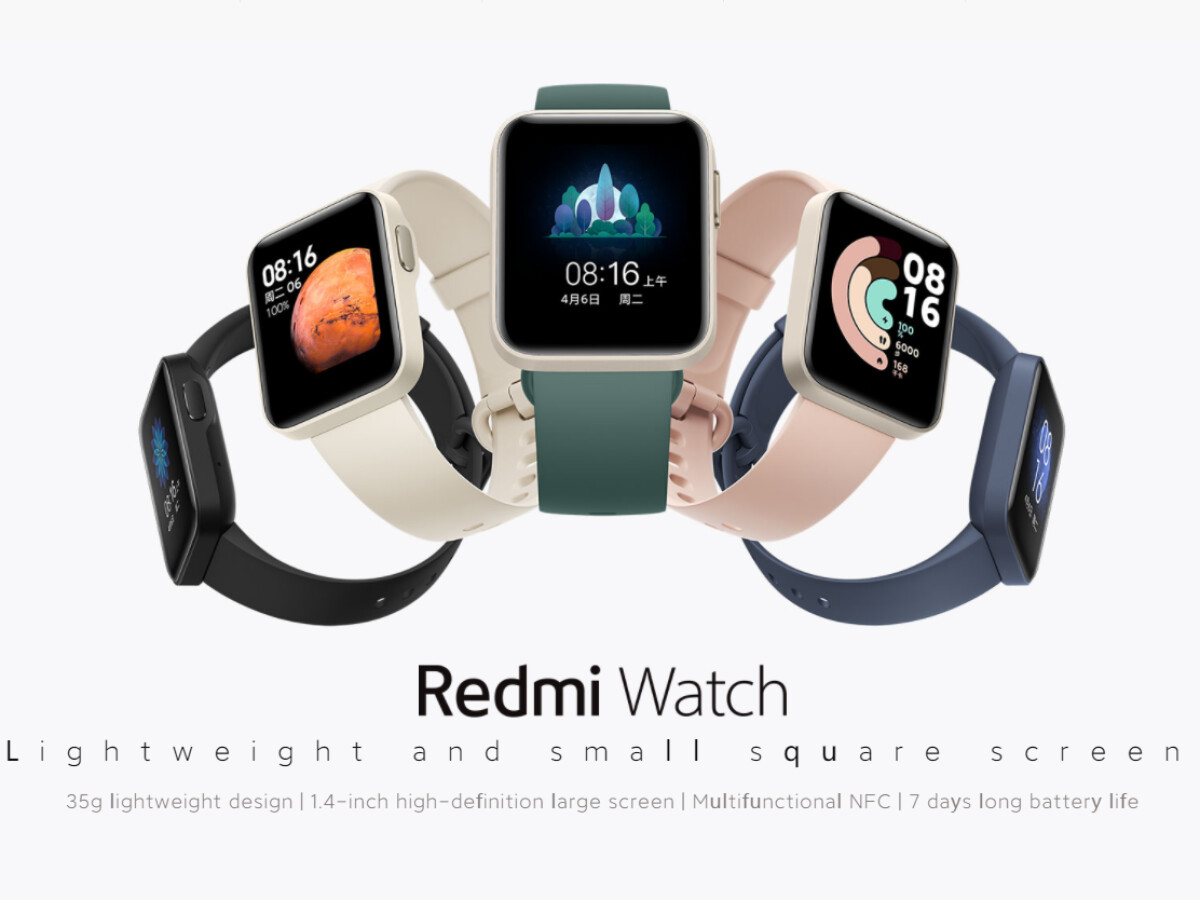 The Redmi Watch is a cheap smartwatch from Xiaomi. It is currently only available in China.
For just under 50 euros you can import the watch, which looks similar to the Apple Watch.
In Germany, the watch could soon appear under the name Mi Watch Lite.
The Redmi phones from Xiaomi have become a mega-seller worldwide, now the Chinese manufacturer is stepping up and releasing the Redmi Watch, a cheap smartwatch in China. It costs only 269 yuan, the equivalent of around 33 euros.
At Ali Express 50,58 Euro
The model has been on the market in China since the end of November. Now it can also be ordered to Germany via Aliexpress for just under 50 euros. For the price you get a smartwatch that looks very similar to the Apple Watch is ajar. And by that we mean not only the product design, but also the design of the watch faces and menus.
Xiaomi Redmi Watch in Bildern
This is what the Xiaomi Redmi Watch looks like and it can.
Speaking of watch faces: According to AliExpress, you can choose from over 120 different watch faces. The other features of the Redmi Watch at a glance:
1.4 inch display
weighs only 35 g
NFC
Heart rate and pulse measurement on the wrist
50 meters waterproof, IP68
Sleep tracking
7 Sportmodi
up to 7 days of battery life
However, you have to forego the ability to accept calls or reply to incoming text messages. This is not possible with the Redmi Watch, writes the online magazine that specializes in Chinese manufacturers Gizmochinathat the watch could already try.
What is the Import of technology from abroad Please note, you can find out in the linked article.
Anyone who is critical of the subject of "import" will find the Amazfit GTS a smartwatch similar to the Redmi Watch offered by Amazon Germany. With a price of almost 100 euros, it costs almost twice as much as the Redmi Watch.
Germany start as Xiaomi Mi Watch Lite?

Maybe you can save yourself the import of the Redmi Watch soon. Because soon Xiaomi could announce an international version of the watch under the name Mi Watch Lite. This is indicated by documents from the US Federal Communications Commission, reports Gizmochina.
Xiaomi could use the Mi Watch Lite together with its next top smartphone in December Xiaomi Mi 11 announce for the international market.