News
Bang & Olufsen launches sustainable speaker to fight obsolescence
With the Beosound Level, the Danish brand shows that it is possible to launch a high-end portable speaker capable of lasting for decades. Its price: 1,500 euros, for availability on April 29.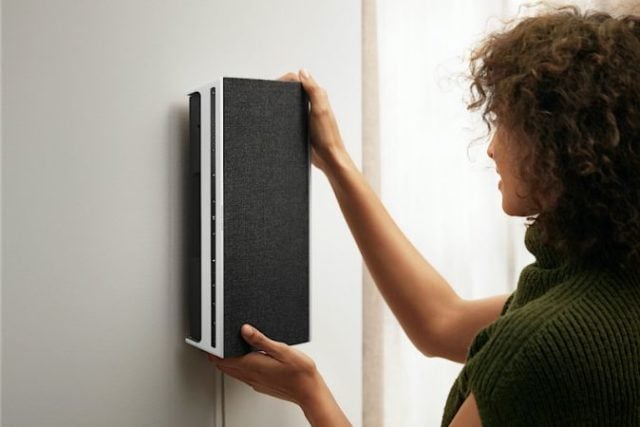 Its name, the Beosound Level. Behind this compact and portable speaker signed by the Danish brand Bang & Olufsen, we find a promise that we see very rarely in the world of tech, that of sustainability. This high-end speaker has in fact been specifically designed to last you several decades. The process behind this product: "Fight against technology obsolescence, save resources and improve longevity", explains Bang & Olufsen. To keep this promise, the brand relies on a design that promises "Easy upkeep, maintenance and repair. (…) Customers can perform simple operations such as replacing the battery and partner stores can easily access vital parts of the speaker ", specifies the Danish company.
Otherwise, the general look of the Beosound Level is strongly reminiscent of that of the Beosound Stage, for connoisseurs. The durable enclosure is however sold much cheaper, at 1,500 euros. This is still a large sum for a product of this type, but it is in line with the premium products of Bang & Olufsen. Regarding the speaker itself, it has two 4-inch woofers each, two 0.8-inch tweeters, a 2-inch wide-spectrum speaker, and a low distortion amplifier. In total, the speaker still displays 105W on the meter, which is frankly convincing given its compactness. There is also a function to automatically switch the distribution of sound to 360 or 180 degrees, depending on the location of the speaker in a room.
On the autonomy side, the Danish brand announces 16 hours of reading on average thanks to a removable battery. The announced autonomy will remain variable according to the sound volumes. Despite its retro look, the Beosound Level does have Bluetooth connectivity, but also WiFi, and is AirPlay 2, Google Cast and Spotify Connect compatible. There are also traditional connectors such as an Ethernet socket, an optical output and, finally, there is the IP54 certification which gives it increased resistance to dust and splashes. It is always necessary to take it everywhere with you without fear, even if it is unlikely that we take such a high-end speaker to enjoy on the beach with friends. Also, as noted Engadget, the firm would have planned a replaceable streaming module, something to see coming in the event of new standards or the emergence of new platforms in the years / decades to come.
The Bang & Olufsen Beosound Level is available for purchase at a price of 1499 euros in its Gold Tone finish. There is also a second variation, at 1,249 euros, in Dark Gray. The brand is also launching a wall mount at 99 euros to accompany it. It will be available for purchase from April 29.
Bang & Olufsen Beosound A1 (2nd Generation), Portable Water Resistant Bluetooth Speaker with Microphone, Gray Mist
250.00
€

Please wait … We are looking for the price of this product on other sites