Qualcomm has just presented its new 5G modem, and it promises speeds of up to 10 Gbits / s!
The battle for mobile chips is currently raging, between theApple A14, l'Exynos 2100 from Samsung or the Snapdragon 888 by Qualcomm. But where the latter could do well is thanks to its 5G modem. The Californian founder has just presented the Snapdragon X65, a new generation 5G modem theoretically capable of reaching 10 Gbits / s. By comparison, its predecessor, the X60, was only able to offer upstream speeds of up to 7.5 Gbits / s.
In addition to this titanic theoretical speed, Qualcomm specifies that its new modem will be able to work in 5G StandAlone (with a 5G core), in 5G Non-StandAlone (with a 4G core), but also with mmWave millimeter waves (waves including allocation should be made by the end of 2022 in France). It is also the first modem to be compatible with the Release 16 3GPP, allowing it to fully utilize the Massive MIMO, or the option of using numerous antennas for reception / transmission. We also find the Smart Transmit 2.0, which should increase download speeds tenfold.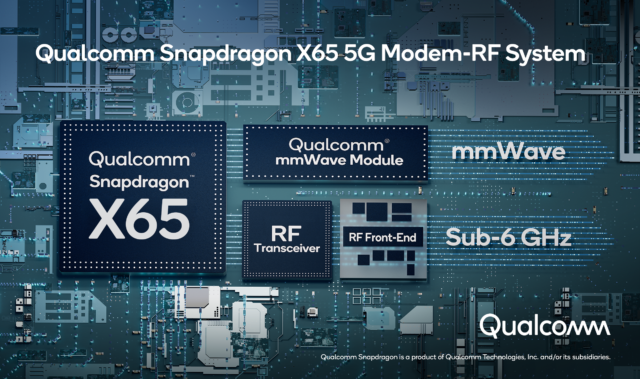 Logically, this Snapdragon X65 should debut on a few smartphones by the end of 2021, but also on third-party solutions such as 5G routers or IoT solutions for businesses. It could in particular be found on next year's generation of iPhone – the iPhone 14 – since Apple had spent no less than $ 4.5 billion with Qualcomm so that it becomes its exclusive supplier in 5G modem until 2024.
Promo
Xiaomi Redmi Note 9T 5G – Smartphone 4GB+64GB, 6,53" FHD+ DotDisplay 90 Hz, MediaTek Dimensity 800U, 48MP Triple Camera, 5000mAh, NFC, Daybreak Purple
249.99 €
229.00
€

Please wait … We are looking for the price of this product on other sites