News
[Coup de cœur] The Sherlock Holmes Method: A Basic Guide
How to extract money from the royal family? How to fake your own death? In The Sherlock Holmes Method, Ransom Riggs teaches you to think like the famous Baker Street detective.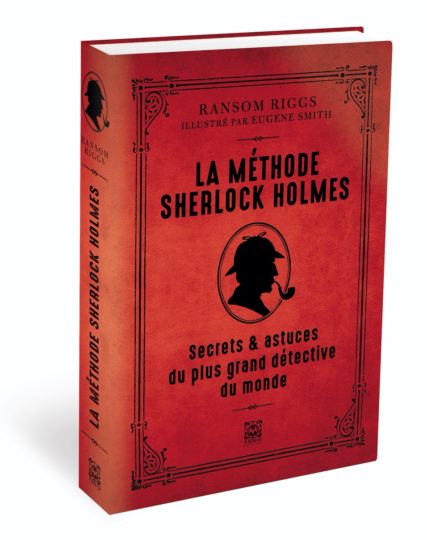 Have you always dreamed of opening a safe, decrypting coded messages and surviving a deadly plunge into a waterfall? Good news for the admirers of Sherlock Holmes, the Ynnis editions publish today a practical guide for amateur investigators. Written by Ransom Riggs (Miss Péregrine and special children) and illustrated by Eugene Smith, The Sherlock Holmes Method invites you to discover the bottom of the cases carried out by the London master of the investigation. The opportunity to discover some deduction secrets used by Sherlock Holmes during his various adventures with Doctor Watson. Divided into three main themes (detective talents, survival talents, and everyday talents), this guide to absurd and offbeat humor comes across as a collection of tips and tricks, ranging from how to scan fingerprints, to tips for making a successful dramatic entry worthy of the name.
"You know my method, it is based on the observation of nothings" – Sherlock Holmes in The Mystery of Val Boscombe, 1956
In addition to being richly illustrated by Eugene Smith, The Sherlock Holmes Method is also a very nice editorial UFO. Under its false air of an old book with a thick cover, the work is a concentrate of second degree and humor, which we advise you not to take too seriously. An irony that fits perfectly with the personality of the most famous detective in the world, often quoted in the text of Ransom Riggs to explain the different advice of the book. As an afterword, the author also gratifies us with some of the most memorable quotes character, as well as a chapter entirely dedicated to the life of its inventor, Arthur Conan Doyle. A complete book, sometimes instructive, but above all very funny, that we advise you to offer to all enthusiasts of the genre, or to keep to yourself.
Discover at € 17.95 on Amazon