News
The Kindle Paperwhite reader is less than 100 euros
Because being a geek and a reader is far from incompatible, we also offer good tips on e-readers. Today, the Kindle Paperwhite, one of the best references on the market, falls below the 100 euros mark.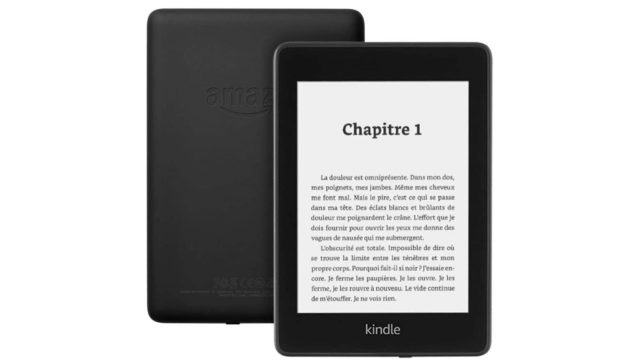 This version, released in 2018, takes all the arguments of the original Kindle by adding better performance, and improved handling. Usually indicated at 130 euros, it now drops to 99 euros at Amazon.
Find the Kindle Paperwhite at 99.99 euros at Amazon

The Kindle Paperwhite in detail
This e-reader is one of the most interesting models among the many that Amazon designs. There is a 6-inch e-ink screen with paper quality, accompanied by 8 GB of storage. This device, released in 2018, remains an excellent reference. It offers great reading comfort, day and night, with a screen that is certified reflective and backlit. The resolution can go up to 300 dpi, for realistic photo image quality compared to a paper book.
In use, it is quite simply one of the most customizable models on the market. It is possible to choose from 8 different fonts, to adjust the size of the paragraphs, the text, the spaces, but also the margins according to your preferences. You have the choice to leave the lighting in automatic mode, or to adjust it manually. Finally, Bluetooth is integrated which allows you to enjoy your audio books in a few clicks.
The library of this electronic reader is no exception. The Kindle Paperwhite offers access to 5.55 million e-books. If you already have certain titles associated with your Amazon account, all you have to do is log in from your e-reader to find them instantly. This model can be used at the beach or in the bathroom, since it is waterproof and IPX8 certified.
Note that this is a version with advertisements. Concretely, when it is on standby, suggestions for e-books to buy will appear on your screen. You can always choose to buy a 10 euro option to get rid of it for good. Otherwise, the same version of this e-reader available without advertising, at 109.99 euros.
Find the Kindle Paperwhite (with advertising) at 99.99 euros at Amazon

Find the Kindle Paperwhite (without advertising) at 109.99 euros at Amazon