While its presentation should take place next month, DJI's FPV Combo drone is revealed in full length in an unboxing video.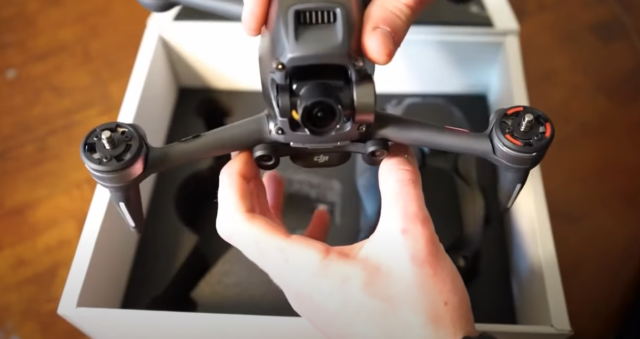 The future FPV drone (first person view) of DJI has been leaked a lot before, but now a YouTube channel has just gone through a complete unboxing of the product. In this video by SpiderMonkey, we can discover the DJI FPV Combo from every angle, from the drone itself to its new controller, and even its specific glasses to enjoy a first-person experience.
As we can see in this video, the FPV Combo turns out to be very different from other drones of the brand. This abandons the usual gray color for black, and there is a new camera placed on the upper part of the drone, probably because of its vocation to act as a racing drone. The controller is also a little different, since it does not have a slot for the smartphone and has new retractable joysticks, and there is a pair of glasses to control the machine. According to the youtubeur, this is the second generation of the DJI Goggles, and the device would be lighter. Unfortunately, SpiderMonkey does not linger more than that on the technical sheet, so the drone still has some surprises to offer us when the brand deigns to officially announce it.
It remains to be seen if DJI does not reserve us some last minute changes with the final version of its. FPV Combo. If the model presented seems definitively successful, we can read the mention « not for sale » on the box, which suggests that the retail version of the drone might not be quite the same as the one seen in the video. As a reminder, the presentation of the DJI FPV Combo should take place in March.
Promo
DJI Mavic Mini Combo – Ultra-Light and Ultra-Transportable Drone, Autonomy of 30 minutes, Transmission distance of 2 km, 3 Axis gimbal, 12 MP, Vide …
499.00 €
449.00
€

Please wait … We are looking for the price of this product on other sites