On Tuesday February 16, Bitcoin broke the $ 50,000 mark for the first time. This Wednesday, February 17, it is trading at nearly $ 51,500.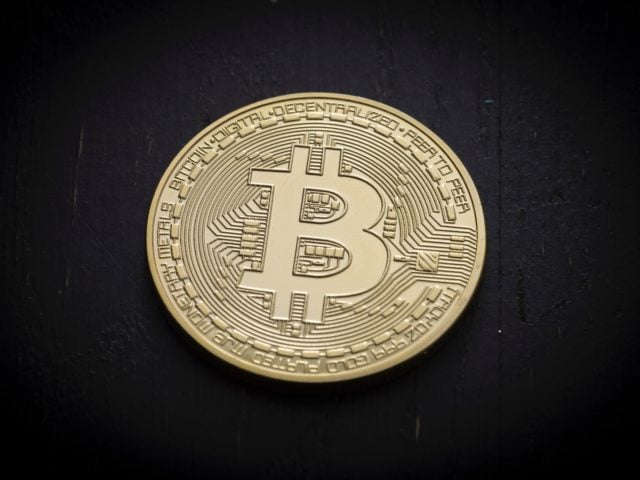 Blessed are those who bet on Bitcoin a year ago, when the pandemic started to take hold of the world and the value of cryptocurrency sank below $ 10,000. This Tuesday, February 16, Bitcoin has indeed reached a value more than five times higher, exceeding, for the very first time in its history, the symbolic bar of 50,000 dollars (or 41,178 euros).
For several weeks now, Bitcoin has continued to attract attention. It began to swell in December, successively exceeding the 20,000 dollar mark, beyond its previous record of 19,873 dollars reached on December 17, 2017. Unlike that year, virtual currency finally continued to soar, crossing the threshold a few days later. 30 000 dollars, then the 48,000 dollars after Tesla's announcement who invested no less than $ 1.5 billion in Bitcoin and then promised to be able to pay for purchases in this currency in the future. Jack Dorsey et Jay-Z then got involved, then Bitcoin finally hit $ 50,547.70 around 1:30 p.m. on February 16. As of this writing, it has even hit $ 51,500.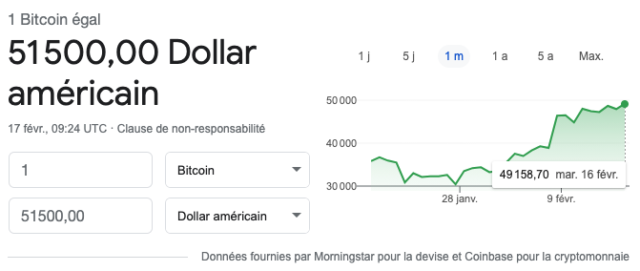 Is the situation gone to last?
Now, the question that torments the most observers, while this currency has increased by 70% since the start of the year: is the situation set to last? Unlike 2017, where the currency's value soared before completely crashing, interest around Bitcoin changed in 2021, especially on the corporate side. "A growing interest in the business world in cryptocurrencies has transformed the market compared to 2017", explains Neil Wilson, analyst at markets.com, relayed by The world. The example of Tesla, investing part of its assets in Bitcoin, is indeed only the tip of the iceberg. We can also cite certain banks or banking organizations more traditional, which have also tried. Many companies are thinking about investing part of their income in this currency, the rates of which can be clearly interesting, in a diversification strategy. But despite the current hype, you have to be careful. Bitcoin is still particularly volatile since it is not based on any asset. It could very well crash again in the weeks / months to come … or continue to collect records.
Ledger Nano X – Cryptocurrency Wallet – Bluetooth
119.00
€

Please wait … We are looking for the price of this product on other sites