News
The 200 GB at 15 euros are back at RED
After a week of absence, the Big RED package is back under the same conditions: 200 GB for 15 euros per month.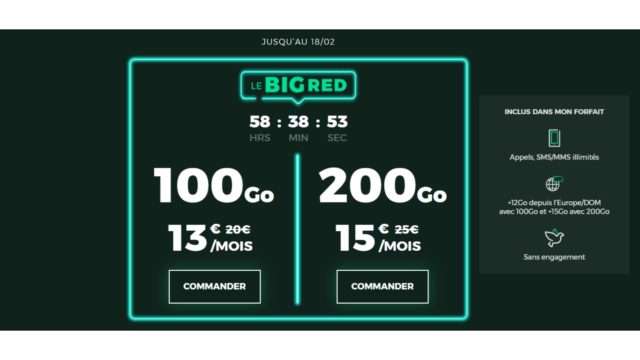 After proposing an offer for small consumers of 4G, last week, RED is returning to mobile plans full of data. He is relaunching his "BIG RED" subscription, which includes 200 GB of data for only 15 euros per month. As always, it is reserved for new subscribers and it is without obligation which leaves you the possibility of canceling whenever you want. The offer is available until February 18.
Find the RED 200 GB package at 15 euros per month

The "Big Red" 200 GB package in detail
In detail, this "Big RED" mobile package includes:
Unlimited calls, SMS / MMS
200 GB of 4G in France
15 GB of internet from the European Union and the overseas departments
Unlimited calls, SMS / MMS in these same territories
If you're a heavy data user, this is the plan for you. We remind you that this formula remains without obligation, and the price is valid without time limit. That is, it will not increase after a year or 6 months as other promotional offers can. Be careful, however, this does not mean that it will not increase never. The operator remains free to modify the price of his offer, provided that it changes at the same time. RED has done it recently, not without some criticism from its customers.
The 200 GB of this subscription will in any case allow you to watch your series in streaming, play online and download all kinds of applications without worrying too much about your data envelope throughout the month. It is also useful if your Wi-Fi does not cover all the rooms of your house well since it will allow you to replace it easily thanks to the tethering.
The envelope is only valid in metropolitan France. Abroad, in Europe and in the French overseas departments, you will find 15 GB of data made available to you in addition to the initial 200 GB. Enough to avoid having to take out another package with an additional operator during your stay. You will also have the opportunity to keep your current phone number. Finally, let us specify an important detail, the double call is not included in the offer. If this feature is important to you, you will have to pay 2 euros per month to take advantage of it.
Find the RED 200 GB package at 15 euros per month

If you don't need that much data, RED also offers a subscription with 100 GB of 4G. for 13 euros per month.
Find the RED 100 GB package at 13 euros per month

The RIO (Operator Identity Record) is a unique identifier, composed of 12 characters (letters or numbers), which will be requested by the operator with whom you wish to subscribe. To get it, all you need to do is call 3179. A voice server will then tell you your commitment end date, as well as the RIO number of your line. Note that an SMS will be automatically sent to you with all the information communicated by the voice server.
The mobile plan offers and promotions, that's not what is lacking and that's good: we don't have the same needs, the same requirements and the same budget. Some people are looking for the lowest price at all costs, others for maximum mobile data, a no-obligation plan, limited for the youngest, the possibility of affording a new smartphone… To find the perfect fit, there is essential to go through the box: what do I really need and what are my financial limits?