Xiaomi
Xiaomi Mi Robot Vacuum Cleaner: On eBay for a short time under 200 euros – quantity limited
BARGAIN
You can buy the Xiaomi Mi robot vacuum cleaner on eBay thanks to the voucher code for well under 200 euros. A sensational price for the device. You should hurry, the number is limited.
A big one is currently going on Voucher campaign on eBaythat can save you a lot of money. If you are looking for an automated household help, you should definitely take a look at the Xiaomi Mi vacuum robot. You can buy it with the voucher code "PRACTICAL" for only 188.99 euros – a more than good price.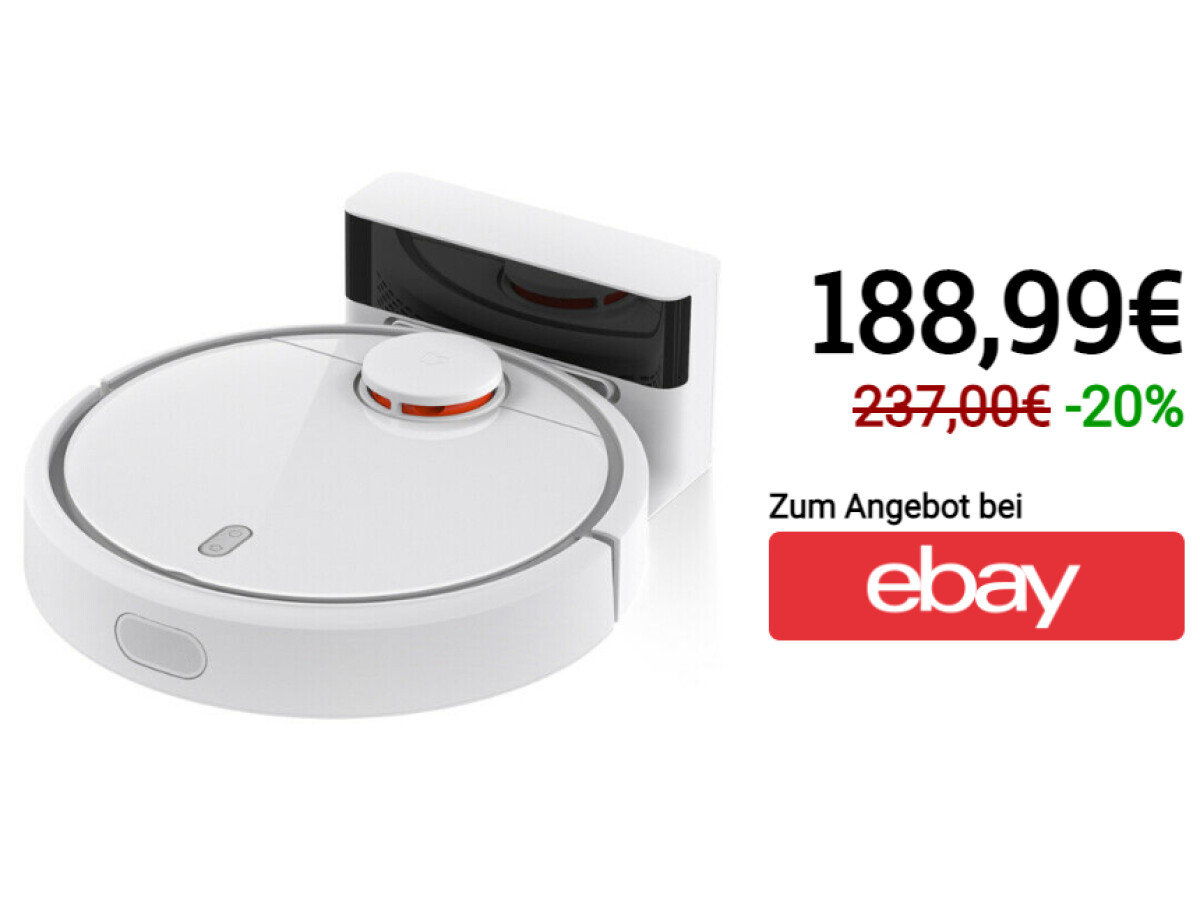 Xiaomi Mi

Up to 250 square meters with one charge

Selective room cleaning

Controllable by app and voice
The Xiaomi Mi has a decent suction power of 1,800 Pa. You can control it via the corresponding Xiaomi Home app or by voice. The robot has various sensors for accurate navigation and can also clean individual rooms if required.
With virtual walls and restricted zones, you can simply demarcate areas that should not be vacuumed or wiped. One battery charge is sufficient for up to 250 square meters. But even larger areas are no problem for the vacuum robot, as it automatically drives to the charging station and continues work after charging.
To the offer on eBay ›

Current offers on eBay

In addition to this top deal, there are of course many more currently available eBay listingsthat you can save on. Below we show you the highlight offers from the technology area.
With eBay More the online marketplace offers its own loyalty program. With the paid service, you will receive, among other things, free premium shipping and exclusive offers. Questions regarding Shipping costs on eBay, the B-Ware-Center such as Financing options we answer you in the linked articles.
Never miss an offer

Current deals can be found in our section "bargain". In order not to miss a deal, you should also subscribe to our bargain newsletter. In this we regularly provide you with the best offers from the technology sector.