Bluetooth True Wireless headsets or earbuds are good gadgets for working at home, listening to music wirelessly, or for training and running while listening to our favorite podcast. With this in mind we have put together three good Aukey products on sale at Amazon.
For those looking for a new wireless audio solution, whether to make calls, or to listen to Spotify while we study, these are good options. The price / quality ratio was the primary criterion, coupled with Amazon's low prices and promotions.
The best Bluetooth True Wireless earbuds from Aukey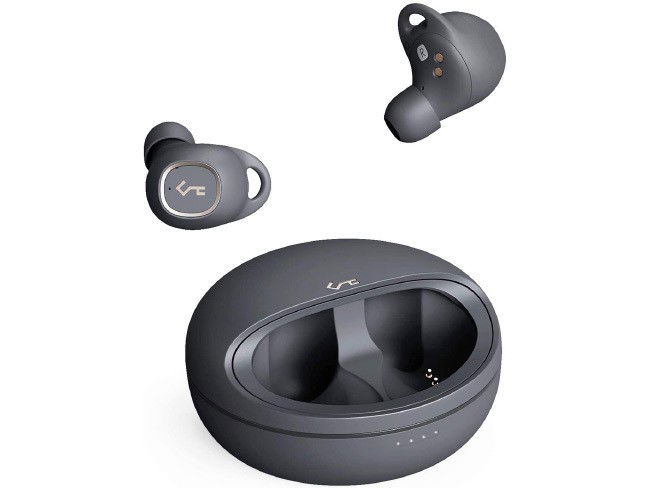 Autonomy: up to 7 hours (earbuds) / up to 28 hours (box)
Compatibility: Android e iOS via Bluetooth
Price: since 49,99 € na Amazon
The best Bluetooth True Wireless headsets from AUKEY have diaphragms in graphene, IPX5 certification that gives them resistance to sweat, in addition to wireless charging of the earbuds transport box with good battery life.
These Bluetooth earbuds can be controlled by taps on their surface to answer or reject calls, in addition to controlling multimedia playback. They have support for virtual assistants like Siri, from Apple.
They are more expensive, but have the best autonomy and the best sound quality. Bring pillows in three sizes to adapt to the size of your ear. Its case can also be charged by USB Type-C cable, with charge indicator LEDs.
Best Bleutooth AUKEY Earbuds
Autonomy: up to 5 hours (earbuds) / up to 30 hours (box)
Compatibility: Android e iOS via Bluetooth
Price: since 30,59 € na Amazon
The compact shape of the earbuds makes them more suitable for sports, also having IPX5 certification that makes them resistant to rain and sweat, for example. It has possibly the best price / quality ratio in AUKEY's portfolio.
These True Wireless Bluetooth headsets are now on sale on Amazon with free shipping to Portugal. They also stand out for having wireless charging (for the box with LED indication) in addition to charging through the Type C USB port.
They are discreet, good and relatively inexpensive headsets, with an already pleasant sound quality and Bluetooth 5 connection. They have touch controls, built-in microphone to make calls, as well as detection sensors when you put them on your ear.
The cheapest Bluetooth headsets from AUKEY
Autonomy: up to 5 hours (earbuds) / up to 20 hours (box)
Compatibility: Android e iOS via Bluetooth
Price: since 25,49 € na Amazon
AUKEY's cheapest Bluetooth headsets offer good overall audio quality for general use and listening to music on Spotify, or via your smartphone. They have a microphone to be able to answer and mediate telephone calls with voice clarity.
The autonomy is in line with the industry average, reaching up to 20 hours of autonomy using the box, with LEDs indicating and charging via USB-C. They are also IPX5 certified, making them sweat or rain proof, for example.
They are a valid option, very affordable and with a design similar to Apple's AirPods Pro.
Before you go, sees the best Bluetooth headsets on the market, with suggestions for various needs. In addition, vis the best sports solutions, with Bluetooth earbuds perfect for sportsmen.
4gnews editors recommend: