A leaker just shared two videos showing Samsung's augmented reality glasses in action.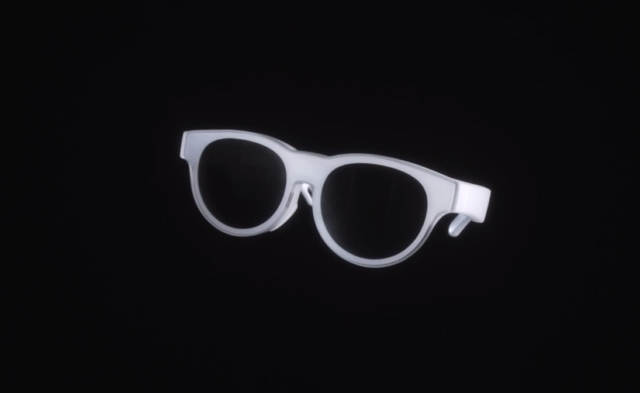 If the Google Glass presented in 2013 seemed rather revolutionary, the augmented reality glasses did not impose themselves, for lack of a mature enough technology. However, this concept is still in the boxes of many manufacturers, starting with Apple and its famous Glass that are regularly talked about. But the Apple is not the only company to have projects in the sector. We can notably mention Facebook, Microsoft, but also … Samsung. Precisely, a leaker has just unveiled two videos in which we can see the future connected glasses from Samsung in action, and it is particularly attractive.
and….. this is the 3D holographic version https://t.co/PXDAHjDNWb

— WalkingCat (@_h0x0d_) February 21, 2021
As we can see in these videos, Samsung plans to launch two variants of its glasses, including a first device called « Glasses Lite », and a second simply called « Glasses ». The first would allow you to project a virtual screen anywhere in your environment. You could watch movies, series, play video games, or just use it as a computer monitor with the mode DeX, which will take advantage of your Samsung smartphone by transforming it into a real small auxiliary computer. The glasses would be compatible with the ecosystem of the South Korean manufacturer, including its Galaxy Watch, and would have the ability to transform into sunglasses if necessary, by tinting their lenses to let you see the virtual screen when you face a window, for example.
The second video, which features the « Glasses », shows us a much more evolved concept. This time around, the device could make AR objects appear in your surroundings and let you interact with it, much like Microsoft's Hololens and possibly future Apple Glass. We would also find all the possibilities of Glasses Lite. It remains to be seen if these videos are purely conceptual or if we see future products from Samsung. 9To5Google Note, however, that while the AR display technology used on these glasses is not clearly defined, there are a few details that lead us to believe that these glasses may not be just a concept but a more developing product. advanced, as suggested by this enigmatic square block placed behind the tinted glasses.

For the moment, we do not know when the manufacturer intends to launch into the sector. On the Apple side, the project would have been postponed and rumors speak of the launch of a virtual reality headset upstream of the glasses, in order to prepare the ground for them. An analyst from JP Morgan estimates that Apple Glass could land at the start of 2022 at a price of around $ 1,000.