Apple
iPhone 11: With Apple Watch 5 and 120 GB data volume at a great price
CURRENT MOBILE RATES
The iPhone 11 together with the Apple Watch 5 and a 120-gigabyte all-network flat rate are currently available from Saturn and Media Markt. This is the information about the deal.
At Saturn and Media Markt there is currently a strong tariff deal for all Apple fans. The two dealers offer you that iPhone 11 with a full 120 gigabytes of data volume, all-network flat rate and an Apple Watch Series 5 at a particularly low monthly price.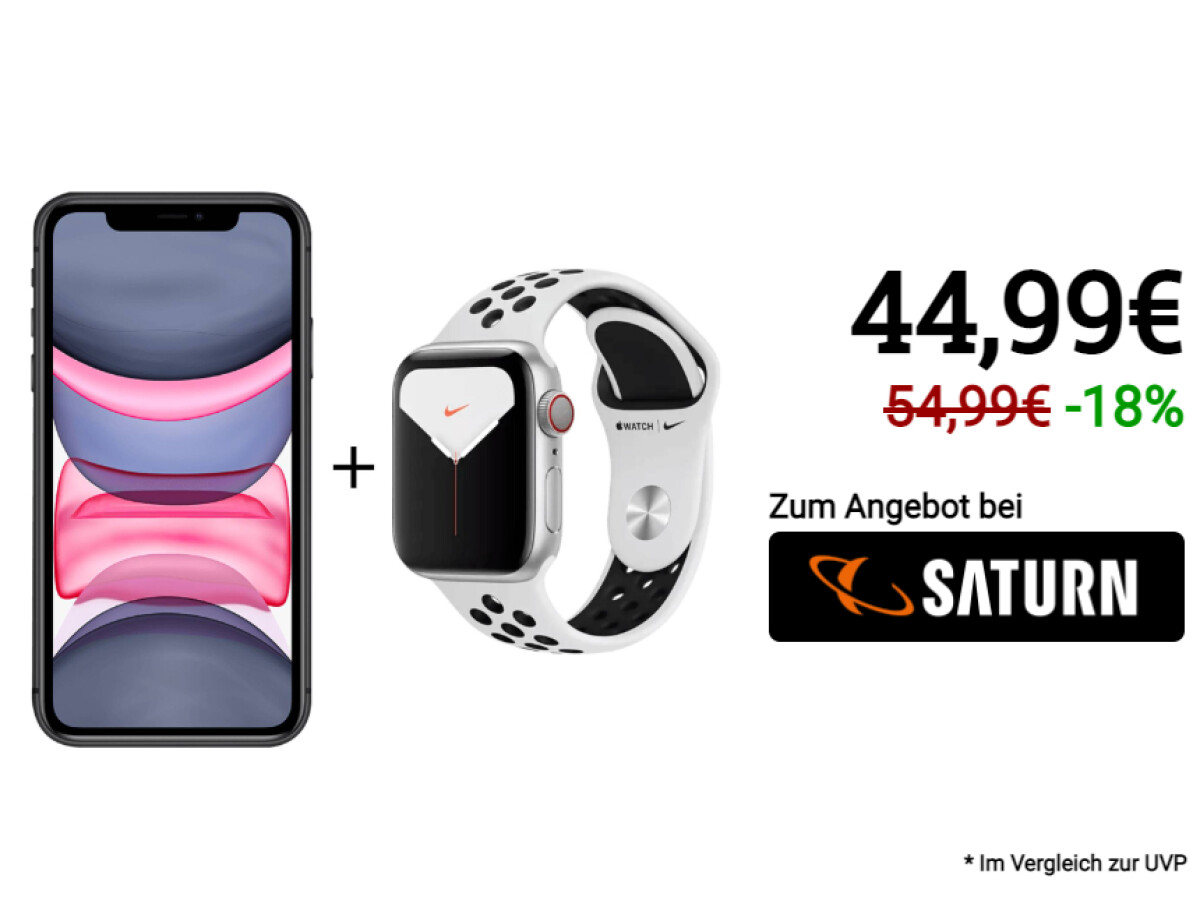 iPhone 11 with 120 gigabyte all-network flat rate and Apple Watch Series 5

64 gigabytes of memory

Flat rate for SMS and telephony

Inklusive Apple Watch Series 5
At Saturn and Media Markt you secure the iPhone 11 in the 64-gigabyte version in the O2 tariff Free L Boost. In addition to 120 gigabytes of surfing volume, which you can use at a maximum speed of up to 300 megabits per second, the tariff also includes an all-network flat rate for SMS and telephony as well as EU roaming.
There is also the Apple Watch Series 5 (GPS and LTE) in the Nike Edition free of charge for the mobile phone and tariff. Scroll down on the landing page until you get to the iPhone offers, there you can choose whether you want to claim the offer with the 40-millimeter or 44-millimeter Apple Watch.
With a contract term over two years, you pay 44.99 euros per month. In addition, there is a one-off payment of 188.99 euros for connection fees and the device. Directly at O2 you pay 54.99 euros a month for the mobile phone alone with a similar contract. The one-time costs are lower there at 40.99 euros.
To the offer at Saturn ›

In the online shop and in the branches you will find many other good offers from the technology dealers. We do the deal check and show you in the following guides which offers are really worthwhile.
Offers at Media Markt

All current offers from Media Markt we have ready in the linked article. You can find the current top deals in the list below.
Offers at Saturn

The Offers at Saturn can partially overlap with those at Media Markt. This does not apply to all products, but has the advantage that sold out products are sometimes still in stock at the sister company.
Tip! You can secure additional benefits from both retailers by becoming a free club member. How it works and what advantages these are, we explain to you here for Media Markt and here for Saturn.
Never miss an offer

Current deals can be found in our section "bargain". In order not to miss a deal, you should also subscribe to our bargain newsletter. In this we regularly provide you with the best offers from the technology sector.