A few weeks before its presentation, the future gaming smartphone from ASUS begins to be revealed on DxOMark, which already ranks it as the best smartphone in the audio category.
The next flagship of ASUS should not be unveiled before March 10, but now he is already offering a little getaway on the side of DxOMark, in the audio category. The site which establishes rankings according to the different characteristics of smartphones, has thus placed the future ROG Phone 5 at the first place of its audio ranking, just ahead of … the Xiaomi Mi 10 Pro. It has been almost a year since the former flagship of Xiaomi dominated this ranking, with 76 points on the clock. The ASUS ROG Phone 5 has just relegated it to second place, with 79 points in audio recording, and 78 points in audio playback. In both cases, this is the highest score ever recorded in this category by DxOMark.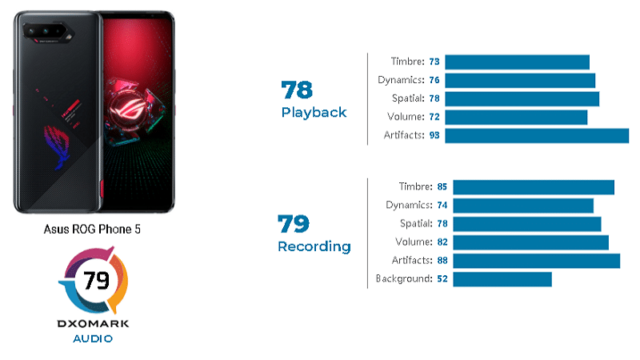 We therefore already know that the ASUS ROG Phone 5 will offer excellent sound, an extremely important feature on a smartphone intended primarily for gaming. But this surprise appearance on DxOMark also teaches us other small details about the smartphone. Already, it confirms that ASUS intends to skip the number "4" to launch a ROG Phone 5 after its ROG Phone 3. Chinese manufacturers are in fact used to abandoning the number "4", often associated with the death or bad luck in China. Also, we note the return of the 3.5mm jack, when it had bowed out with the ROG Phone 3. The smartphone image on DxOMark also shows a new back somewhat similar to that of the ASUS ROG Zephyrus G14, pierced with multiple holes and allowing to display the logo of the mark.
As for the rest of the characteristics, it remains rumors at the moment, but we should logically be entitled to a Snapdragon 888 from Qualcomm, 8 GB of RAM at least, and an FHD + screen with refresh rate at 144 Hz. will also be able to count on an imposing battery of 6000 mAh, and a fast recharge at 65W. It remains to wait for the official presentation of the ASUS ROG Phone 5, scheduled for March 10, to confirm all this.
ASUS ROG Phone 3 Strix 16,7 cm (6.59″) 8 Go 256 Go Double SIM 5G USB Type-C Noir Android 10.0 6000 mAh ROG Phone 3 Strix, 16,7 cm (6.59″), 8 Go, 256 G
…
812.25
€

Please wait … We are looking for the price of this product on other sites