News
This 27-inch, WQHD, 165 Hz MSI Optix gaming monitor drops to € 299
Are you looking for a good plan on a gaming screen, which will also serve you for office automation and Netflix viewing sessions? Fnac is now offering the MSI Optix G27CQ4 model at 299 euros for a limited time.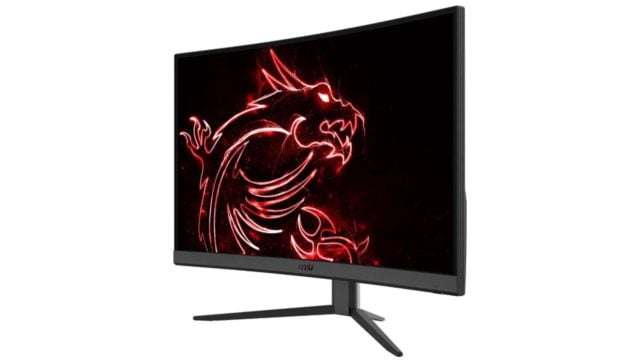 Packed with all the technical features necessary to satisfy demanding gamers and beginners alike, the MSI Optix G27CQ4 display is excellent value for money, especially when it takes advantage of 17% off its introductory price. This is the case with Fnac and Darty. The merchants therefore lower its price from 359.99 euros to 299,99 euros.
Find the MSI Optix G27CQ4 at 299.99 euros at Fnac

Find the MSI Optix G27CQ4 at 299.99 euros at Darty

The MSI Optix G27CQ4 in detail
Specially designed for use in video games, this screen features a 27-inch VA panel that is slightly curved up to 1500R. This allows you to encompass your field of vision and to make gaming and browsing on PC more enjoyable on a daily basis. The design of the monitor is quite successful, with very thin edges, and a nice QHD resolution of 2560 x 1440 pixels.
This PC monitor will be particularly appreciated in responsive video games, where you have hundreds of frames per second. Indeed, there is a display frequency of 165 Hz, and a response time of only 1 ms. These two parameters give you perfect fluidity in the game, but also better reflexes, which is especially important in competitive games like Valorant or Rocket League.
The Adaptive Sync technology (FreeSync compatible) of this display allows you to enjoy a constantly smooth gaming experience, even if your graphics card fails to keep up to 60 frames per second all the time. Indeed, by synchronizing the frequency of your monitor with your graphics card, it reduces visual tears. However, it should be remembered that FreeSync is only compatible with AMD graphics cards.
Find the MSI Optix G27CQ4 at 299.99 euros at Fnac

Find the MSI Optix G27CQ4 at 299.99 euros at Darty