Very practical for recharging your phone, your laptop or your tablet, this small portable charger has 2 USB-C ports with a power of 65 W. It is now available on Amazon at 24.99 euros.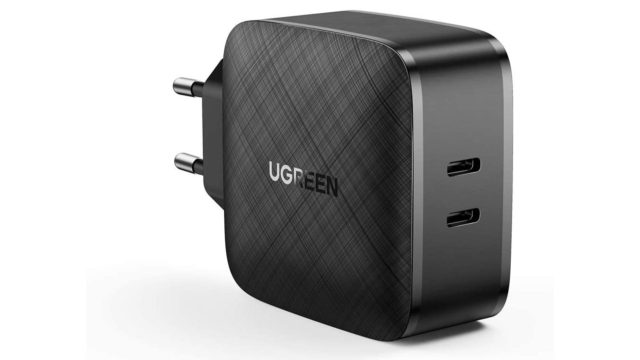 Competitor of the model of the famous manufacturer Aukey, this 65 W UGreen charger is just as well equipped and efficient. Usually offered at 30.99 euros, it takes advantage of a promotional code "NUV2R35A" on Amazon to benefit from a reduction of 38% and fall to 24,99 euros.
Find the UGreen charger at 24.99 euros on Amazon

The Ugreen 65 W charger in detail
As its name suggests, this 65 W charger's mission is to recharge your peripherals in record time. The good news is that it's compatible with Apple devices like Windows, whether it's on PCs, Macs, tablets, or phones. Besides, it supports various fast charger technologies like USB Power Delivery 3.0, PPS, Qualcomm Quick Charge 3.0 / 2.0 and so on.
If you have an Android phone that supports fast charging, this charger will be perfect for you. It has 2 USB C ports that can be used simultaneously. If you only use one, you can enjoy a total power of 65 W. If the 2 USB ports are used, they will be respectively powered by 45 W and 20 W.
With this small nomadic charger, you can use it anywhere, to charge all your devices, from your phone to your Nintendo Switch console. Safety has not been forgotten since the system has been secured against short circuits, overvoltages, overheating and overcurrents. The charger weighs only 164g.
Find the UGreen charger at 24.99 euros on Amazon