News
Logitech G513 mechanical keyboard (GX Brown switches) drops to € 89.99
The G513 mechanical keyboard by Logitech is a nice option for demanding gamers. It features a robust, bright and efficient design, in order to be effective in all situations and for long hours. It is now available at 89.99 euros on Amazon.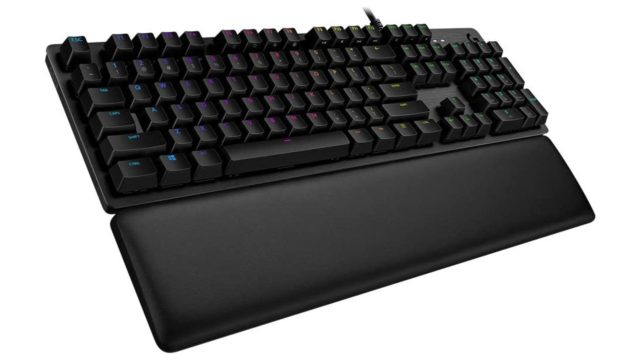 Whether for typing or for video game sessions, the keyboard is a peripheral that should not be overlooked. Currently, the Logitech G513 Carbon Lightsync is enjoying a great discount on Amazon. Usually indicated at 130 euros, it now drops to 89,99 euros. It comes with a memory foam wrist rest.
Find the Logitech G513 Carbon LightSync at 89.99 euros on Amazon

The Logitech G513 Carbon LightSync in detail
This Logitech keyboard was designed for demanding gamers, as evidenced by the GX Brown Switch keys. They offer you maximum comfort and performance in the game while remaining comfortable in office automation. This is a type of tactile response that is highly appreciated by gamers, and has proven its worth in recent years. They will also suit those who need to write on a daily basis, with excellent precision and above all without getting tired.
The G513 keyboard can boast some practical features and shortcuts for gamers. There is a "game" mode that allows you to disable the Windows key. There are also a few shortcuts for easier control of the media being played, and a USB relay device lets you plug your mouse, player, or even your phone directly into the keyboard.
The other great quality of this keyboard is its complete RGB backlighting system. Lightsync technology is integrated in parallel, giving you dynamic and fully customizable lighting. The customization is quite complete since you can associate a unique backlighting to each of the keys. Everything is obviously based on the manufacturer's software which allows them to be synchronized with video games, music or videos.
Finally, the finish and the general design of the product are more than successful. We are faced with a robust peripheral, which here benefits from an aeronautical quality structure according to the manufacturer. This allows for greater resistance over time, and a profitable investment. The keyboard is here accompanied by a shape memory wrist rest which can be joined to the keyboard in a few seconds. Its foam will bring you additional comfort, practical for long sessions of use.
For people who have a somewhat larger purse and who would like to move towards a more upscale model, you can consult our guide to the best gaming keyboards.
Find the Logitech G513 Carbon LightSync at 89.99 euros on Amazon