News
The Dyson V8 Motorhead stick vacuum goes under 300 euros
One of the best stick vacuum cleaners on the market, the Dyson V8 Motorhead is currently available for 299.99 euros at Cdiscount. It is one of the most effective in picking up dirt from various types of floors and surfaces.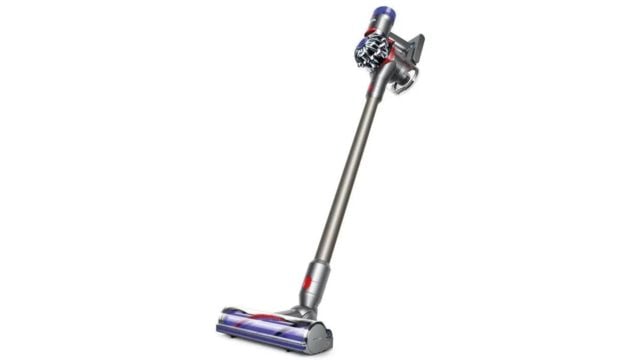 Today, the manufacturer Dyson is a market leader in bagless and cordless stick vacuum cleaners. The manufacturer's models are powerful, very efficient, and above all very practical to use on a daily basis. The V8 Motorhead model has a few options for picking up dirt from all types of floors and surfaces. Usually offered at 350 euros, it now falls to 299,99 euros in
Find the Dyson V8 Motorhead at 299.99 euros at Cdiscount

Cdiscount.

The Dyson V8 Motorhead in detail

This stick-format stick vacuum cleaner is a Premium model among the V8 range. The Motorhead version comes with a few accessories and additional brushes (including a motorized brush), for deep cleaning depending on the situation. Here is the content in detail:
Aspirateur Dyson V8 Motorhead
Two in one accessory
Charger
Dock
Long nozzle with easy detachment
Direct drive cleaning head
The Dyson V8 Motorhead is a great investment for those who want to save themselves the chore of housework. This vacuum cleaner is powered by the Dyson V8 digital motor which performs 110,000 rpm, for very powerful suction on carpets and hard floors. Importantly, with an ability to store a high charge per unit volume and quickly release that energy, it is able to provide up to 40 minutes of suction.
The vacuum cleaner also benefits from 2 Tier Radial technology which increases the airflow to capture the finest dust by concentrating a powerful and constant suction. Of course, it is possible to change gears, depending on your need. With its advanced finish, the vacuum is able to capture allergens and release cleaner air.
Relatively light with a weight of 2.63 kg, and an acoustic design that absorbs vibrations and dampens noise levels, the Dyson V8 Motorhead has already wowed thousands of people around the world. It particularly stands out with its direct-drive cleaning head, which features a powerful drive motor that removes encrusted dust. With its design and its absence of wire, it is very easy to vacuum not only the floor, but also the ceiling and the corners of your rooms. The center of gravity makes it easy to lift, and the grip is natural.
Find the Dyson V8 Motorhead at 299.99 euros at Cdiscount