As expected, OnePlus has just announced its new smartphones for this year 2021. Here are the OnePlus 9 Series which comes in two versions, the 9 and the 9 Pro.
After all the rumors, leaks and confirmations from Pete Lau himself, it's now official, OnePlus has just announced its two new smartphones for 2021. Set like clockwork, OnePlus is taking advantage of the anniversary of our all first confinement in France to announce its 2021 vintage. Here is the OnePlus 9 and the OnePlus 9 Pro.
Like last year, the OnePlus 9 will position itself in the high-end market while the OnePlus 9 Pro aims to compete with premium smartphones occupied by Samsung or Apple but also Xiaomi or Oppo.
The OnePlus 9 Pro, all premium
This year is synonymous with evolution and we find on the front a full screen with a punch at the top left. Not surprisingly, this has been the trend for a few years and is what seems to make users the most enjoyable. We also find the IP68 certification as on its predecessor. OnePlus continues its partnership with Samsung regarding the screens and that of the OnePlus 9 Pro is of very high quality. If we find a Fluid Display 2.0 screen synonymous with AMOLED panel, we will note that it is of the AMOLED LPTO type with a diagonal of 6.7 inches, a definition QuadHD + (1440 × 3216) and therefore a density of 525ppp. The screen of the OnePlus 9 Pro offers curved edges but the angle is lighter this year, HDR10 + certification and finally a refresh rate of 120Hz. Because it is an LPTO panel, we are talking about Smart 120Hz and the OnePlus 9 Pro is able to adapt its refresh rate from 1Hz to 120Hz, which allows nothing to consume for example with the screen in Always-On . To this is added an impressive brightness of 1300 nits, which allows the smartphone to be used in full sunshine.
Similar to what we already knew about the predecessors, the OnePlus 9 Pro takes a photo block with no less than four cameras. The main camera offers a 48 Megapixel Sony IMX789 sensor with an F1.8 aperture and optical stabilization. The main camera's autofocus combines phase detection, laser and contrast detection. The telephoto lens has an 8 Megapixel sensor, it is optical stabilized and allows an optical zoom of 3.3x. And finally, the ultra wide-angle offers a field of view of 120 ° and an aperture of F2.2, but above all, it is based on a Sony IMX766 sensor, developed by Sony for Oppo and OnePlus. It is also the same sensor as the main camera of the very recent and successful Oppo Find X3 Pro. And finally, one finds a monochrome sensor of 2 Megapixels which will be used to analyze the shots for a better photo output.
This year again, it should be noted that OnePlus has not taken the periscope zoom train since it does not seem to be the priority when choosing among users. With a more traditional telephoto, this allows better performance in low light. But that's not all since OnePlus signs a partnership of choice with Hasselblad and its color science. We find the UltraShot modes which combine several photos and HDR to offer the best possible photo, its Night mode, more efficient and faster. And finally, the OnePlus 9 Pro can record videos up to 4K at 1200fps and obviously benefits from optical and electronic stabilization on the main camera. And because we are in 2021, the OnePlus 9 Pro is able to record in 8K at 30fps.
OnePlus 9 Pro
Screen
– Ecran Fluid Display 2.0 (AMOLED LTPO) de 6,7″
– Definition QuadHD + (1440×3216)
– Density 525ppp
– 3D Gorilla Glass
– Smart 120Hz (from 1Hz to 120Hz depending on usage)
– Technologie Hyper Touch
– Format 20,1:9

– Always On Display
– Certification HDR10+
– sRGB et DCI-P3
– Brightness of 1300 nights
– 40% reduction in blue light
– Reading mode
– MEMC technology to add fluidity to videos from 24fps to 120fps (Motion Graphic Smoothing)
– Hallmark
– Haptic feedback

SoC et GPU
– Qualcomm Snapdragon 888
– Adreno 660
Memory
– 8Go or 12Go LPDDR5 RAM
– 128GB or 256GB UFS 3.1 storage
– No memory expansion
Colors
Dos and far 3D Gorilla Glass
– Morning Mist
– Pine Green
– Stellar Black
– IP68
Camera
– Four cameras on the back:
– Main camera: Sony IMX789 48 Megapixel, 23mm F1.8, OIS
– Telephoto Camera: 8 Megapixel, 77mm, x3.3 optical zoom, OIS
– Ultra wide-angle camera: Sony IMX766 50 Megapixel, 14mm (120 °) F2.2, FreeForm lenses
– 2 Megapixel F / 2.4 Monochrome Sensor

– Autofocus PDAF + LAF + CAF
– Optical (OIS) and electronic (EIS) stabilization on the main sensor
– Optical stabilization (OIS) on the telephoto sensor
– Mode Macro
– Technologie UltraShot HDR
– NightScape 2.0 mode (Photo and Video)
– Super Resolution + HDR
– RAW 12-bit
– Dual ISO

– Video recording in 8K at 30fps
– Record videos in 4K at 30fps, 60fps or 120fps
– Video recording in Full HD 1080p 30fps or 60fps
– Slow motion mode in 1080p at 240fps or in 720p at 480fps
– Ultra Stabilization 1080p or 4K Video Mode
– Video editor

– Front camera with a 16 Megapixel Sony IMX471 sensor
– 26mm lens with an aperture of F2.4
– Electronic stabilization (EIS)
– Front video recording in 1080p or 720p at 30fps

Audio
– Stereo speakers
– Dolby Atmos
– Qualcomm Aqstic
Drums
– 4500mAh
– Warp Charge 65T (100% en 29 minutes)
– Technologie Smart Charging
– Recharge sans-fil Warp Charge 50 Wireless 50W (100% en 80 minutes)
– 5W reverse wireless charging
Connectivity
– Optical fingerprint reader under the screen
– Bluetooth 5.2
– WiFi 6
– 5G
– Double nano-SIM
– A-GPS+GLONASS, DNLA, Miracast (WiFi Direct), Google Cast
– NFC
– USB 3.1, port USB Type-C
– Barometer, Gyroscope, Accelerometer
– Proximity and light sensor
Software
– Android 11
– Oxygen OS 11
Height and weight
– 163,2 x 73,6 x 8,7 mm
– 197g
Starting price
– 919 euros (128Go + 8Go)
– 999 euros (256Go + 12Go)
Availability date
– Mars 2021
For the rest, it's pretty classic in itself. Note a haptic motor for more subtle vibrations. The OnePlus 9 Pro will be available in several colors including a Morning Mist version which mixes a glossy rendering with a frosted rendering. The result is very convincing. As is now commonplace, the OnePlus 9 Pro offers internal memory in UFS 3.1 which is faster thanks to greater bandwidth and which will consume less power. Finally, it should be noted that if we find the proprietary WARP 65T fast charging in 65W, the OnePlus 9 Pro also offers the Warp Charge 50 Wireless 50W wireless charging (we were able to test and it is impressive), as well as the wireless charging. – reverse thread.

Available from the end of this month, you can pre-order the OnePlus 9 Pro at the price of 919 euros for the 128GB / 8GB version and 999 euros for the 256GB / 12GB version. A pre-order offer is available today with the choice of a wireless charger or OnePlus Buds.
Find the OnePlus 9 Pro from 919 euros at OnePlus

The OnePlus 9, a 9 Pro hardly worse
The OnePlus 9, meanwhile, obviously succeeds the very successful OnePlus 8T released during the last quarter of last year. But this year, the difference with the 9 Pro is even smaller. Indeed, apart from a few characteristics that change, the OnePlus 9 is rather identical to the OnePlus 9 Pro. If the screen is only 0.2 inches smaller, it offers Full HD + definition. On the other hand, it offers a refresh rate of 120Hz. The screen is AMOLED type but not LPTO.
On the photo side, the biggest difference with the 9 Pro is in the absence of a telephoto when we find a main sensor and an ultra wide-angle as well as the small 2 megapixel monochrome sensor. And for the rest, one finds the new Qualcomm Snapdragon 888 SoC, a 4500mAh battery with Warp Charge 65T fast charging of 65W but wireless charging of only 15W. Like last year, we are not talking about IP68 certification on European models even if we suspect that it should be unofficially.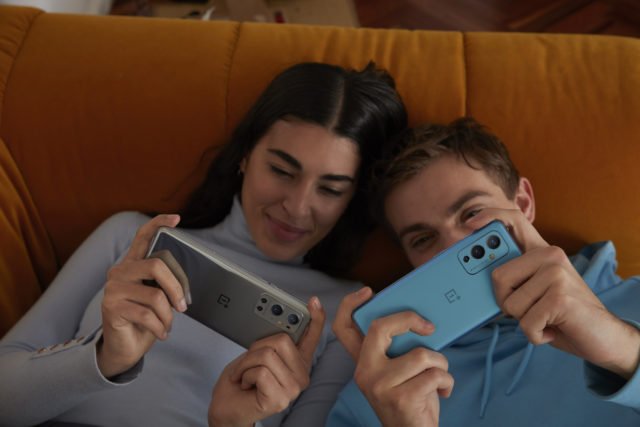 The OnePlus 9 will be available a little later, at the end of April 2021, you can already pre-order it for the price of 719 euros for the 128GB / 8GB version and 819 euros for the 256GB / 12GB version. A pre-order offer is available today with OnePlus Buds Z.
Find the OnePlus 9 from 719 euros at OnePlus

OnePlus 9
Screen
– 6.5 "Fluid Display (AMOLED)
– FullHD + definition (1080×2400)
– Density 402ppp
– 3D Gorilla Glass
– 120Hz
– Format 20:9

– Always On Display
– Certification HDR10+
– sRGB et DCI-P3
– Brightness of 1100 nights
– 40% reduction in blue light
– Reading mode
– MEMC technology to add fluidity to videos from 24fps to 120fps (Motion Graphic Smoothing)
– Hallmark
– Haptic feedback

SoC et GPU
– Qualcomm Snapdragon 888
– Adreno 660
Memory
– 8Go or 12Go LPDDR5 RAM
– 128GB or 256GB UFS 3.1 storage
– No memory expansion
Colors
Dos and far 3D Gorilla Glass
– Winter crap
– Artic Sky
– Astral Black
Camera
– Three cameras on the back:
– Main camera: Sony IMX689 48 Megapixel, 23mm F1.8, OIS
– Ultra wide-angle camera: Sony IMX766 50 Megapixel, 14mm (120 °) F2.2, FreeForm lenses
– 2 Megapixel F / 2.4 Monochrome Sensor

– PDAF + CAF autofocus
– Optical (OIS) and electronic (EIS) stabilization on the main sensor
– Optical stabilization (OIS) on the telephoto sensor
– Mode Macro
– Technologie UltraShot HDR
– NightScape 2.0 mode (Photo and Video)
– Super Resolution + HDR
– RAW 12-bit
– Dual ISO

– Video recording in 8K at 30fps
– Record videos in 4K at 30fps or 60fps
– Video recording in Full HD 1080p 30fps or 60fps
– Slow motion mode in 1080p at 240fps or in 720p at 480fps
– Ultra Stabilization 1080p or 4K Video Mode
– Video editor

– Front camera with a 16 Megapixel Sony IMX471 sensor
– 26mm lens with an aperture of F2.4
– Electronic stabilization (EIS)
– Front video recording in 1080p or 720p at 30fps

Audio
– Stereo speakers
– Dolby Atmos
– Qualcomm Aqstic
Drums
– 4500mAh
– Warp Charge 65T (100% en 29 minutes)
– Technologie Smart Charging
– Wireless charging 15W
Connectivity
– Optical fingerprint reader under the screen
– Bluetooth 5.2
– WiFi 6
– 5G
– Double nano-SIM
– A-GPS+GLONASS, DNLA, Miracast (WiFi Direct), Google Cast
– NFC
– USB 3.1, port USB Type-C
– Barometer, Gyroscope, Accelerometer
– Proximity and light sensor
Software
– Android 11
– Oxygen OS 11
Height and weight
– 160,74 x 74,2 x 8,7 mm
– 192g
Starting price
– 719 euros (128Go + 8Go)
– 799 euros (256Go + 12Go)
Availability date
– Avril 2021