News
Samsung would launch a smartphone that folds in three this year
Samsung will step on the accelerator and should offer a host of folding smartphones this year, including an enigmatic device capable of folding in three!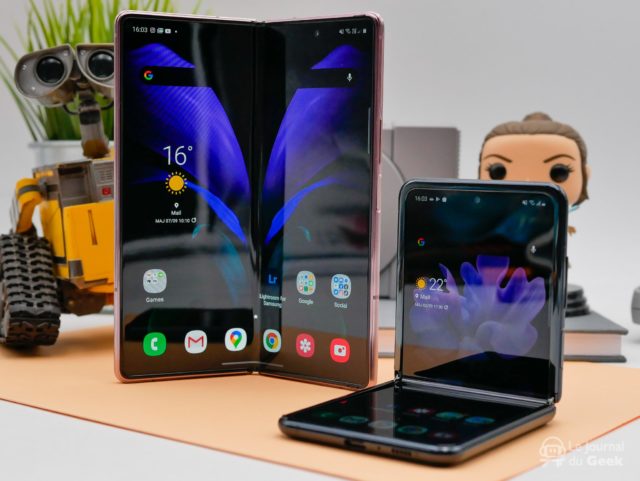 Samsung may well be the undisputed leader of the small world of folding smartphones, the firm does not intend to rest on its laurels. After the first Galaxy Fold of the name, its successor, the Galaxy Z Fold 2, and the astonishing Galaxy Z Flip, the South Korean firm would now consider a smartphone capable of folding into three parts, says the Nikkei.
The Korean media explains that the firm would seek to explore other formats, and since 2021 will be a pivotal year for the folding smartphone, Samsung plans to include a second in its folding smartphone. This double-hinged mechanism would allow the device to be able to fold in three. When it is fully unfolded, the smartphone would offer a more conventional format, close to 16: 9, and therefore more suitable for video consumption than an unfolded Galaxy Z Fold 2. The Nikkei He also goes on to say that it will be released at the end of the year, although the product is still under development.
Samsung will step up the pace
In a second part of the article of Nikkei, we can read that Samsung plans to press the accelerator on the folding smartphone side this year. Not only does the firm intend to launch successors to the Galazy Z Fold 2 and the Galaxy Z Flip, but it has also revised its sales ambitions upwards: 10 million foldables sold each year. In short, Samsung would like folding smartphones to sell as much as its Galaxy Note, now that we know that this range should no longer last. In addition, Samsung is also reportedly considering making its folding devices more affordable to bring the technology to as many people as possible. Last December, TM Roh, big boss of Samsung's mobile division, had already promised a more affordable folding device: " True to our heritage of staying one step ahead with cutting edge mobile technology, we will expand our portfolio of foldable products, so that this revolutionary category is more accessible to everyone. "
Promo
Samsung Galaxy SM-F916B 19,3 cm (7.6″) 12 Go 256 Go 5G USB Type-C Noir Android 10.0 4500 mAh Galaxy SM-F916B, 19,3 cm (7.6″), 12 Go, 256 Go, 12 MP, An
…
2001.58 €
1259.00
€

Please wait … We are looking for the price of this product on other sites