News
Ergonomic, wireless and equipped with 7 buttons, the Logitech MX Master 3 is at 77 €
One of the best models for office mice is currently on sale at Amazon. We find the Logitech MX Master 3 at 77.99 euros for a limited time.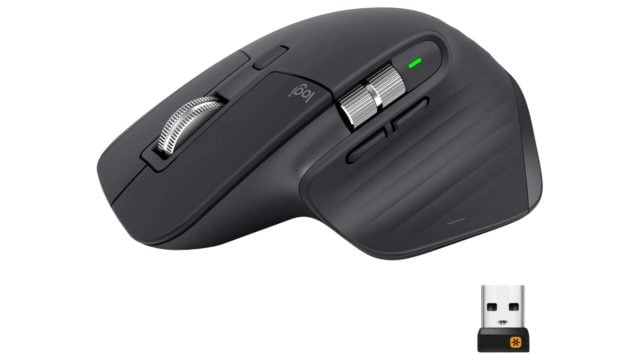 The Logitech MX Master 3 is a mouse that relies on a well-honed design that is comfortable and designed for use over several hours. Also, the device boasts of reinventing the roulette system. Considered by many to be one of the best mice for office automation, the MX Master 3 is now down 28%. Amazon sells it to 77,99 euros instead of 109 euros.
Find the Logitech MX Master 3 at 77.99 euros at Amazon

The Logitech MX Master 3 in detail
The MX Master 3 is a wireless and ergonomic mouse. It is based on an extremely well thought-out design that perfectly fits your hand, but also the position of your wrist. It is particularly suitable for people who need to be in front of their computer for several consecutive hours. It is also very versatile, with a sensor and especially a "Darkfield" tracking which has the merit of making it usable on almost any surface, even glass! We will also benefit from an accuracy of 4000 dpi.
The wireless mouse is a real pleasure to use on a daily basis, and does not suffer from the usual shortcomings of Bluetooth devices. The connection is stable, instantaneous, and never drops. Regarding autonomy, it can here climb up to 70 days at full charge. Best of all, with just one minute of charging, you'll be able to run it for 3 hours. Finally, your MX Master 3 can be paired simultaneously with 3 different devices via Bluetooth, or the USB receiver. It is obviously compatible with all operating systems, whether Windows, Mac OS, Linux, and even iPadOS!
The manufacturer Logitech also seems very proud of its new roulette. Up to 1000 lines can be scrolled in a single second, with an all-new electromagnetic scrolling. Named "MagSpeed", it can both stop to the pixel, and scroll several hundred lines in a fraction of a second. Beyond the main wheel located between the 2 main clicks of your mouse, there is a double horizontal wheel on the left side of the device. For office automation, it is extremely practical, for example to scroll in an Excel table.
Find the Logitech MX Master 3 at 77.99 euros at Amazon