News
The Philips Hue pack with 2 White & Colors bulbs + Bridge + Echo Dot 3 at 84 €
This starter pack has been designed for people who have not yet connected their home and would like to get started with ease. We therefore find 2 White & Colors Bulbs, a Bridge and the Echo Dot 3 at only 84.99 euros.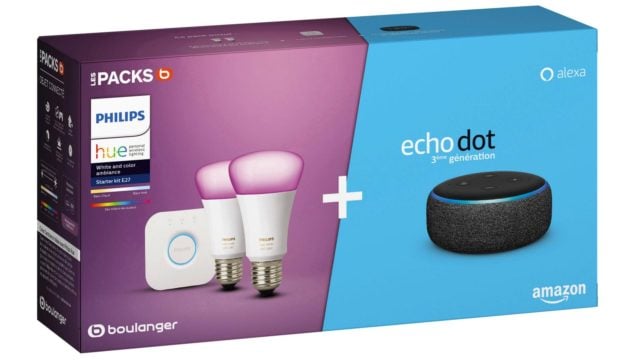 Rakuten and Boulanger are currently offering an excellent pack on the Amazon connected speaker, the Echo Dot 3 as well as 2 Philips Hue bulbs and a bridge to connect everything easily. With the latter, you can control all your connected lights from your voice, vary their intensity and link them with other devices in your home. Usually offered at 149.99 euros, this kit drops to 99.99 euros at Boulanger, but by going through Rakuten, you can save an additional 15 euros thanks to the promo code RAKUTEN15 to drop the pack at only 84.99 euros. Please note, the coupon is available in limited quantities.
Find the Philips Hue / Amazon pack at 84.99 euros on Rakuten

Find the Philips Hue / Amazon pack at 99.99 euros on Boulanger

The Philips Hue / Amazon starter kit in detail
This box, shipped by Boulanger and sold on Rakuten (or directly on the Boulanger site), includes a pack of 2 "white and color" E27 bulbs, a Hue connection bridge and the Echo Dot 3 connected speaker from Amazon. With this set, you will have access to everything you need to start controlling your lighting directly with your voice or your phone, connect Hue connected objects to it and get started. All you have to do is plug the Philips connection bridge into your mains socket to start the quick installation.
Then, by downloading the Philips Hue application on your mobile phone, you can connect the 2 connected lamps which are screwed in the classic way. Once the connection is established, you enjoy a lifespan of up to 25,000 hours, good quality white and color lighting and, above all, variable intensity. Everything will be directly controllable with your voice or your mobile phone, and you can give your room a different atmosphere according to your preferences.
In addition, the box includes the Echo Dot 3 connected speaker which gives you access to the Alexa voice assistant. The latter is able to control your connected bulbs and allows you to do so with your voice. For example, you will have the option of saying "Alexa, turn all the lights down by 20%" or "Alexa, turn on all the lights". In use, it is very practical, and the possibilities are diverse and varied. Of course, it is always possible to associate other lights or connected devices with it later. The small connected speaker is widely compatible with a whole range of peripherals such as doorbells or connected bulbs.
Find the Philips Hue / Amazon pack at 84.99 euros on Rakuten

Find the Philips Hue / Amazon pack at 99.99 euros on Boulanger