News
Everything you need to know before watching Invincible on Prime Video
Available tomorrow on Amazon Prime Video, the animated series Invincible promises to breathe new life into superhero stories, too often dominated by the Marvel and DC giants.
For a few weeks now, Disney + has been increasing its success with WandaVision and Falcon and the Winter Soldier, while HBO Max regales us with the highly anticipated Justice League Snyder's Cut. Faced with the hegemonic DC and Marvel, only Amazon Prime Video seems to be an exception, relying on heroic licenses much less famous, but just as breathless. This was the case in 2019 with The Boys, inspired by the brilliant comics of Garth Ennis. In 2021, the platform is staying the course, this time calling on another big name in American comics, the prolific Robert Kirkman, to whom we owe in particular The Walking Dead and Outcast. A new comic book adaptation which looks very promising, and which should have a lot of surprises in store for us.
Between homage and diversion
With The Boys, Amazon Prime Video had accustomed us to an acid parody of superheroes and their quirks. In Invincible, things are very different, since if Robert Kirkman does not lack humor and second degree, the story stands out more as a tribute to the founding stories of the genre. The starting plot is much the same as that of Superman, except that Invincible knows its origins before discovering its powers. Throughout the story, we do not escape certain clichés, but Robert Kirkman skillfully manages to renew the genre, offering the public a less Manichean universe, and a more serious and realistic tone than in our caped heroes.
A prolific multiverse
Even if Invincible does not have the pretension of the MCU, the comic book imagined by Robert Kirkman is also, at the origin of an extended universe. Thus, in addition to occasionally welcoming certain Image Comics characters, Kirkman has also published several series anchored in the universe. d'Invincible, dont Guardians of the Globe (2014), which puts the spotlight on the Justice League-style superhero group, Brit, Tech Jacket and l'excellent The Astounding Wolf-man (released in 2010, series completed in 4 volumes), which looks back on the character of Gary Hampton. Two spin-off mini-series entitled Invincible presents : Atom Eve and Invincible presents : Atom Eve & Rex Splode were also published between 2007 and 2009.
Complicated father-son relationships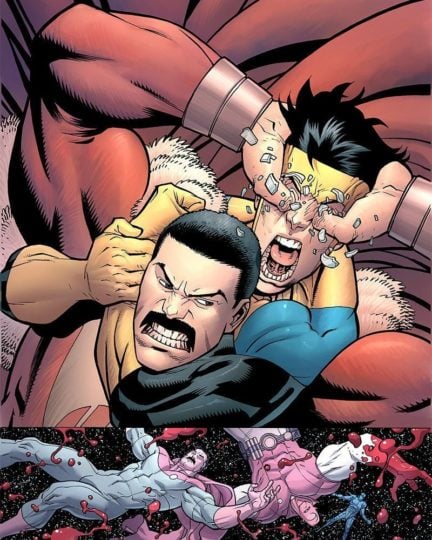 In most superhero tales, the main characters don't really have a problem with their parents, for the simple reason that they don't. Deprived of parents, Batman, Superman or even Spiderman had to build themselves despite the gaping hole which serves as their personal history. In Invincible, Robert Kirkman goes beyond this scenario cliché, by offering Invincible a famous father and just as great as him (Omni-Man), and a loving human mother. The opportunity for the author to brilliantly deal with one of the subjects he masters best: the conflicting relations between father and son.
He's already met the Avengers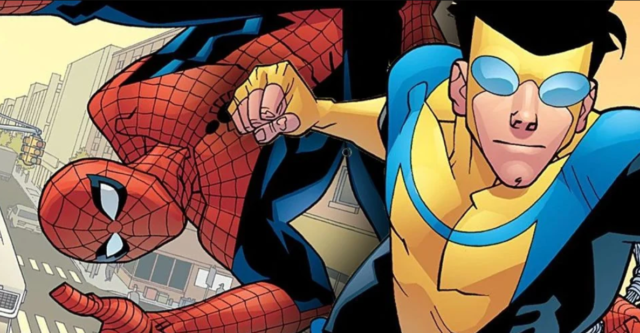 Meetings between superheroes are legion in comics belonging to the same publishing house. They are rarer when it comes to a real inter-publisher crossover. Still, Invincible and Atom Eve have met beautiful people during their adventures, starting with Spiderman, Doctor Octopus, and a few iconic Avengers figures in Marvel Team Up # 14 and # 33 (2006). In The Tick # 100, Omni-man's son also makes a notable appearance. Unfortunately, there is little chance of seeing the Avengers (which are owned by Marvel and Disney) go through a head in Amazon Prime Video's new series.
A sequel is not to be excluded
Without spoiler the end of the comics, Invincible ends after an explosive volume 25, but far from exhaustive. The main story obviously finds its conclusion, but Robert Kirkman ends his saga by leaving many shadow points, and some still latent intrigues. An open door that could allow the license to free itself from its original creator, to become – like DC and Marvel, a collective legend that spans the ages and genres. If the animated series is a success, it can also be expected to go beyond the original work, pushing the story further than on paper.
Discover Invincible on Amazon Prime Video