News
LEGO Star Wars unveils three big new additions for Father's Day
Father's Day is not for now. Never mind, LEGO has once again partnered with the Star Wars license to present fans with three memorable new features.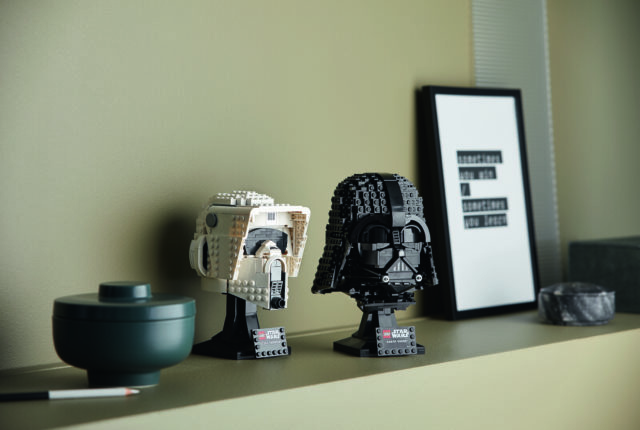 For the past few weeks, LEGO has had its head in the stars. After presenting his most ambitious model ever imagined – a space shuttle Discovery replica, composed of nearly 2,354 pieces, the manufacturer of small Danish bricks has just unveiled its new creations, designed in collaboration with the Star Wars license. Since the first partnerships between the two entertainment giants, the Georges Lucas saga has become one of LEGO's golden egg hens. To celebrate Father's Day, which will take place on June 20, the brand has therefore imagined three new unpublished constructions. Already available for pre-order on the manufacturer's official website, fans of the cult saga will be able to discover a new set bearing the image of the darth vader helmet, the most famous father in the galaxy. From the top of its 20 cm, this new construction includes nearly 834 pieces, and can be proudly displayed thanks to its included presentation support.
Other new models that complete the LEGO Star Wars catalog, and bring the number of sets available on the merchant site to 55, the brand also presented yesterday a model bearing the effigy of Scout Troopers helmets, the Empire's elite soldiers. Finally, fans of the cult license will also be able to purchase the replica of the Imperial Probe Droid, which appeared during the mythical scene of The Empire Strikes Back on the planet Hoth.
Where to buy them?
Already available for pre-order on the official LEGO website, these new construction sets already promise to delight collectors. The darth vader helmet and its 834 pieces, as well as the Imperial Probe Droid and its 683 pieces are available at € 69.99. For its part, the model Scout Troopers includes 471 pieces, and is available at € 49.99. The three models will be officially marketed from April 26th.
Discover the new LEGO Star Wars sets from € 49.99