News
Shepard Fairey and the New York Times embrace the NFT phenomenon
Non-fungible tokens are definitely on the rise. This time, it's the turn of American street artist Shepard Fairey and the New York Times newspaper to give in to the call of blockchain.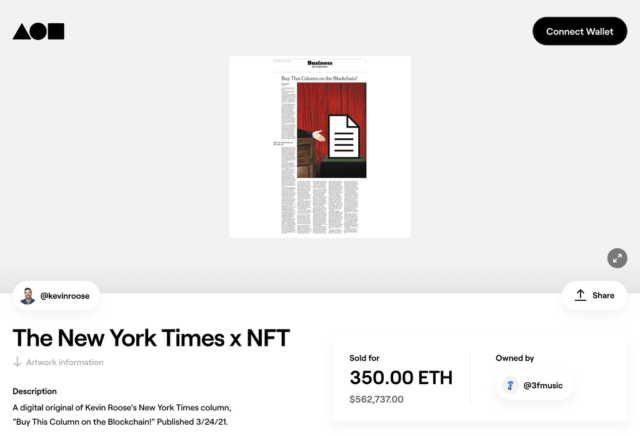 Unless you've lived in a cave for the past few weeks, you probably haven't missed out on this funny phenomenon that is NFT. Short for Non Fongible Token, these tamper-proof digital tokens make it possible to buy just about anything and everything, ranging from the arm of a tenniswoman at first tweet in history. But the craze around these tokens is now starting to gain momentum. While the Gucci and Pringles brands have taken the plunge, recently marketing a virtual pair of shoes and an new flavor of crisps (also virtual), it is the turn of the very serious New York Times newspaper to give in to the madness of the NFTs, by selling one of its articles. After an auction on the Foundation platform, the latter entitled "Buy this section on the blockchain" finally found a buyer at 350 Ethereum, the equivalent of $ 562,000. All funds will be donated to the Neediest Cases Fund charity. Note that this is not the first time that the press has taken up the phenomenon, since the Times has already sold NFTs of its Unes for just over $ 400,000.
NFT art is a recipe
Another area in which the popularity of NFT is exploding is art. While the editor DC Comics has already asked his artists not to market their work via this channel, and that Banksy burned one of his works to transform it into NFT, it is the turn of OBEY, whose real name is Shepard Fairey , to take the plunge. As part of the sale 10×10 Inaugural Artists NFT, the street artist known in particular for his poster "Hope" by Barack Obama during the 2011 elections, will auction this Monday, March 29, a mural baptized Obey Ideal Power. All the funds raised will be donated to the NGO Amnesty International.