News
Spotify unveils the new interface of its PC and browser application
Change of scenery for Spotify users on PC and web browser. The platform has inaugurated a new, more refined interface, and above all easier to learn.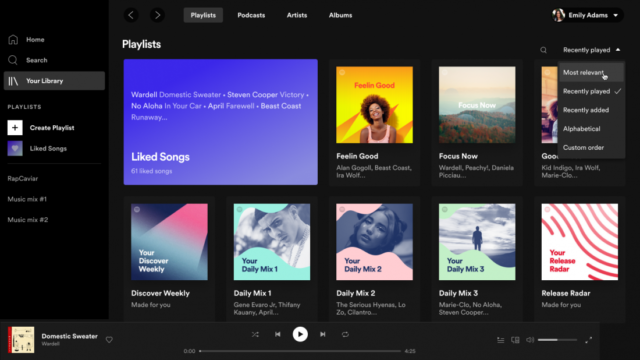 More intuitive, more modern and oriented towards users. For a few hours, the Spotify music platform has had a new look on PC and web browser. After several months of discussions with the community, the developers of the streaming service have unveiled a brand new application, offering both a clean interface, as well as new features. On its official website, the company explains: "We are constantly testing, developing and launching new features, optimizing for new devices and looking to expand our content offering. Yet along the way, we felt that the experience with our desktop app hadn't caught up and it was time for a change. "
Concretely, the home page of the application has undergone a major overhaul, in order to facilitate access to the library, while the playlists creation tool has been improved, now making it easier to add new songs thanks to the integration of a search module. Another novelty concerning playlists, it is now possible to add a song during playback, simply by a click-and-drag action. For the eternally dissatisfied, it will also be possible to edit the queue, and access your listening history. Premium members will also benefit from the possibility of downloading music and podcasts in order to enjoy optimal listening offline. So many features already accessible from mobile applications, but which can now also be experienced on web browsers and PCs. The opportunity for Spotify to recall that if the mobile applications remain without surprises the most popular among its users, PC and web platforms are not yet intended to be abandoned : "We believe in the future of both platforms, and we want to make sure it can continue to meet the needs of our users". Deployed for a few hours, this decidedly nice new interface should be accessible to everyone within the next few weeks.
Spotify Code Nightlight …
Can you imagine that as long as you swipe the Spotify code on the nightlight with your …
Brighten up the corners of the room – the simple design gives the plate nightlight …
Confused about what gifts to give for different holidays? Choose the nightlight …
Meaningful Album Lamp – Combine music and nightlight in remembrance of your idol ….