News
Soon the first flight for Ingenuity, the helicopter drone of Perseverance
Now that the Perseverance rover has landed on Mars safely (and with general enthusiasm), its first missions have begun. One of the most spectacular will be to place the Ingenuity drone in its hold, so that it can take off!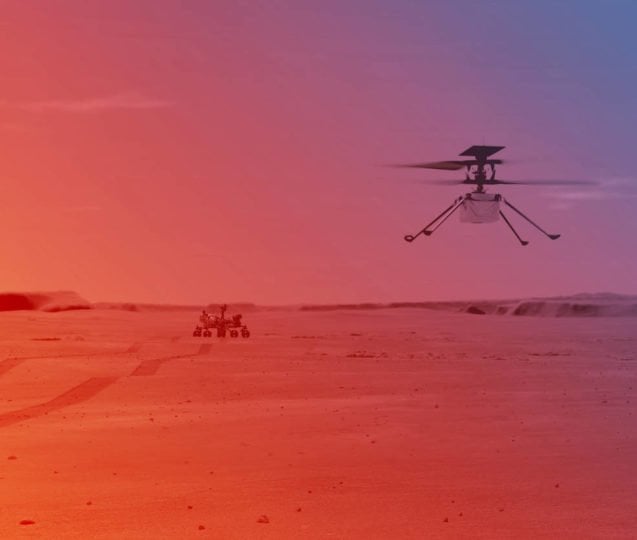 In the first hours after Perseverance landed, NASA engineers began to survey the terrain. Their goal, to find the best place to drop Ingenuity and allow the helicopter drone to make its first flight. We needed a flat area, without obstacles, but with a ground with a specific texture that the artificial intelligence of the Ingenuity navigation system could exploit.
A delicate operation
This place was quickly found: it is less than 60 meters from Perseverance. When the rover is there, it will drop Ingenuity delicately on the ground, then embark on a new 25-hour journey to get away from the track, a hundred meters. The operation to drop the drone will not be easy: designed by Lockheed Martin, it required a lot of work. Ingenuity spent seven months in the cargo hold of Perseverance, and he survived the rover's spectacular landing.
Once safely on the ground, the helicopter will conduct its first test scheduled for April 8, Martian conditions permitting. The flight zone looks like a miniature runway. For this first, Ingenuity will rise three meters above the ground, take off for about thirty seconds, then land. It does not seem like much, but it is a fully autonomous flight (the drone will receive the commands from Earth the day before), and above all it will be the first powered flight on another planet!
Ingenuity incorporates a 0.5 megapixel camera that will take pictures of the ground at a rate of 30 frames per second. Another more powerful sensor, 13 megapixels, is fixed on the horizon. This should earn us some nice shots of Mars. Just like the one provided by Curiosity, the big brother of Perseverance, present on Mars for eight years. The rover took a picture of the sunset of Phobos, one of the two moons of the red planet (it is the white point at the bottom left of the picture):