News
This virtual mansion is sold in NFT for more than 400,000 €
The "Mars House" sold for 616,132 Canadian dollars, or just over 400,000 euros. However, its new owner will not be able to live there: this house is 100% virtual.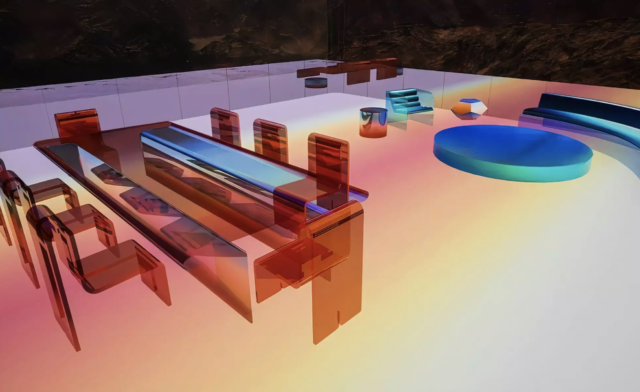 One could think that the effervescence around NFT was only going to be fleeting, but the craze seems to continue or even intensify. After the sale of the cryptographic token of the first tweet in history for the modest sum of $ 2.9 million, and this story, a bit more crazy, of the sale of the arm of a tennis player in NFT, now the phenomenon is spreading to the real estate world.
Lately, a house baptized « Mars House », created by artist Krista Kim, sold for a whopping $ 616,132 Canadian. This might not seem like much for a building of this type, featuring numerous windows offering breathtaking views of the mountains, chic decor and large living spaces. But the peculiarity of this mansion is that it does not exist, although it is described as being based in Toronto, Canada. It is a digital work, in this case, "The world's first NFT digital home".
@ARTofInternet is the new owner of Mars House and we will put the majority of proceeds to our Continuum Foundation, which will support a world tour of healing sound and light installations for mental health and healing.  NFTs can do powerful social good by empowering artists. https://t.co/eJ5By9mWJ0

– Krista Kim (@Krista_Kim) March 17, 2021
What has been sold is therefore the NFT of this virtual house, or its digital certificate of authenticity guaranteeing that it is unique in the world. The new owner will therefore not be able to live there, but will be able to explore it in virtual reality or in augmented reality thanks to a 3D file. To acquire it, he will have spent nearly 288 Ethereum, one unit of which was worth 2138 Canadian dollars at the time of purchase, or more than 400,000 euros in total. It's still a bit expensive to organize your future there Zoom aperitifs virtual.
NFT For Beginners: Pratical Guide to Create and Sell Non-Fungible Tokens
10.54
€

Please wait … We are looking for the price of this product on other sites