News
The NVIDIA Shield TV Pro 4K streaming box goes to 194 euros
Halfway between a TV box and a game console, the Nvidia Shield TV Pro is a Premium product that allows you to enjoy Android TV in the best conditions. Very practical to use on a daily basis, this device finally drops below the 200 euros mark on Cdiscount.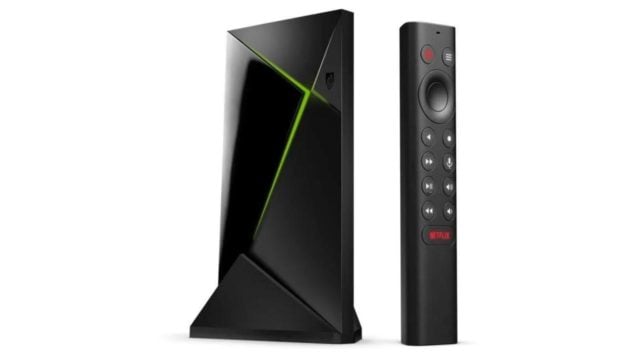 By taking advantage of the promotional code 10 EUROS, you can get the Nvidia Shield TV Pro box at the best price. Enough to access many features and especially the powerful Tegra X1 + chip. Generally indicated at 200 euros, the Shield TV Pro falls today at 194 euros on Cdiscount.
Find the Nvidia Shield TV Pro at 194 euros on Cdiscount

The Nvidia Shield TV Pro in detail
The Nvidia Shield TV Pro is a high-end device, which allows you to enjoy Android TV on your TV in a few moments and with great fluidity. Above, you will find all the streaming applications on the market, with for example Netflix, Disney +, myCanal, Molotov, OCS or Prime Video. Remember that the catalog is the largest for a device of its kind. Above all, the content you watch can benefit from an upscaling system that intelligently improves quality.
This small box is also compatible with many image and sound standards such as 4K, HDR10, Dolby Vision and Dolby Atmos. 4K videos are smooth, even at super high bitrates. But unlike its main more affordable competitors, this model is able to transform itself into a real video game console with its Tegra X1 + chip. You can of course connect certain controllers to it for better comfort. Finally, Nvidia opens the doors to the catalog of its cloud gaming service GeForce Now, which allows you to play (via a subscription) with ease the latest titles from home consoles.
Moreover, the box is rather complete in terms of connectivity, with 1 HDMI port, 1 Ethernet port and 2 USB 3.0 ports. It is also compatible with certain voice assistants such as Amazon Alexa and Google Assistant, in order to perform voice commands or search the Internet. Finally, the box is delivered with a very ergonomic remote control, comprising a total of 10 very functional buttons (including one that opens Netflix).
Find the Nvidia Shield TV Pro at 194 euros on Cdiscount