Xiaomi
Poco X3 Pro: Here you can get the brand new Xiaomi phone with a huge discount
BARGAIN
You can get the Xiaomi Poco X3 Pro right at the market launch with a 60 euro discount and thus at the absolute best price. We will lead you directly to the offer.
Do you want the new one Buy Xiaomi Poco X3 Pro? Right at the start of the market you can buy the Poco X3 Pro already save money. Holds for first time buyers Xiaomi namely a special price action ready. If you access it now, you will receive a discount of 50 euros from many retailers.
With a trick, however, you can even save 60 euros and get the smartphone even cheaper: Buy the cell phone via the App des Xiaomi-Online-Shops and enter the voucher code "MISTORE". In this way you can secure another 10 euros discount on the deal price.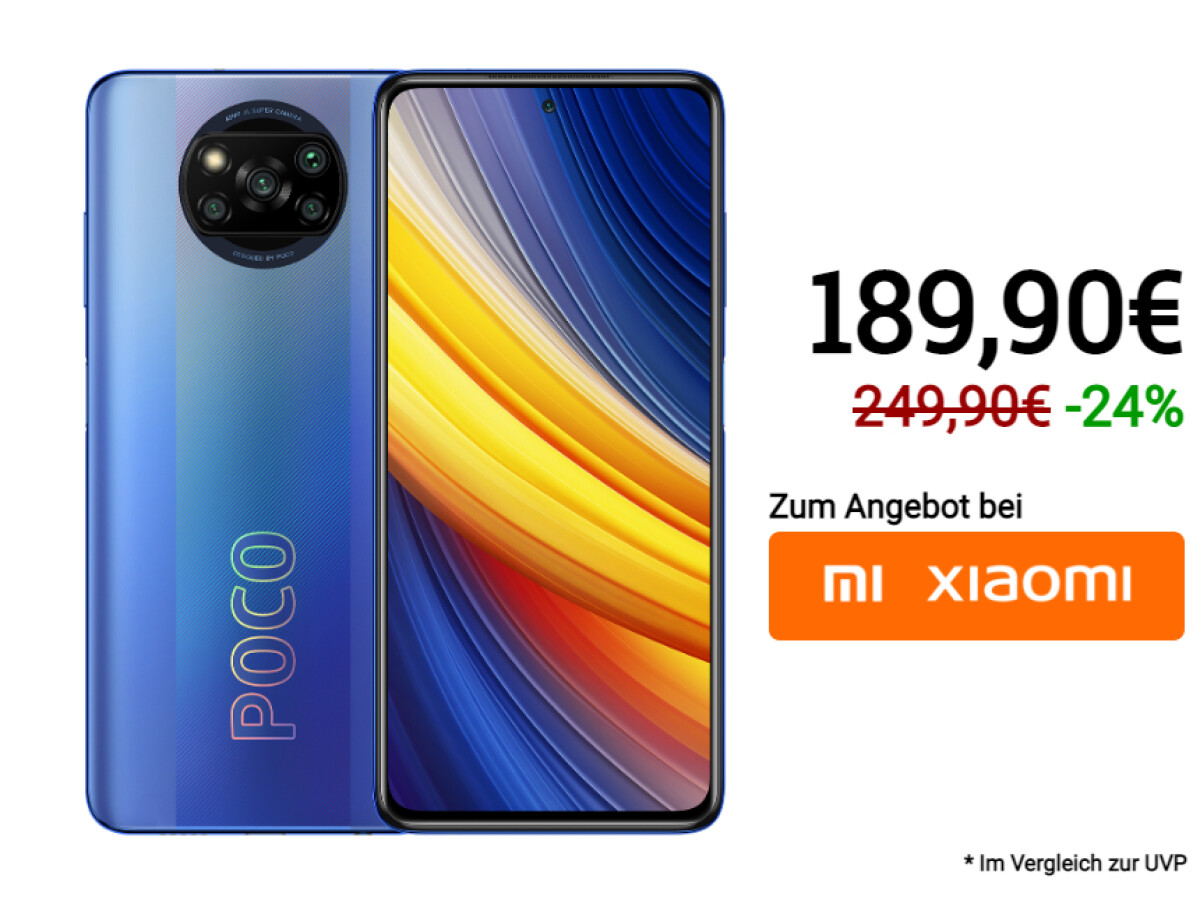 Poco X3 Pro 50 euros cheaper

Qualcomm Snapdragon 860

6 GB + 128 GB

120 Hz 6.67'' FHD+ DotDisplay
Instead of 249.90 euros you pay only 189.90 euros for the model with 128 gigabytes of device memory if you order via the mobile app. The Poco X3 uses a fast Snapdragon 860 processor, 6 gigabytes of RAM and a 6.67-inch display with 120 Hertz and a sampling rate of 240 Hertz. If you want to use the version with 256 gigabytes, you currently pay 239.90 euros instead of 299 euros.
To the offer at Xiaomi ›

Never miss an offer

Current deals can be found in our section "bargain". In order not to miss a deal, you should also subscribe to our bargain newsletter. In this we regularly provide you with the best offers from the technology sector.
" Tip: The best VPN providers for more security and data protection