The Chinese manufacturer yesterday presented several new products intended to enrich its catalog. Among them, a new multitasking wireless charger, which is reminiscent of Apple's AirPower, a concept never marketed by Apple.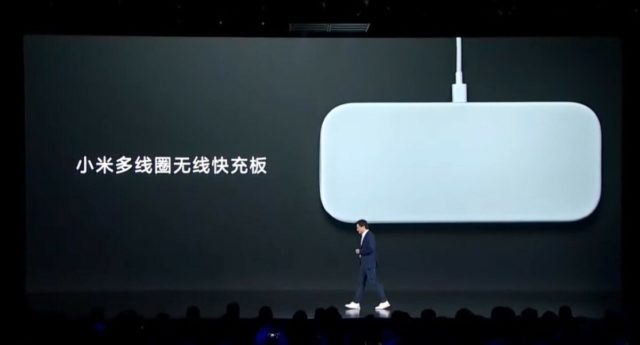 The event may have lasted for some time – especially since it continues today, these four hours of live performance provided by Xiaomi will have been an opportunity to take stock of several new features intended to enrich the catalog. of the Chinese brand. On the sidelines of Mi 11 Ultra and its many variants, Mi Smart Projector 2 and Mi Smart Band 6, we also note the arrival of AirPower, a wireless charger capable of charge up to three devices simultaneously, without particular placement. We are obviously far from Mi Air Charge, a concept presented earlier this year by the company, but the idea has the merit of being promising.
To create an operational charger without requiring precise placement, Xiaomi's new AirPower has no less than 19 coils distributed over its entire base. The station is therefore able to automatically detect the positioning of a device, in order to offer it a wireless charge up to 20W. The device also offers the possibility of charging up to three devices simultaneously, for a total of 60W. If the idea seems rather interesting, it is reminiscent of the project of Apple and its own AirPower, abandoned even before its marketing. It would seem that on this point, Xiaomi has therefore succeeded in surpassing the Apple, or at least, to materialize a project that has hitherto remained in abeyance.
Accessible to 78€ HT, the Xiaomi AirPower is currently only available in China. For European technophiles, a little patience then. In the meantime, it is always possible to turn to the new Wed 11, the technical sheet for the less enticing.
Promo
Xiaomi Mi 11 5G – Smartphone…
108MP cinematic, improved night modes. Featuring a 108MP wide-angle main sensor, …
The Mi 11 is faster, more powerful and more efficient than its predecessor, the Mi 10. The …
The 6.81-inch AMOLED DotDisplay screen with its 4 curved edges is the highlight of the show ….
SOUND BY Harman Kardon – What would a movie be without its soundtrack? Xiaomi has collaborated with the experts of …