News
[Coup de cœur] Thus Said Iwata-San: A Lesson from the Master
Released today by Mana Books, Thus spoke Iwata-San looks back on the singular story of Satoru Iwata, Nintendo's historic CEO between 2002 and 2015. Much more than a simple testimony on video games, the book is put in all hands.
Released in 2020 in Japan, So spoke Iwata-San could easily have gone unnoticed in the West. It was without counting on the publisher Mana Books, which today publishes a very beautiful French version of the work imagined by the editorial staff of the Japanese magazine Hobonichi. Through some 200 pages taken from interviews, press articles or his series "Ask Iwata", the book carefully compiles the various lyrics by Satoru Iwata during his career. The opportunity to come back to the unique journey of this living legend, from his early days as a developer to his role as Nintendo's fourth CEO.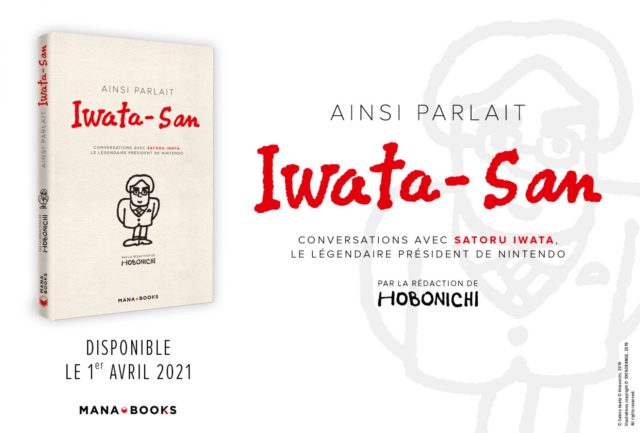 Through the account of his own experience, the businessman gives us a modest but formidably effective teaching. If you were wondering what a good business manager (and more generally a good leader) looks like, now you have the answer. By rubbing shoulders with bankruptcy at the head of HAL Laboratory, as well as worldwide recognition when the Wii was released in 2006, the company director has always put forward a way of leading based on communication with his employees. By emphasizing the human qualities and talent of its employees rather than their weaknesses, Iwata-San is even considered in 2007 and 2008 as one of the best business leaders to the world by The New York Times. In 2014, for example, he made the decision to reduce their salary by 50%, in order not to impact its employees following Nintendo's poor annual results. When he died in 2015, the developer leaves behind an impressive video game heritage, since he notably contributed to the creation of licenses Kirby, Pokémon, Metroid or The Legend of Zelda.
More than a biography or a tribute, So spoke Iwata-San is a real lesson in life. In addition to being a very beautiful editorial object, this unique and inspiring story already promises to establish itself as one of the essentials of the year, to put in all hands, and to read again and again. Whether you are a gamer or not, the book, offered at 17 €, will undoubtedly be your best financial investment for the month of April.
So Spoke Iwata-San is available at € 17 on Amazon