News
-68% and up to 1 year free
On the occasion of Easter, NordVPN is launching a new limited plan with 68% off the 2-year subscription. As a bonus, you can leave with a period of 1 or 12 additional months, as a gift.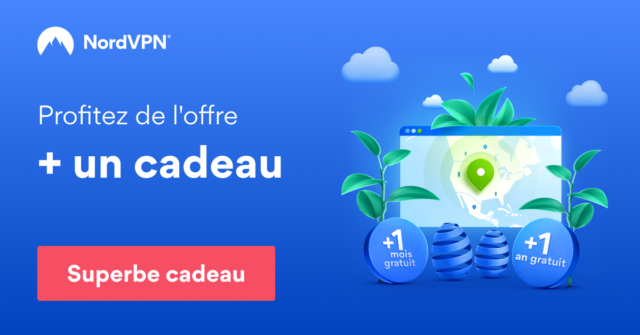 Outside the promotional period, a 2-year subscription with NordVPN costs you 229.44 euros. By taking advantage of this promotion, the subscription drops to only 2,97 euros per month. It is therefore 68% savings compared to the standard price. What's more, depending on your luck you will receive 1 month or 1 year of additional subscription offered depending on your luck. This will be added to the subscription you just purchased
Take advantage of the NordVPN offer at 2.97 euros per month

The NordVPN offer in detail
Today, NordVPN is the main reference in France and in the world with 14 million VPN users. This service allows you to protect yourself from trackers, cross-site cookies and above all to preserve your anonymity and cybersecurity in all circumstances on the Internet. The company does not keep any browsing history on its servers, and no one will be able to list the sites you have visited. All of your navigation data passes through an encrypted and secure tunnel. Even your ISP will not have the ability to know what you are doing.
The other major advantage of this VPN, especially over its competitors, is its speed performance. It's simple, there is no bandwidth limit, and NordLynx technology is used. Based on the open source WireGuard protocol, it allows you to quickly connect to any server, and especially to benefit from an excellent download speed without revealing your personal data. This is particularly useful for torrent files! Moreover, you will have access to specialized P2P servers, in France as elsewhere. They will allow you to put yourself in the best conditions to download files of all kinds.
With over 5,600 servers, you can connect with one click in nearly 59 countries around the world. This opens up the ability to watch streaming catalogs like Netflix's in the US or Japan. It should be remembered that many works are limited to certain regional locations, and are not accessible in France. Likewise, if you live in Belgium, you cannot benefit from the entire catalog of the French metropolis… and vice versa. Pro tip: connect to Belgium and go to the RTBF channel to watch all the Formula 1 and Moto GP Grand Prix for 2021 for free in French.
NordVPN is finally a clear, readable and intuitive interface for everyone. Always very easy to access, the formula is ideal for people who have never used a VPN in their life. You can install the VPN on 6 different devices, with just one account. It can be your computer, your mobile phone, your tablet, your television or your home router. Browser extensions are also available on Chrome and Firefox. If you have any concerns, you can also rely on customer service available in French 24 hours a day, 7 days a week.
Take advantage of the NordVPN offer at 2.97 euros per month