News
This 20 GB mobile plan is only 1.99 euros per month
At the beginning of April, the offers of telephone operators are linked. It is therefore natural that Cdiscount mobile returns with a new package, intended for small exchanges. Until April 7, 2021, you can subscribe to a 20 GB mobile plan for only 1.99 euros per month.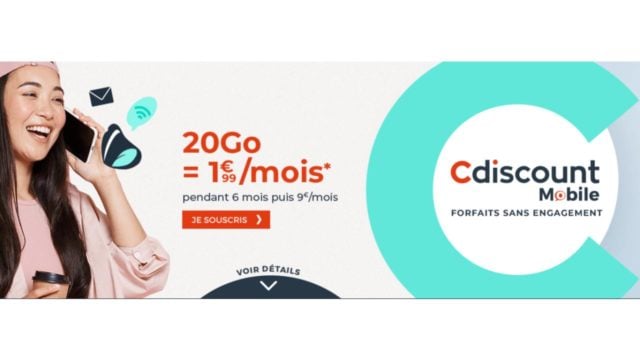 If you are looking for an economical phone plan, with enough data to surf the Internet and watch a few videos a month, this is certainly the best deal at the moment if you are looking for a very low price. . At Cdiscount Mobile, you can enjoy 20 GB per month for only 1,99 euro per month for 6 months instead of 9 euros.
Find the 20 GB package at 1.99 euros per month for 6 months

The Cdiscount 20 GB package in detail
In detail, this Cdiscount Mobile package includes:
Unlimited SMS and MMS calls in France
20 GB of data in France
Unlimited calls and SMS in France and the overseas departments
2 GB in the French overseas departments and the European Union, MMS deducted from the envelope
Available until April 7, 2021, this small 20 GB plan is ideal for people who use little mobile data on their phone and still want to benefit from the main advantages of a plan. We thus find unlimited calls, SMS and MMS in France, as well as from Europe and the overseas departments to a French number.
In addition to that, there is a small envelope of 20 GB of mobile data in 4G. There is therefore no question of staying permanently on your mobile network to watch multimedia content online, but it will be more than enough to carry out your research on the Internet or to listen to your music in streaming. It will of course be possible to follow its consumption directly in order to check where we are in relation to its ceiling. Beyond that, the flow will simply be reduced.
As we know, the period is not conducive to travel abroad. The Cdiscount mobile package understands this and only includes 2 small GB of mobile data that can be used in Europe as well as in the French overseas departments and territories. However, this allows you not to have to subscribe to a new operator for a short stay, and above all to be able to connect to WhatsApp, Messenger and the Internet as soon as you cross the border.
The price of the package is 1.99 euros per month for 6 months, then it will drop back to 9 euros per month after the promotional period. However, note that it is non-binding, which means that you can unsubscribe at the time of your choice.
Find the 20 GB package at 1.99 euros per month for 6 months

How to choose a mobile plan? Our advices
The mobile plan offers and promotions, that's not what is lacking and that's good: we don't have the same needs, the same requirements and the same budget. Some people are looking for the lowest rate at all costs, others for maximum mobile data, a no-obligation plan, limited for the youngest, the possibility of affording a new smartphone… To find the perfect fit, you just have to essential to go through the box: what do I really need and what are my financial limits?