News
Not an April Fool's Day: soon an Xbox Series X mini-fridge!
This is certainly the good news of the week for Xbox fans: Microsoft has confirmed that it will produce mini-fridges with the image of the Xbox Series X!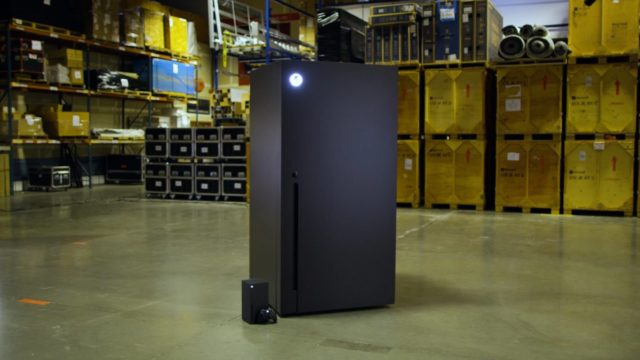 Since the presentation of the design of its new game console, Microsoft is often laughed at because the Xbox Series X actually looks like a fridge. The manufacturer has all the same put the laughs on his side by uploading last October a funny video presentation of a… real Xbox fridge!
A mini fridge for Xbox fans
Unfortunately, this huge refrigerator will never be offered for sale, but on the other hand fans will be able to get their hands on a "mini" version, as Aaron Greenberg, the boss of marketing at Microsoft, promises during a competition. brands on Twitter.
Xbox was opposed to Skittles, and it was up to Internet users to decide between the two brands. The final result was tight, but it was ultimately the Xbox that won with 50.5% of the vote! In doing so, Aaron Greenberg announced that on the strength of this victory, Microsoft would indeed launch the production of Xbox Series X mini-fridges. And it's not a joke of April 1 … Good player, he promises that the first copy will be sent to Skittles.
Thanks to everyone who voted, this was down to the wire and thrilling to follow. Now that @Xbox won, we will move forward on our promise to make those Xbox Series X Mini Fridges. First one off the line will be filled with games & headed to our friends @Skittles of course! 💚🌈 https://t.co/xeeN8yLGV8

— Aaron Greenberg 🙅🏼‍♂️💚U (@aarongreenberg) April 2, 2021
If Xbox enthusiasts can only rejoice in being able to chill their drinks in this mini-fridge, there are still a lot of unanswered questions: when will this device be available? At what price ? More importantly, how many copies does Microsoft intend to produce? Because if it's like the Xbox Series X, the risks of shortage are real …