News
From gaming to photos, here's everything the OPPO Find X3 Neo 5G can do for you
Between quadruple photo sensor and high performance SoC, the OPPO Find X3 Neo 5G skillfully manages to offer photo and video game enthusiasts the perfect compromise.
OPPO has launched its new OPPO Find X3 series and after our dive into the billions of colors displayed and captured by the OPPO Find X3 Pro 5G, let's discover the second terminal in the series: the Find X3 Neo 5G. Like his big brother, he will know how to awaken the colors of photos, but without lulling the player who is in you. Between performance, screen, photo, and style, the OPPO Find X3 Neo 5G adapts to all situations for all users. However, it does make some adjustments to be more affordable, without compromising on the essentials. You therefore have the heart of the experience of a true flagship, without paying the price.
In the beginning, there is the photo
The first distinctive element of this OPPO Find X3 Neo 5G is its photo configuration. It revolves around a sensor little used on the market with its 50 MP Sony IMX766 sensor opening at f / 1.8 with optical stabilization. It's strictly the same sensor as the Pro version, so you'll be able to capture equally good quality shots. OPPO's software processing will then complete the whole. In short, on its main sensor, this Neo 5G version does as well as the flagship.
There are also 3 other very interesting sensors with on the one hand an ultra-wide-angle sensor for your landscapes, on the other hand a telephoto lens capable of offering a 2x optical zoom and up to 20x with the support of the software. Finally comes the macro sensor, very useful when your subject is particularly close. With this quartet, the OPPO Find X3 Neo 5G therefore has a sensor for all situations, landscapes as far as the eye can see, to the smallest of insects.
Fluid even in its curves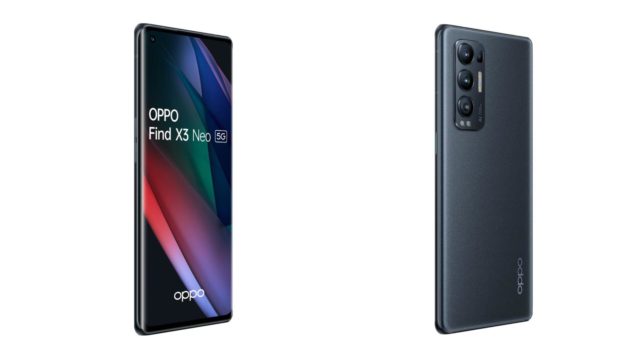 After the photo, the second centerpiece of a smartphone is its screen. With the OPPO Find X3 Neo 5G you will also be able to enjoy one of the best displays of the moment in its price segment. Its 6.55-inch HDR 10+ compatible panel uses OLED technology and therefore offers flawless contrasts since they are purely and simply infinite. This is why the technology is particularly popular today on high-end televisions by cinema lovers. It will therefore be perfectly suited to viewing videos from different streaming platforms. For everyday use and gaming, it also features a high refresh rate of 90Hz for maximum fluidity.
A fluidity that is also found in the curves of the smartphone. OPPO has worked on its design to avoid sharp, unpleasant edges under the fingers. This is done not only thanks to rounded corners, but also and above all, thanks to the screen curved on the sides and a rear face that does the same. Enough to provide additional elegance, while gracefully hugging your palm when you hold it. Add to that a delicately sandblasted coating and a thickness of less than 8 mm and you certainly have a very pretty jewel in your hand.
Play fast, charge fast
The OPPO Find X3 Neo 5G has heart. It even has eight thanks to its very powerful Qualcomm® Snapdragon ™ 865 processor. This chip engraved in 7 nm remains to this day one of the most powerful on the market. It is also supported by 12 comfortable gigabytes (GB) of RAM. The couple will be particularly appreciated by players who will be able to enjoy their titles in the best conditions for a few years. This makes the OPPO Find X3 Neo 5G one of the most suitable smartphones for gamers, especially since its 5G compatibility will allow you to take advantage of the low latency of the new network standard when it becomes available in your home. If you're not a gamer, you'll be able to switch between apps in the blink of an eye. With so much RAM, multitasking is a treat.
As always, OPPO is not forgetting its hallmark: fast charging. Thanks to the brand's 65W SuperVOOC technology, it is possible to fully recharge the terminal's batteries in about 35 minutes. It may seem anecdotal or at least of little use when you are used to recharging your phone at night. Far from it in reality. Because SuperVOOC allows you to change your habits. No need to charge your smartphone at night, just put it on charge when you wake up, while you are getting ready, and there you are with all the energy you need for the day to come… and all night long.
The OPPO Find X3 Neo 5G is already available for 799.90 euros. The OPPO Find X3 series is made up of two other terminals: the OPPO Find X3 Pro 5G at a price of 1149.90 euros and the OPPO Find X3 Lite at a price of 449.90 euros. The OPPO Find X3 Lite benefits until April 25 of an introductory offer with the wireless headphones OPPO W51 offered deferred with any purchase of the phone. The brand thus manages to present a smartphone for all budgets. It also offers the OPPO Watch 46mm, a particularly complete connected watch that will be an ally of choice in everyday life and also for sports sessions.
Find the OPPO Find X3 Neo at Orange Find the OPPO Find X3 Neo at SFR Find the OPPO Find X3 Neo at Amazon Find the OPPO Find X3 Neo at FNAC
This article is sponsored by OPPO. It was produced in partnership by a dedicated team, independent from the editorial staff of Journal du Geek.