It has been a while since we last heard from the Huawei P50. Exactly, here are some leaked images on Sina Weibo!
In recent times, smartphone manufacturers seem to want to differentiate themselves on the side of their photo block. Everyone has their own little recipe, between the glass plate iPhone 12 Pro, the block that overflows on the edge way Samsung Galaxy S21, the one that blends into the casing so Oppo Find X3 Pro or the huge photo paraphernalia of the Xiaomi Mi 11 Ultra. And precisely, while this latest model stole the show from Huawei by dislodging its Mate 40 Pro from first place in the DxOMARK ranking, the brand is preparing its return with the Huawei P40, which would also have a photo block with a good look. particular.
Electric look
Month after month, we have seen the design of this rear prominence take shape through numerous renderings, but now new leaks allow us to get a more precise idea. And leaker Digital Chat Station has just shared some images of a Huawei P50 model allegedly original. It did not take more for the image to circulate on Sina Weibo and that some Internet users compare the design of the rear unit to… two electrical outlets.
If everyone will judge this design in their own way, we especially note the presence of four sensors on this model – two in each circle. The Huawei P50 Pro should be entitled to a fifth sensor, a Sony IMX800 of 1 inch, according to previous rumors.
HarmonyOS delivered automatically?
Another leak reveals the front of the smartphone, while giving us a major clue on the future flagship of Huawei. We can indeed see the name of HarmonyOS written at the bottom of the sticker that surmounts the screen.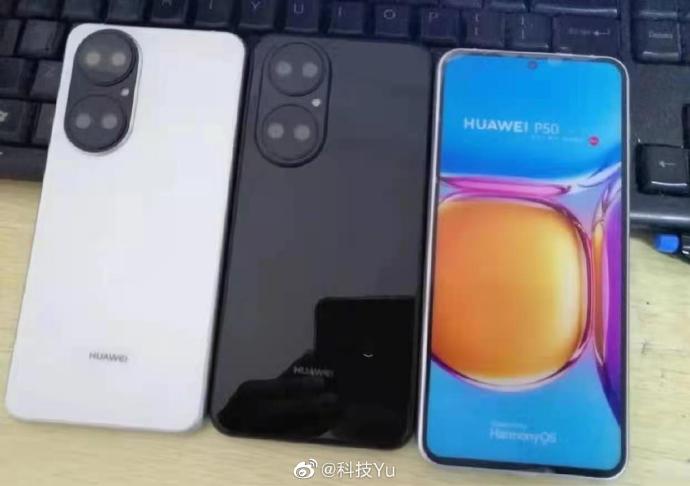 If this image is real, it means that the Huawei P50 could be the brand's first smartphone to abandon Android and integrate the company's in-house operating system. Of previous rumors nevertheless indicated that the smartphone should be available in two versions: one equipped with HarmonyOS, exclusively intended for China, and the other with the open-source version of Android topped with Huawei's software overlay, planned for the International market. It remains to wait for the launch of the Huawei P50 to be sure.