News
The Samsung Odyssey G5 and its 34 inches drop to just € 449
If you are looking for a large, ultra-wide PC screen with a solid display quality, the Samsung Odyssey G5 is a very good option. The C34G55TWWU model is available today at 449 euros on Rakuten.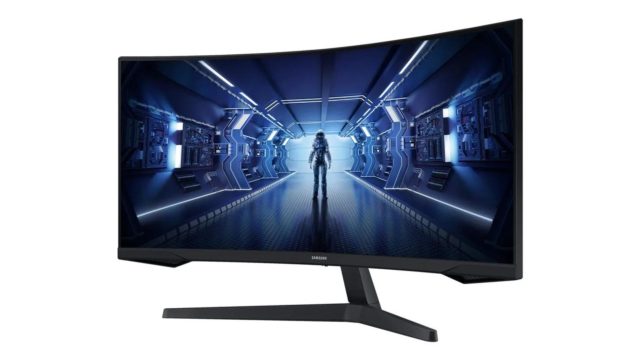 Wide screens are more and more popular and can replace the traditional double screen, very practical in office automation. Above all, you can play the latest title in a much larger resolution, offering better immersion. Usually indicated at 500 euros, this model benefits from a nice reduction at Rakuten to fall to 449 euros. It is sent by Boulanger.
Find the Samsung Odyssey G5 C34G55TWWU at 449 euros on Rakuten
The Samsung Odyssey G5 C34G55TWWU in detail
While less luxurious than the G7, the Samsung Odyssey G5 C34G55TWWU is a good quality computer screen, offering a large dimension of 34 inches, or 86 cm diagonal. This LED-backlit LCD screen deploys a resolution of 3440 × 1440, while of course being curved to enhance immersion. Whether for office automation or for video games, the 21: 9 format has its effect.
The image of this monitor is also reinforced by the various compatible technologies. We can mainly mention the HDR (HDR10), the Mega DCR or the FreeSync Premium which takes care of synchronizing the refresh rate of your monitor with your graphics card, if it is compatible. The fluidity of this model is also there, since the panel offers refreshment at 165 Hz and a response time of only 1 ms. This makes this screen a solid option for video games.
For the rest, we will particularly appreciate the base which is adjustable, which is not always the case for a screen of this size. You can therefore tilt it to suit your viewing angle, and your desk. The connection remains basic, with a DisplayPort input (DisplayPort 1.4 mode), an HDMI input and a headphone jack. It is possible not to use the screen support to fix it to the wall, or to an arm. Everything is guaranteed for 2 years.
Find the Samsung Odyssey G5 C34G55TWWU at 449 euros on Rakuten