Available in the United States, the brand of electric scooters Unagi arrives in France with its Model One. It has been produced with particular attention to design, the materials used and its performance. Discover it in detail through this grip.
We have been testing the Unagi Model One for several weeks now, this electric scooter that is a hit in the US, has just arrived in France. It is found in 4 colors and in two versions: the E250 marketed at 840 euros and the E500 at 990 euros, the difference between the two models is at the level of the engine then the E250 only embeds a single engine, so that the E500 has two as well as 2 kg more suddenly. Everything else is the same!
A luxury electric scooter
We were therefore able to test the E500 model, which is called across the Atlantic, the Tesla of electric scooters. And that's saying so much this Unagi scooter relies almost everything on a slim and sleek design, with an excellent finish. Made of magnesium, aluminum and carbon fiber, the E500 offers fine lines and pleasing to the eye because it has few visible cables, as well as foolproof strength and a weight of 12kg. Proof of this quality, the exterior of it is worthy of a luxury vehicle with three distinct coats including a laminate coating and highly abrasion resistant paint to handle the wear and tear of the road. Best of all, the scooter steerer tube uses the same carbon fiber as Elon Musk's SpaceX shuttle (Japanese TORAY carbon fiber)! According to the manufacturer, "his scooters will never rust".
Its futuristic magnesium alloy handlebars (33% lighter than aluminum) offer intuitive controls via few buttons (horn, LED headlight and options), a throttle and one for the brake. The handlebar grips are made of rubber and have a fairly ergonomic shape, they do not move while holding them while riding.
In the center, we find the screen (and the on / off / activation button for 1 or 2 motors) which is monochrome and particularly readable even in direct sunlight. It indicates the speed, the number of km, the speed mode, the range or even if you are using one or two motors.
The "deck" of the scooter is quite spacious (max load 120 kg), its height is 8.3 cm, it is in the form of a single piece of machined aluminum with silicon integrated on the upper surface for traction. The overall dimensions of the E500 are 96 x 42 x 110 cm unfolded against 96 x 42 x 38 cm folded.
As is the case with many competitors, the scooter is delivered in a large box, and you just have to connect and screw on the handlebars (everything is provided in the box) to be able to quickly take advantage of it!
Finally, it should be noted that it has front and rear LED headlights, as well as two robust mudguards, a metal kickstand (left side), and an IP54 water resistance rating.
Powerful and pleasant driving
The E500 has a dedicated 250 watt motor for each wheel, delivering 500 watts and 32 Newton meters of torque, so you can tackle climbs up to 15 degrees of incline easily and without difficulty. These motors are equipped with an NdFeB magnet (permanent rare earth magnet in Neodymium-iron and boron) and a monitoring system to prevent overheating. Quiet and fast, these engines make the E500 one of the fastest scooters on the market with an acceleration in 4.4 seconds from 0 to 24 km / h (5.3 s for the Xiaomi M365 Pro for example)! Its top speed is 25 km / h in France (but it can go faster in the US for example) with a braking distance of less than 5 meters. It has 3 speed modes: Eco 15 km / h, Standard 20 km / h and Pro at 25 km / h.
In driving, we must admit that it is very pleasant. Lightweight, the E500 handles fairly well and sneaks around. It also offers a lot of response with its two engines, but much less if you use only one, which is possible depending on your use (this also has an impact on the autonomy).
In fact what we will regret the most about this E500 during our journeys are the wheels, with a dimension of 19.05 cm, these are made of a solid rubber and are puncture-proof. OK, but even with air pockets distributed over the entire surface of the wheel, as soon as the road is in bad condition, the jerks are quite noticeable. We would have liked a front and / or rear suspension system at this price! The handlebars and the stem are quite solid, we didn't particularly notice any wobbling between them during our tests.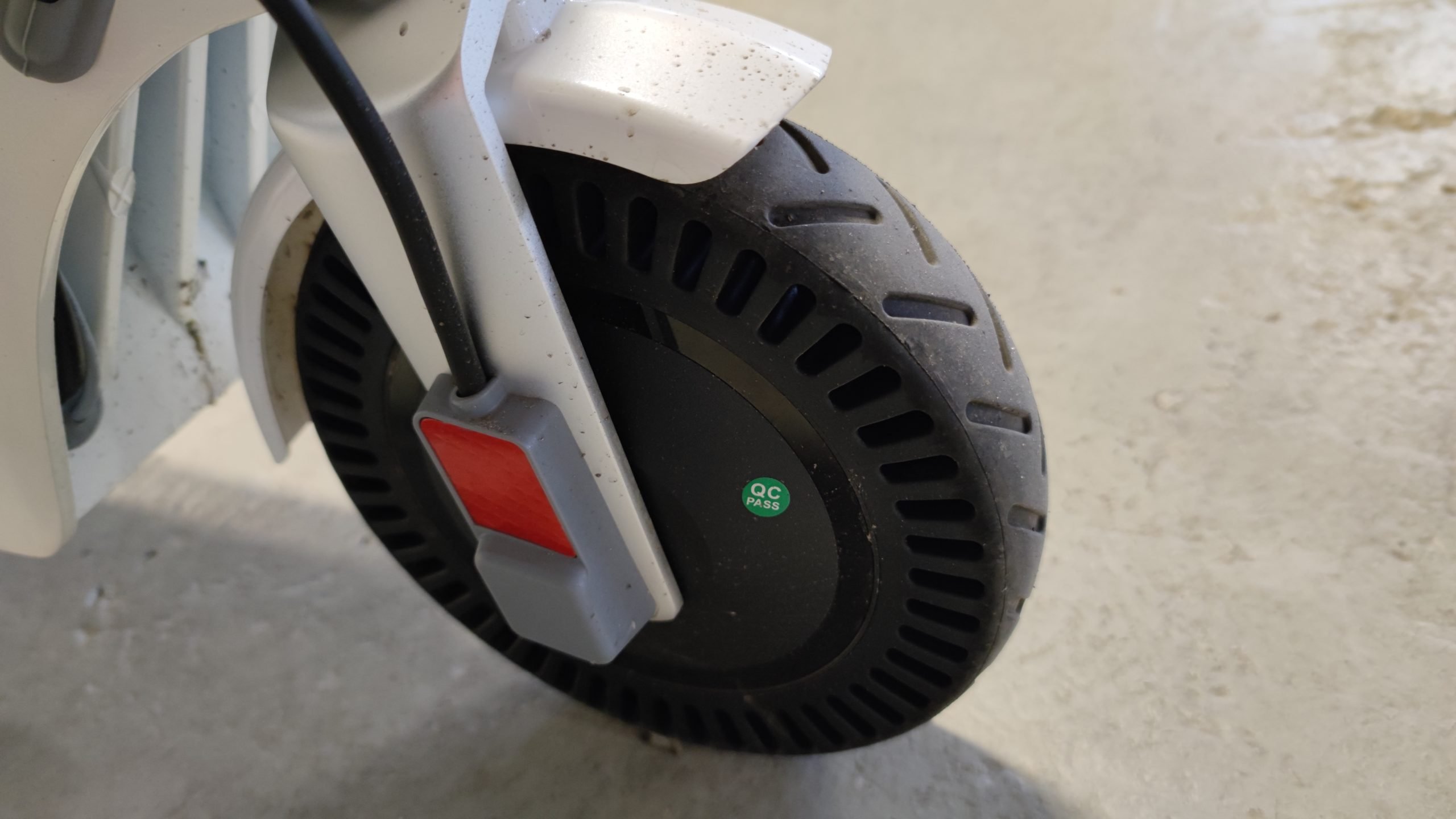 With 12kg the E500 is ultimately not very heavy and well balanced to accompany you in public transport for example. The handling is easy, but it is above all its simple and efficient folding system that pleasantly surprised us. In fact, just press a button (at the front wheel) and the stainless steel hinge system folds and locks with a single click, same for unlocking. We will just note a small downside, it is that if you push it (on foot) and it is on, we have the impression that the wheels are braking and it is quite unpleasant, it will therefore be necessary to switch it off in this case. case.
Security but autonomy at half mast
The Model One E500 is equipped with two electronic E-ABS brakes and a manual foot brake at the rear. For acceleration, as well as braking, the controls have built-in sensitivity so that a simple push down increases their responsiveness. Moreover, emergency braking is not intended to be excessively brutal. Note that the electronic brakes will not work if the power is suddenly cut off (electronic anti-lock lock), in this case you will have to use the foot brake, which is safer.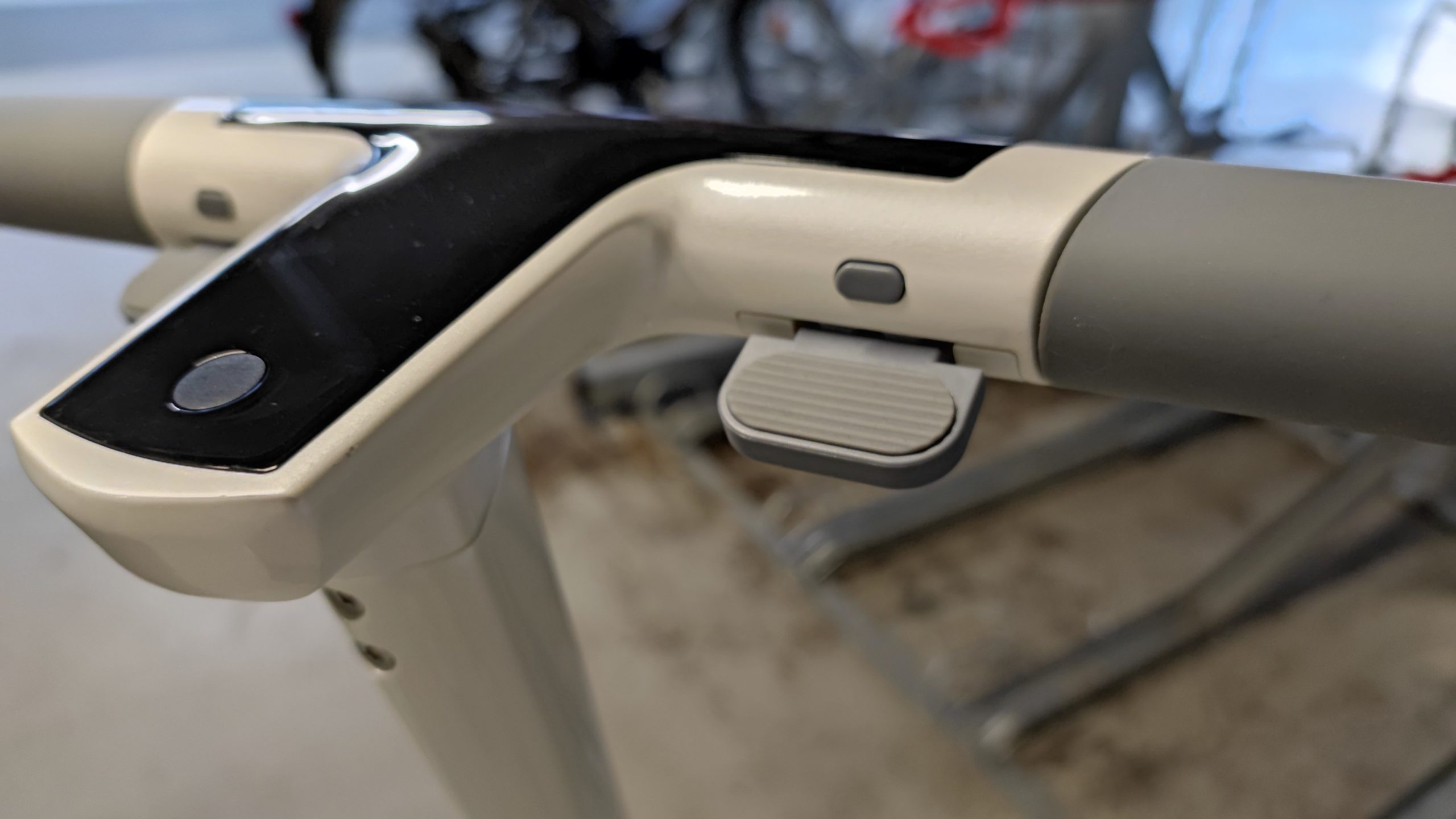 The scooter is also equipped with two LEDs, one white at the front with a power of 1.8W offering a lighting of 47 lumens, and the other red at the rear permanently lit and flashing as soon as you use the brake.
Now let's move on to the autonomy part. The E500 has a 500 W battery composed of lithium-ion cells for a total of 9000mah and has a maximum range of 25 km according to the manufacturer. Let's be honest, we never got there, whether it was with one or two engines activated, the range varies between 13 km and 20 km, it is a real disappointment, although fortunately we do not do so many kilometers per day, but a charge every 3 or 4 days seems inevitable in our case (use of both engines in Pro mode). Charging takes about 4 hours. Note that there is no counter regeneration of the battery when you ride like on the Xiaomi scooter.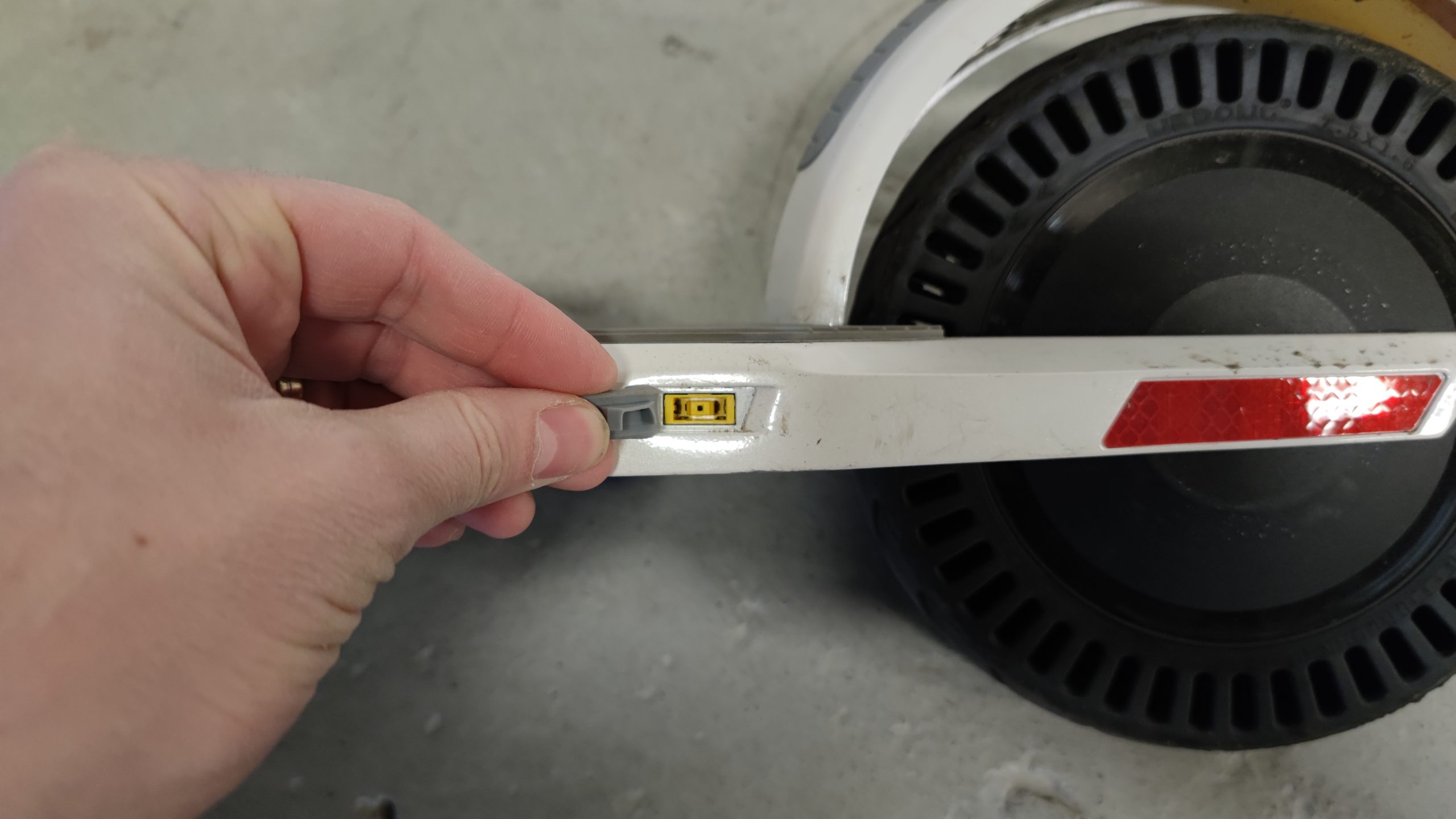 Finally, it should be noted that the battery is equipped with several sensors that can detect a temperature anomaly, a short-circuit, an electrical overvoltage and can automatically go into standby in the event of undervoltage, not to mention protection against overload and overload. excessive discharge.
Finally, at that price, we would have expected the E500 to be a minimum connected, if only to have data on the use of the latter, but also an electronic anti-theft lock, even if we know that is never enough. A point that will surely be taken into account for the next models.
Where to buy it?
The Unagi Model One is available in 4 colors on the brand's official website at a price of 840 euros for the E250 model and 990 euros the E500 model, free delivery.