The DXOMARK laboratory has just added a new string to its bow, with the DXOMARK Battery test, which scrutinizes the autonomy and lifespan of our smartphones. Unsurprisingly, flagships are not necessarily models.
Already at the initiative of several tests Camera, Selfie, Audio and Dispaly, the DXOMARK laboratory has just launched a whole new experiment, this time focused on the autonomy of our smartphones. In a report made public this morning, the French company thus recalls that "MAh and Watts do not reflect battery experience". To avoid the unpleasant surprise of being broken down at a critical moment, or having to stay three hours planted in front of its charger until our terminal deigns to regain its strength, DXOMARK explains thus having taken into account nearly 100 parameters and 70 measurements, in a test protocol sometimes reaching 150 hours per smartphone. After having isolated three main main measures (autonomy, load and energy efficiency), the company was thus able to share its first results.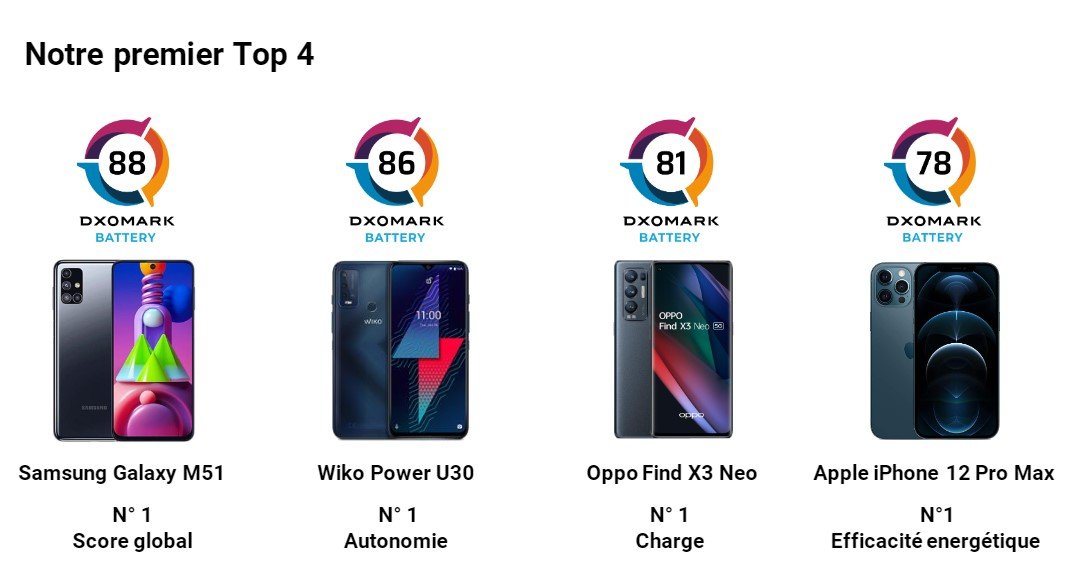 At the top of the ranking, we thus find the mid-range Samsung Galaxy M51. Released last year, the smartphone is doing with the honorable average of 88 points out of 100, with 96 points of autonomy, 61 of charging time, and 87 of energy efficiency. To complete the podium, we then find the outsider Wiko Power U30 (86 points), and the Oppo Find X3 Neo (81 points). The flagships of the moment are found a little lower in the ranking. While l'iPhone 12 Pro Max takes fourth place with 78 points, the Xiaomi Mi 10T Pro 5G (72 points) and OnePlus 8T (71 points) respectively occupy the seventh and eighth places in the standings. Regarding Samsung, le Galaxy S21 Ultra 5G offers itself a double entry for the less edifying: while the model equipped with a SoC Snapdragon lands in tenth place with 70 points, the Exynos version reserved in particular for the European market, finds itself in sixteenth place, with only 57 points .
When it comes to measuring battery life, Wiko once again shines, with more than 80 hours of life for its Power U30, nearly double the iPhone 12 Pro Max. and its 48 hours of autonomy. Obviously, this first ranking will have to evolve over the coming weeks, as DXOMARK will continue its tests by adding new models to its test panel.
iPhone 12 Pro Max 128 GB at the best price Base price: 1,259 €
See more offers