More than 500 euros in discount, Galaxy Buds Pro or Smart Monitor M5 27 "offered, has there been a better time to buy a Samsung Galaxy Z Fold 2 or Galaxy Z Flip 5G?
With the Galaxy Z Flip and Z Fold 2 Samsung has managed to design the best, but also the only folding smartphones available. With these terminals, the Korean manufacturer has reinvented the way we interact, communicate and live our daily lives. But the prices of these new terminals equipped with advanced technologies are still high, except that at the moment they are more affordable thanks to various promotions offered by Samsung. Here's how to afford a foldable smartphone at a lower price.
Take advantage of promotions on the Galaxy Z Fold 2
Take advantage of promotions on the Galaxy Z Flip 5G
Save more than 500 euros thanks to the trade-in bonus
On its site, Samsung is currently offering a trade-in bonus of 100 euros. Of course, the total amount of the return varies depending on the model of smartphone or tablet you are returning as well as its condition, but thanks to this bonus the amount will be at least 100 euros, and this, regardless of the model and the state since it is the basic amount to which you will therefore add the amount of the recovery. The good news is that the trade-in works with a large number of terminals (smartphones and tablets) from various brands. It is therefore very likely that your current model is eligible.
If you have a recent smartphone in good condition, it can be taken back up to 452 euros. To this amount is therefore added the trade-in bonus of 100 euros for a total of 552 euros reduction. On the Galaxy Z Fold 2, this corresponds to a 30% reduction for a terminal which therefore amounts to 1247 euros. An excellent price for this Galaxy Z Fold 2! If you prefer the Z Flip 5G, it benefits from the same reduction, that is to say that thanks to the trade-in bonus it drops to 807 euros. It is very clearly the opportunity to have fun thanks to the promotion of Samsung.
The trade-in offer procedure is simple, and all the steps explained. You must first go to Galaxy Z Fold 2 page or that of Galaxy Z Flip 5G, then select the trade-in offer. You will then be guided step by step.
You will first have to select the model of your smartphone and then enter its IMEI number. This number can be accessed by dialing *#06# on the numeric keypad of the "telephone" application. You can also find it in the "about" section of your mobile or even directly on the box. The final estimate of the trade-in amount with the bonus of 100 euros included is now displayed.
You then place an order without having to advance the cost of the discount. Upon receipt of your new mobile, you will have 7 days to send your old smartphone to Samsung using the return slip provided free of charge. Enough to give you time to transfer your data to your new smartphone. Upon receipt, Samsung will analyze the terminal and confirm the amount of the discount if it meets the initial description. Note that in addition, Samsung offers you 60 days to let yourself be seduced by your new product or they will reimburse you, but also that the Samsung Care + 1 year warranty is offered.
Take advantage of promotions on the Galaxy Z Fold 2
Take advantage of promotions on the Galaxy Z Flip 5G
A free pair of Galaxy Buds Pro or Smart Monitor M5 27 ″
In addition to this exceptional trade-in offer, Samsung is adding an additional free gift if you succumb to the Galaxy Z Fold2: a pair of Galaxy Buds Pro or Smart Monitor M5 27 ″.
Galaxy Buds Pro: complete with great sound
Combining AKG's sound expertise and Samsung's technological know-how, the Galaxy Buds Pro are in-ear type headphones (with the tip inserted into the ear canal) that deliver powerful sound , rich and devoid of distortion, whether it's classical music or hip-hop. They are therefore equipped with an 11mm speaker for the bass and a 6.5mm speaker for the treble. In addition, the Auto Switch function allows Galaxy Buds Pro to be connected to multiple devices simultaneously.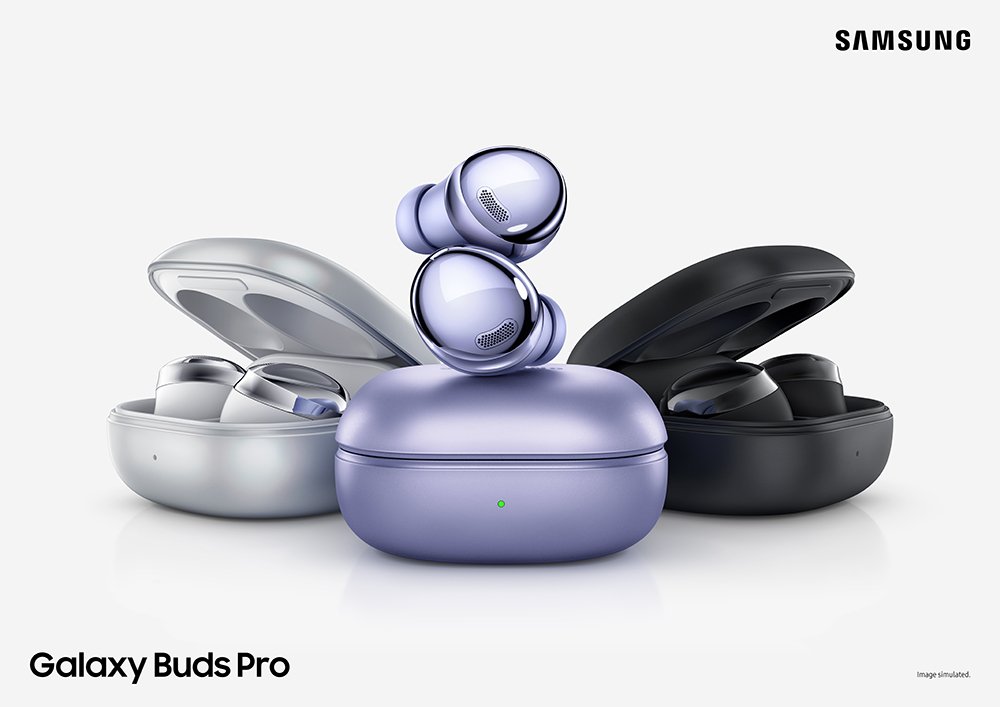 The Galaxy Buds Pro reproduce realistic and immersive sound thanks to the 360 ​​Audio function, which uses Dolby Head Tracking technology, are IPX7 certified and are equipped with a long battery life ensuring up to 8 hours of listening while their storage box allows it to bring 20 hours of additional charge. The Galaxy Buds Pro are sold at 229 euros, a hell of a gift!
Smart Monitor M5 27 ″: the hybrid PC screen
The Samsung Smart Monitor is an innovative all-in-one screen designed to meet the new needs of users who want to work, take courses remotely or even have fun at home in the best possible conditions. The Smart Monitor thus offers advanced mobile and PC connectivity, features dedicated to teleworking and online learning, as well as Smart Hub, a platform that allows you to watch your favorite movies and series via Netflix, YouTube among others, without need a PC or a mobile device (thanks to its WiFi connectivity, its remote control and integrated stereo speakers).
The Samsung Smart Monitor offers numerous connectivity options for PCs and smartphones (Remote PC, Tap View, Casting or Apple AirPlay 2). It is equipped with a USB-C port used for data transfer, display and power (up to 65W), as well as 2 USB ports and Bluetooth 4.2. Under Tizen OS, the M5 has a 27-inch LED panel with FullHD definition and it is generally sold at 229 euros.
Take advantage of promotions on the Galaxy Z Fold 2
Take advantage of promotions on the Galaxy Z Flip 5G
Samsung Galaxy Z Flip 5G or Z Fold 2, which one to choose?
Successor of the Galaxy Z Fold, the Galaxy Z Fold2 has reinvented our way of interacting, communicating, living our daily lives via its robust and foldable screen that allows it to transform into a smartphone (6.2 inches) or tablet (7 , 6 inches), to give you a unique experience. It obviously incorporates the latest technologies: AMOLED panels with adaptive refresh rate of 120 Hz, triple photo sensor (wide-angle (12MP, f / 1.8), telephoto (12MP, f / 2.4), 10 MP (f / 2.2) ), Snapdragon 865+ processor, 256 GB of storage, not to mention 5G which supports the new network standard available in France. Its two batteries offer a total autonomy of 4500 mAh with an Ultra Fast charge. A true gem of technology, the Galaxy Z Fold2 is undoubtedly an exceptional smartphone.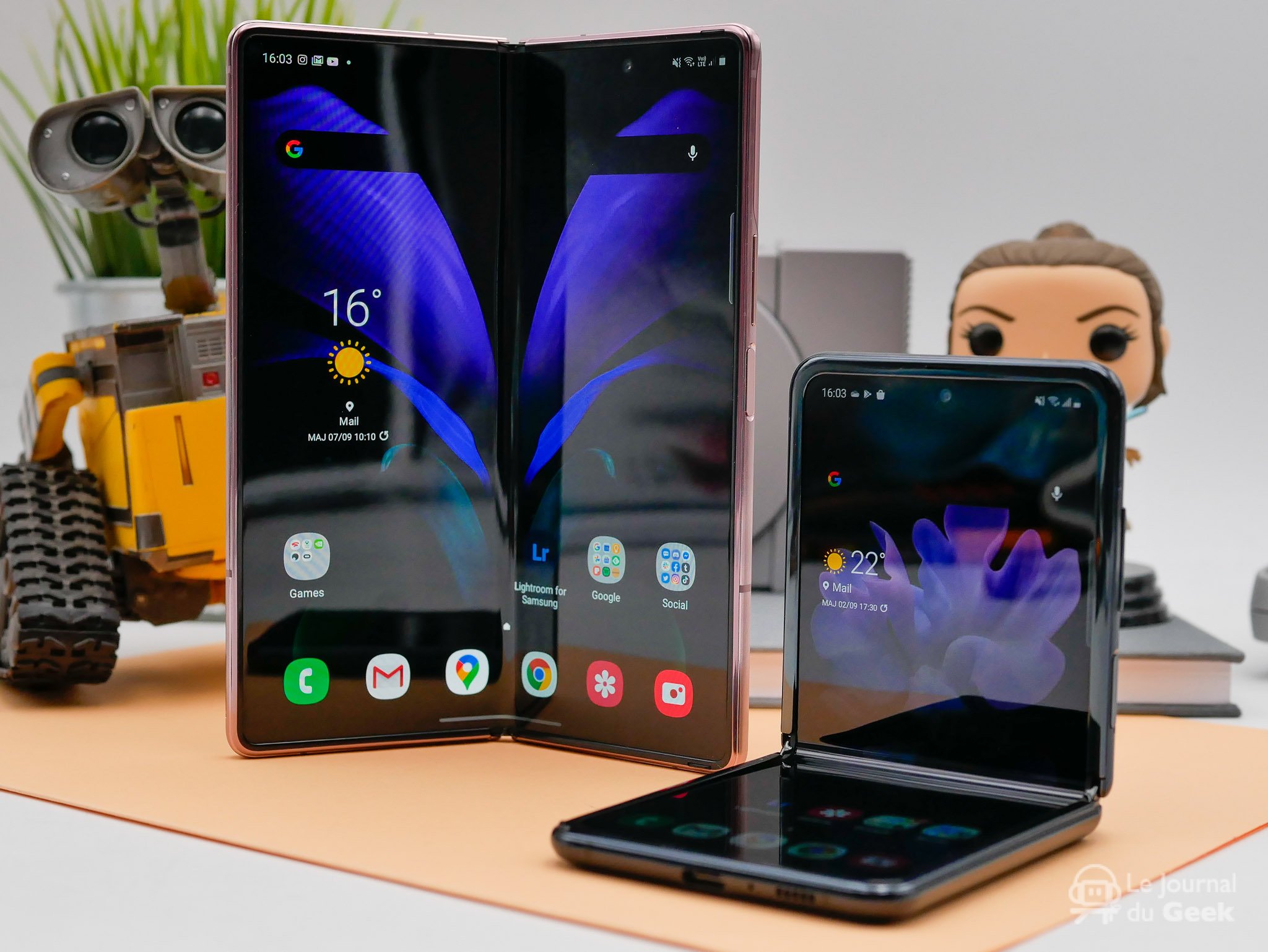 The Galaxy Z Flip 5G is a smartphone that combines a unique design with the speed of 5G. When folded (horizontally), this smartphone adopts a more compact square shape and easily finds its place in a jacket pocket, pants, or a bag. When opened, it reveals a beautiful 6.7-inch glass Infinity Flex display. Note that there is still a small screen on the front to get an overview of notifications and calls. The Galaxy Z Flip 5G is equipped with the Qualcomm Snapdragon 865 Plus processor accompanied by 8GB of RAM, a capacity of 256GB of storage, and a 3300mAh battery, not to mention its dual back sensor of 12.0 MP and one of 10.0 MP on the front. If the Samsung Galaxy 2 Flip is reminiscent of the phones of yesteryear, it is living with the times!
Take advantage of promotions on the Galaxy Z Fold 2
Take advantage of promotions on the Galaxy Z Flip 5G
This article is sponsored by Samsung. It was produced in partnership by a dedicated team, independent from the editorial staff of Journal du Geek.