Barely formalized, we were able to spend a few weeks with the new smartphone from Asus. Here is our review of the Asus Zenfone 8 Flip.
Just formalized, here is the real successor to the Zenfone 7 from last year and more particularly the Zenfone 7 Pro. Suddenly, it is no surprise that we find one of the great innovations of Asus these last two years with the Flip Camera.
2021 requires, Asus has perfected its Flip Camera to make it more solid and of course, the Taiwanese manufacturer has updated the technical characteristics with a Qualcomm Snapdragon 888 SoC, 256GB of internal memory in UFS 3.1, still a 5000mAh battery and a full screen. We spent the last ten days with it, here is our test of the Asus Zenfone 8 Flip.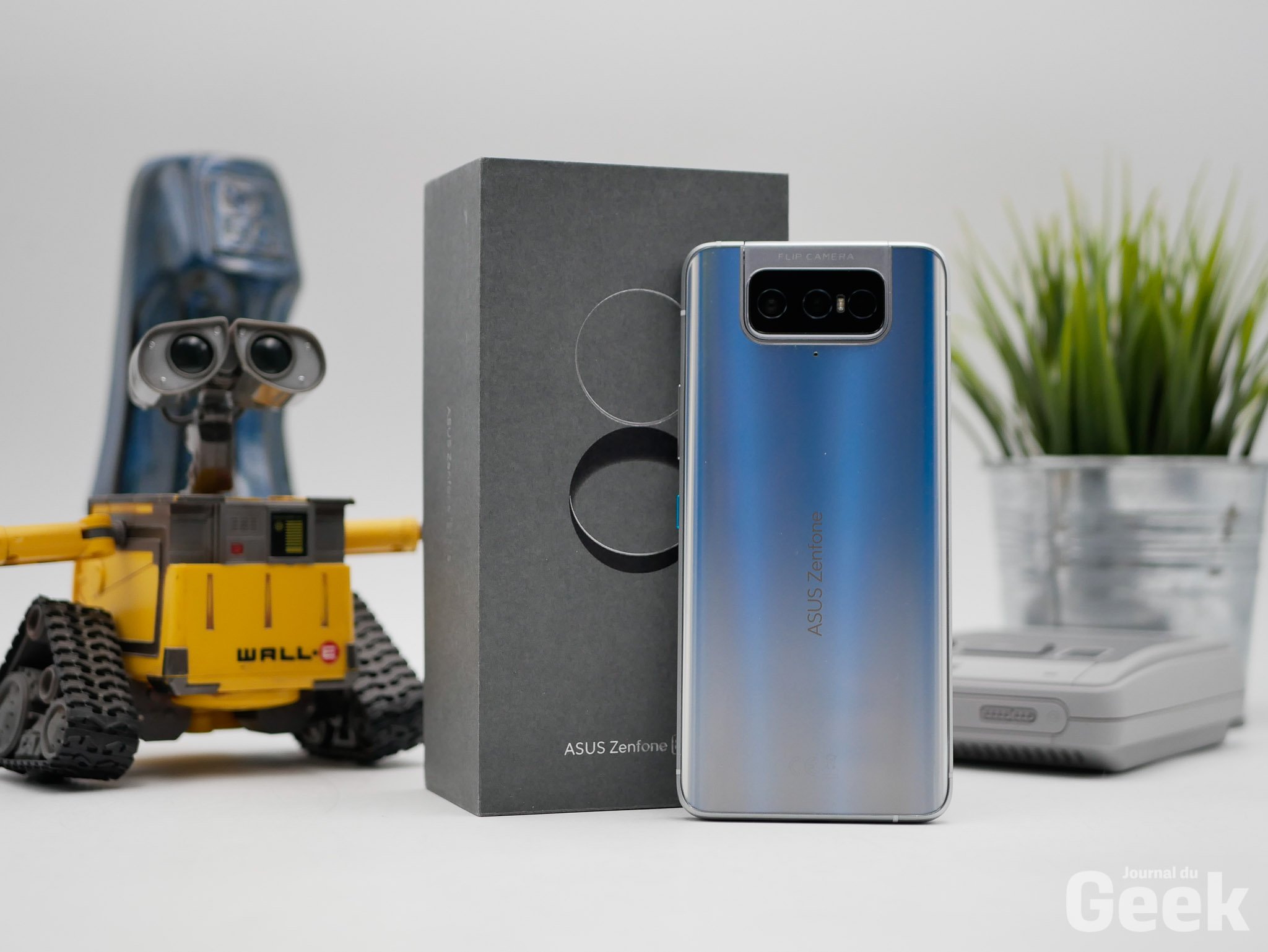 The characteristics of the Asus Zenfone 8 Flip
As a reminder on the characteristics, the Asus Zenfone 8 Flip offers:
Asus Zenfone 8 Flip
Screen
– Samsung AMOLED NanoEdge 6.67 "screen
– Gorilla Glass 6
– Définition Full HD+ (1080×2400)
– Format 20:9
– 92% occupancy rate
– 90 Hz
– Touch sampling frequency of 200Hz
– 1ms response time
– Max brightness: 700nits / 1000nits
– HDR 10+
– DCI-P3 (110%)
– Delta E
SoC et GPU
– Qualcomm Snapdragon 888
– Qualcomm Adreno 660
Memory
– 8Go de RAM LPDDR5
– 256GB of storage in UFS 3.1
– MicroSD memory port
– NTFS support for external hard drives
Colors
– Galactic Black
– Glacier Silver
– Metal outline
Dos en verre Gorilla Glass 3
Camera
– Flip Camera with three cameras:
– Wide-angle main unit: Sony IMX686 64 Megapixel, 78 °, F / 1.8
– Ultra wide-angle camera: Sony IMX363 12 Megapixel, 112 °, F / 2.2
– Telephoto Camera: 8 Megapixels, 3x Zoom, 80mm, F / 2.4

– Flip Camera en Liquid Metal
– Angle Sensor + G-Sensor
– 200,000 flips or 100 times a day over 5 years

– Dual-Pixel Autofocus (Main Camera and Ultra Wide Angle)
– Night mode
– Macro mode on the ultra wide angle
– Automatic Panorama (Main Camera and Ultra Wide Angle)

– Video recording up to 8K at 30fps and Ultra HD 2160p at 60fps
– Slow motion mode in 4K at 120fps, 1080p at 240fps or in 720p at 480fps
– Electronic stabilization on 4 axes
– Ultra-stabilized HyperSteady video mode
– Timelapse 4K

– Mode Video Pro
– Motion Tracking

Audio
– Stereo speakers
– Dirac HD Sound
– Asus AudioWizard
– No Jack plug
– 3 microphones with Asus Noise Reduction technology
Drums
– 5000mAh
– Fast charging up to 30W
– Qualcomm Quick Charge 4.0
Connectivity
– All-in-one Smart key
– Fingerprint reader under the screen
– Bluetooth 5.2
– WiFi 6
– 5G
– 2x nano-SIM (5G Dual-SIM)
– A-GPS+GLONASS, DNLA, Miracast (WiFi Direct), Google Cast
– NFC
– USB 3.0, USB Type-C
– Barometer, Gyroscope, Accelerometer
– Proximity and light sensor
Software
– Android 11
– ZenUI 8
Height and weight
– 165,04 x 77,28 x 9,6 mm
– 230g
Starting price
– 799 euros
Availability date
– May 2021
Regarding the packaging of the smartphone, no surprise, we find a box of the most classic. And unsurprisingly, we find the USB Type-C cable, a 30W QuickCharge 4.0 USB charger and small booklets for a first start. But that's not all, Asus also offers a shell with a small latch to block the Flip Camera.
Reading the specifications, we finally understand that the Zenfone 8 Flip is presented as an update to the Zenfone 7 Pro from last year. The price is still in itself justified but we prefer to warn now, if you already have a Zenfone 7 Pro, there will be really no reason to switch to the Zenfone 8 Flip.
Flip Camera et Design
With the Zenfone 8 Flip, we find the main idea of ​​offering a smartphone with a full screen. No notch therefore or even punch but this brilliant idea, inaugurated with the Zenfone 6, that is the Flip Camera. For those who have not followed everything, the Flip Camera is a motorized photo block that can be oriented 180 °. Suddenly, exit the dedicated selfie camera since the Flip Camera also acts as a selfie camera, which will not only save a camera but also have the optimal quality for selfies, the same as the main photo block. As a reminder, the idea is not new and placing the Flip Camera at the top of the smartphone allows you to easily switch to selfie mode. It is thus possible to choose the angle of inclination. If this allows you to take pictures from new angles, it also simplifies certain modes such as taking panoramas for example.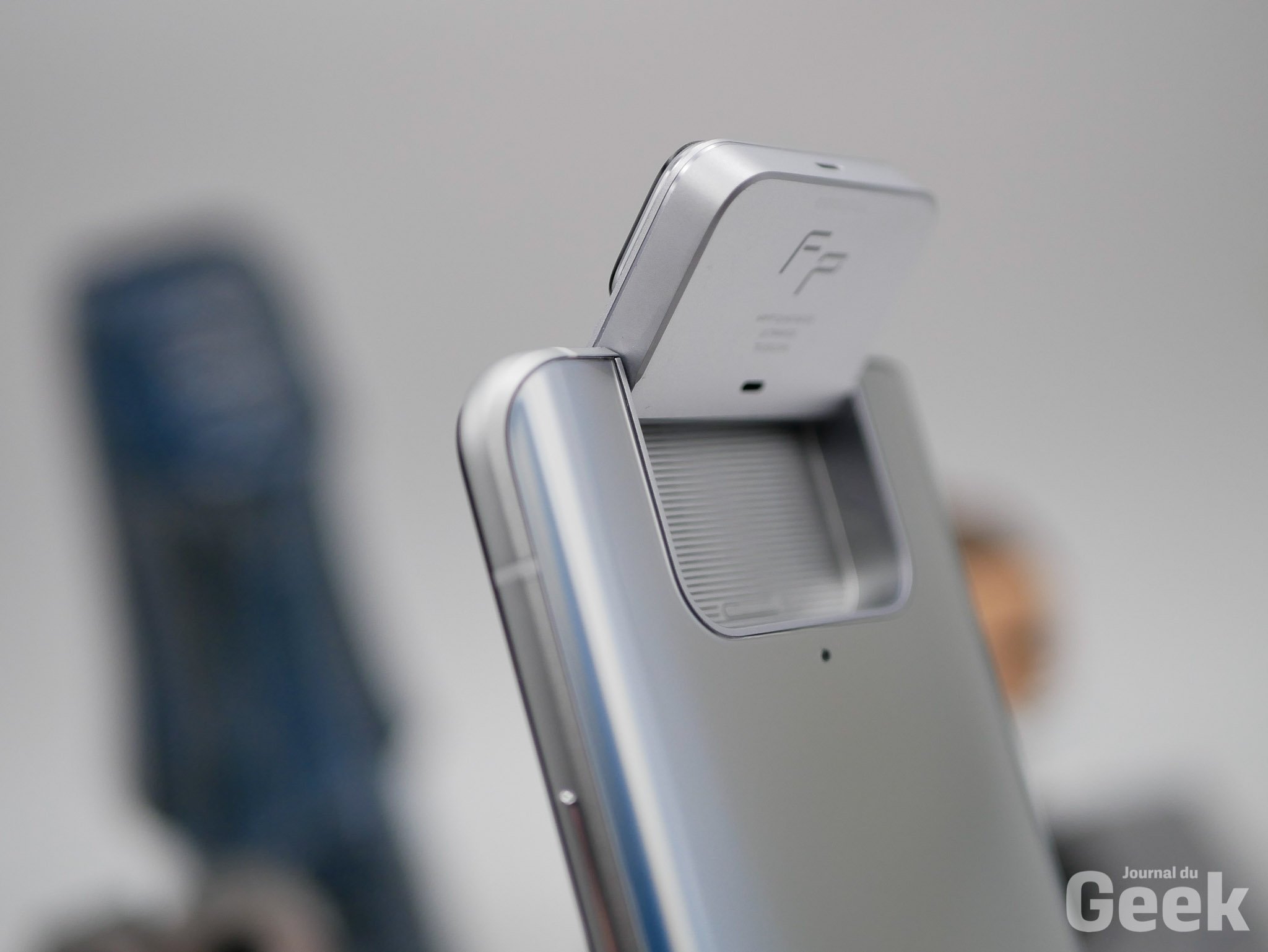 In any case, with the Flip Camera, you get selfies of the same quality as the main photo block. This concerns both photos and videos such as recording videos in 8K at 30fps or 4K at 60fps or even in ultra-stabilization mode. The Flip Camera has evolved from last year. Not as much as last year but it is a bit stronger and faster. We obviously find the three position presets. Convenient.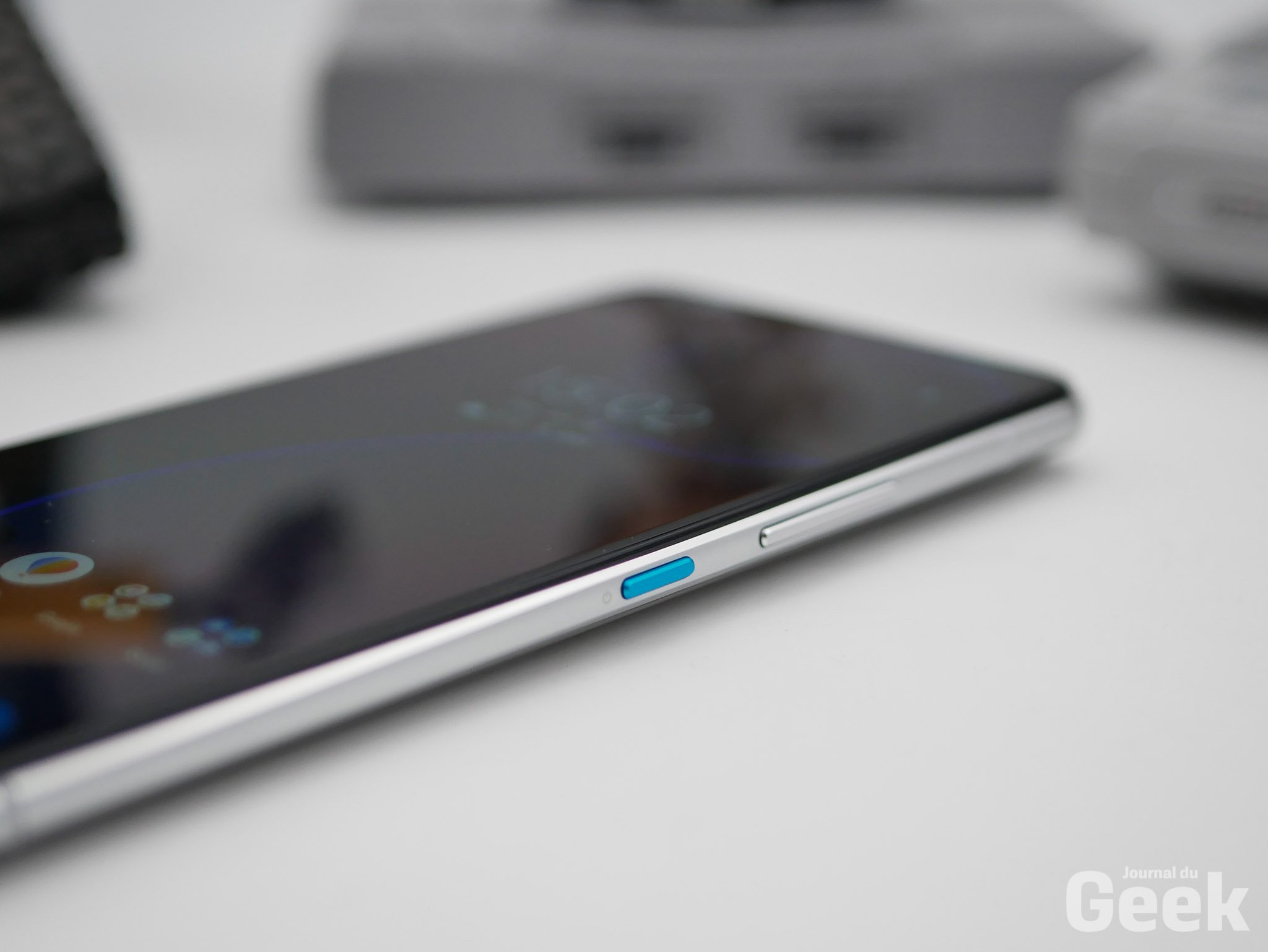 With a full screen that occupies 92% of the front of the smartphone, it's difficult to be original in terms of design. On the other hand, we find an excellent finish worthy of a premium smartphone. The back is glass with an aluminum outline. We find all the buttons on the right edge. This year, the fingerprint sensor finally goes under the screen and we find the power and / or standby button which can be configured to launch applications with a single press, a double press or a long press. It is up to the user to choose the action. And finally, for info, the Asus Zenfone 8 Flip holds very well in hand despite the size and weight, even if the screen has grown in size.
Screen and Audio
On the Asus Zenfone 8 Flip, we finally find the same hardware part as the Zenfone 7 Pro and therefore a Samsung Super AMOLED screen with Full HD + definition which, on a daily basis, will be more than enough. The screen edges are not the thinnest on the market, but do not pose a particular problem in everyday life. Like last year, we also find a refresh rate of 90 Hz which allows more fluidity of display. If this is not immediately visible on a daily basis for traditional uses, but we immediately feel more fluidity in the overall experience such as scrolls in Twitter or on web pages. While the difference is really felt between 60Hz and 90Hz, it's more subtle with 120Hz or 144Hz displays. On the other hand, a small disappointment insofar as Asus contented itself with resuming the screen, even if it is very good, from the Zenfone 7 Pro. We would have liked a 120Hz screen as it has become the rule in 2021.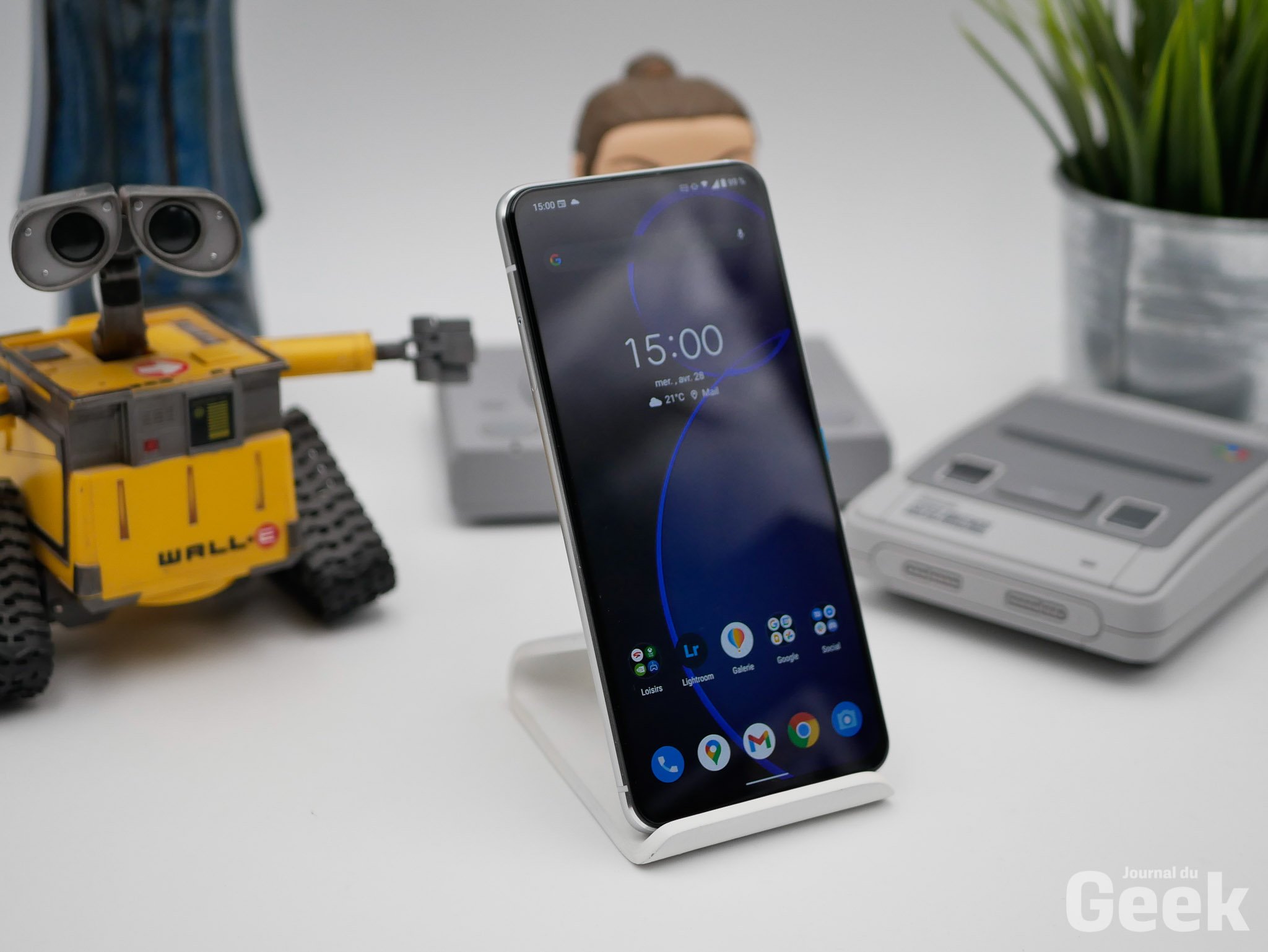 On the audio side, the Zenfone 8 Flip offers stereo speakers. While the Zenfone 7 Pro offered neither DTS Surround X nor Dirac HD, the Zenfone 8 Flip offers Dirac HD technology, which allows the Zenfone 8 Flip to perform better in terms of overall quality. On the other hand, we unfortunately find the top speaker which is less powerful than the bottom one. Suddenly, there is a kind of imbalance in landscape mode. This is not a problem for internet content but the most audiophiles will notice it. Afterwards, they are only smartphone speakers and they will not replace a good headset or headphones of course. And finally, there is no 3.5mm jack port.
ZenUI 8, Performance and Autonomy
ZenUI 7 was very good, ZenUI 8 is playing the card of continuity. The user experience is still very close to the Android Stock experience. For example, we find super useful little things such as the display of applications in the folders at the bottom for better accessibility. Because ZenUI is intended to be close to Android, we find not only in the Google side drawer but also most of the Google applications. There are still a few home apps like Photo Gallery, but it's really minimal.
On the performance side, we will not surprise you too much since the Asus Zenfone 8 Flip embeds the best Android SoC of this year, namely the Qualcomm Snapdragon 888. Also, we find results in various very high-level benchmarks. Overall, the results are obviously excellent and similar to what we already know. Whatever your uses, the Snapdragon 888 will do it without batting an eyelid.
And finally, to finish off, to mark the occasion, we find a 5000mAh battery. In daily use, if we had no doubts to last a whole day, even a super busy one. In reality, with the Zenfone 8 Flip, we were able to go through two real full days without even paying attention to our uses. If we find the 30W fast charging as on last year's smartphone, we regret that the Zenfone 8 Flip does not offer wireless charging.
Photo and Video
As we said above, the big evolution was last year. This year, if there are some improvements at the level of the engine composing the Flip Camera, on the side of the cameras, Asus has not been particularly sprained and offers the same camera unit as the Zenfone 7 Pro. We thus find a main camera with a Sony IMX686 sensor, aging but still in vogue, an ultra wide-angle and a telephoto. The application has not changed especially and we find the HDR + or Night mode, not to mention the object tracking or the Pro Video mode where the user can use his own settings. We will always note the presence of an ultra-stabilization mode as many propose and which is similar to a kind of Action-Cam mode.
Because the Asus Zenfone 8 Flip is equipped with a Qualcomm Snapdragon 888 SoC, we find the possibility of recording videos up to 8K at 30fps but also 4K up to 120fps. On the other hand, we no longer have optical stabilization on the main camera or the telephoto. These stabilizations were present on the Zenfone 7 Pro but on the Zenfone 7. It is a shame insofar as the stabilization brings a little more not insignificant, whether it is in photo or in video. Autofocus and tracking are still efficient and reliable. And finally, for videos, Asus has reduced the saturation somewhat, which allows for more natural results.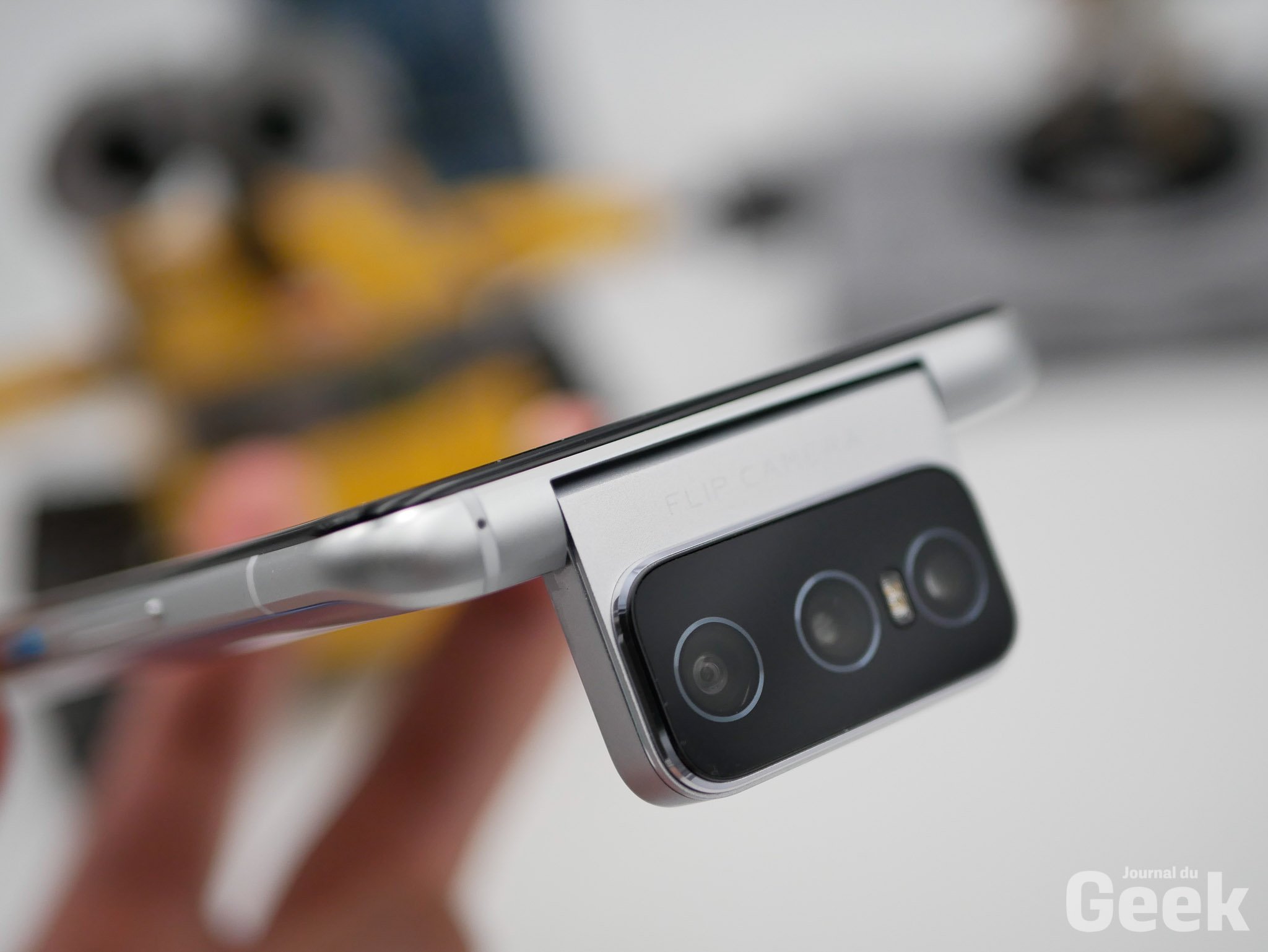 For the photos themselves, when the light conditions are ideal, the Asus Zenfone 8 Flip does very well. We thought that the Taiwanese manufacturer was going to change its treatment but nay, we always find that the photos are somewhat lacking in contrast but it is above all a matter of taste. Other than that, the photos remain detailed. Because Asus has equipped the ultra wide-angle with a decent sensor, there is a good overall quality, which is a change from some competitors who tend to sacrifice this part. On the other hand, the telephoto still fishes with photos that always lack sharpness and it is even more obvious in low light conditions. And speaking of those low light conditions, while there is something better with sharper, more detailed photos, they still fall below the competition at this price point. After that, if we don't look for the best camera phone on the market, we can clearly be satisfied with the Zenfone 8 Flip on a daily basis.
Here are some sample photos:
And finally, it's on selfies that the Flip Camera really makes sense. Once again, with this innovation, the Asus Zenfone 8 Flip is one of the best selfie smartphones. No sensor or lens at a discount, it's just the very quality of the Flip Camera and this, with the possibility of zooming or being in ultra wide-angle.
Photo gallery