Barely formalized, we were able to spend a few weeks with the new compact smartphone from Asus. Here is our test of the Asus Zenfone 8.
While we expected an Asus Zenfone 8 Flip with some downgraded features as was the case last year, Asus surprises us this year with a whole new strategy around its 2021 Zenfones.
Along with the Asus Zenfone 8 Flip, here is the Zenfone 8, a smartphone with a whole new positioning. Indeed, they are still very few on the market and somewhere, Apple has paved the way with its iPhone 12 mini since the Asus Zenfone 8 is a high-end and compact smartphone. Until now, in the Android universe, only Sony was really present with its Xperia 5. Samsung had initiated the movement a few years ago with the Galaxy S10E but had not repeated its test the following year.
If the Zenfone 8 obviously offers a different design, we find a good part of the technical characteristics of the Zenfone 8 Flip such as a Qualcomm Snapdragon 888 SoC or even internal memory in UFS 3.1.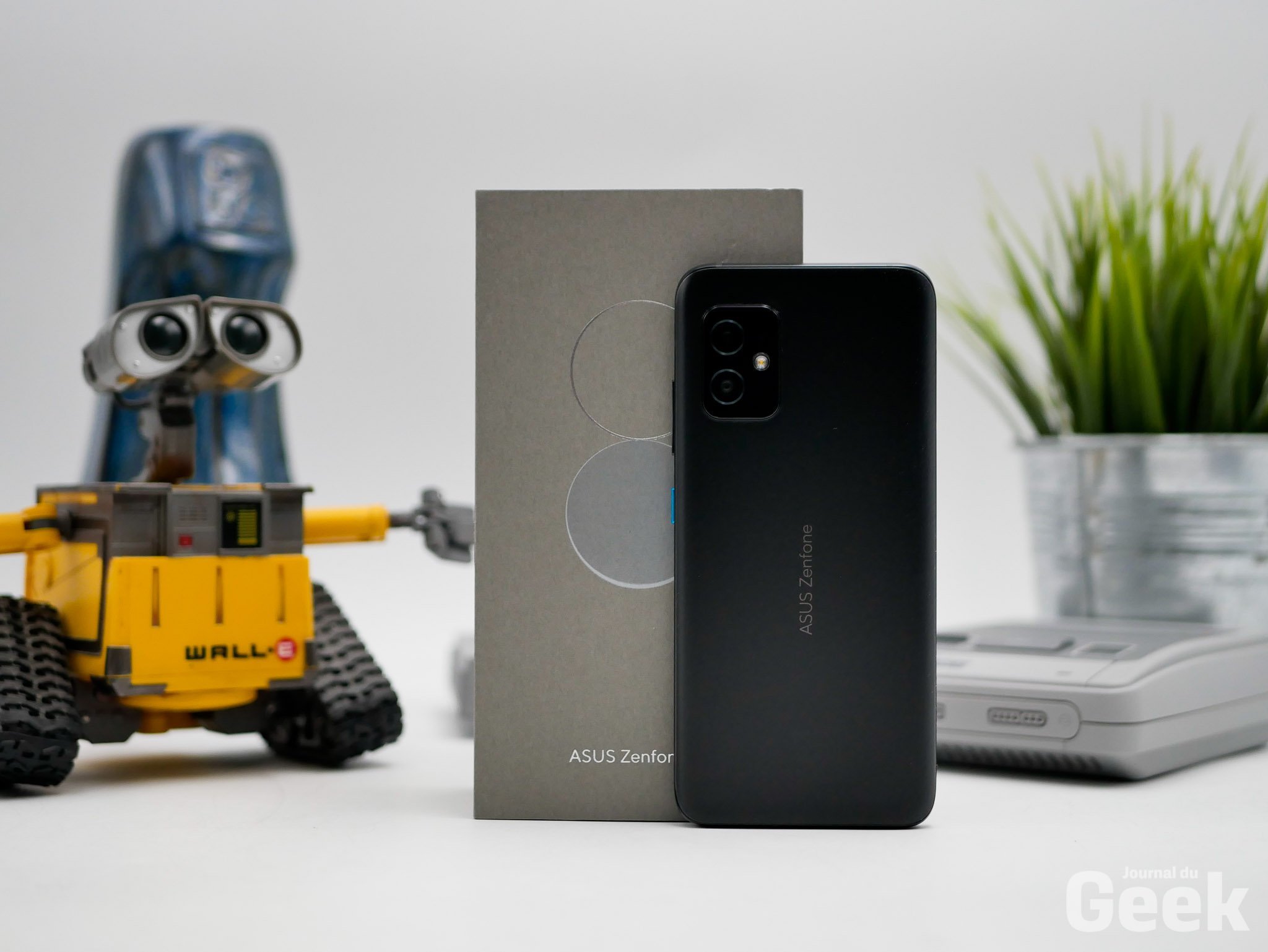 The characteristics of the Asus Zenfone 8
As a reminder on the characteristics, the Asus Zenfone 8 offers:
Asus Zenfone 8
Screen
– 5.9 "Samsung AMOLED display
– Gorilla Glass Victus
– Définition Full HD+ (1080×2400)
– Format 20:9
– 90% occupancy rate
– 120 Hz
– 240Hz touch sampling frequency
– 1ms response time
– Max brightness: 800nits / 1100nits
– HDR 10+
– DCI-P3 (112%)
– sRGB (151,9%)
– Delta E
SoC et GPU
– Qualcomm Snapdragon 888
– Qualcomm Adreno 660
Memory
– 8Go or 16Go of LPDDR5 RAM
– 128GB or 256GB of storage in UFS 3.1
– NTFS support for external hard drives
Colors
– Obsidian Black
– Horizon Silver
– Metal outline
Dos en verre Gorilla Glass 3
– IP68
Camera
– Camera block with two cameras:
– Wide-angle main unit: Sony IMX686 64 Megapixel, 78.3 °, F / 1.8
– Ultra wide-angle camera: Sony IMX363 12 Megapixel, 113 °, F / 2.2
– Telephoto Camera: 8 Megapixels, 3x Zoom, 80mm, F / 2.4

– Optical stabilization on the main camera
– Autofocus Dual-Pixel
– Night mode
– Macro mode on the ultra wide angle
– Automatic Panorama (Main Camera and Ultra Wide Angle)

– Video recording up to 8K at 24fps and Ultra HD 2160p at 60fps
– Slow motion mode in 4K at 120fps, 1080p at 240fps or in 720p at 480fps
– Electronic stabilization on 4 axes
– Ultra-stabilized HyperSteady video mode
– Timelapse 4K

– Mode Video Pro
– Motion Tracking

– Front camera: Sony IMX663 12 Megapixel, 76.5 °, F / 2.45
– Autofocus Dual-Pixel
– Record videos up to Ultra HD 2160p at 30fps
– Electronic stabilization on 4 axes

Audio
– Stereo speakers
– Dirac HD Sound
– Asus AudioWizard
– 3.5mm jack
– 3 microphones with Asus Noise Reduction technology
Drums
– 4000mAh
– Fast charging up to 30W
– Qualcomm Quick Charge 4.0
Connectivity
– All-in-one Smart key
– Fingerprint reader under the screen
– Bluetooth 5.2
– WiFi 6
– 5G
– 2x nano-SIM (5G Dual-SIM)
– A-GPS+GLONASS, DNLA, Miracast (WiFi Direct), Google Cast
– NFC
– USB 2.0, USB Type-C
– Barometer, Gyroscope, Accelerometer
– Proximity and light sensor
Software
– Android 11
– ZenUI 8
Height and weight
– 148 x 68,5 x 8,9 mm
– 169g
Starting price
– 699 euros (8Go/128Go)
– 749 euros (8Go/256Go)
– 819 euros (16Go/256Go)
Availability date
– May 2021
Regarding the packaging of the smartphone, no surprise, we find a box of the most classic. And unsurprisingly, we find the USB Type-C cable, a 30W QuickCharge 4.0 USB charger and small booklets for a first start. But that's not all, Asus also offers a shell with a small latch to block the Flip Camera.
Reading the characteristics, we understand in the end that the Zenfone 8 is presented as a small Zenfone 8 Flip but with a better screen, a lower battery and a photo unit reduced to two cameras. The price, suddenly, suffers and it is more accessible.
Design, Display and Audio
Without the Flip Camera, the Asus Zenfone 8 presents itself as a fairly classic smartphone in itself with a rectangular photo block on the back and a screen with a punch at the top left of the screen to accommodate the front camera. If the finish is still there with a frosted glass back, we appreciate the screen in Gorilla Glass Victus, which is not the case of the Zenfone 8 Flip which remains in Gorilla Glass 6. On the other hand, Asus would have could make an effort on the rear photo unit that we find boring. In addition, with its two objectives, we have this impression of emptiness around. We know that it's aesthetics above all but still.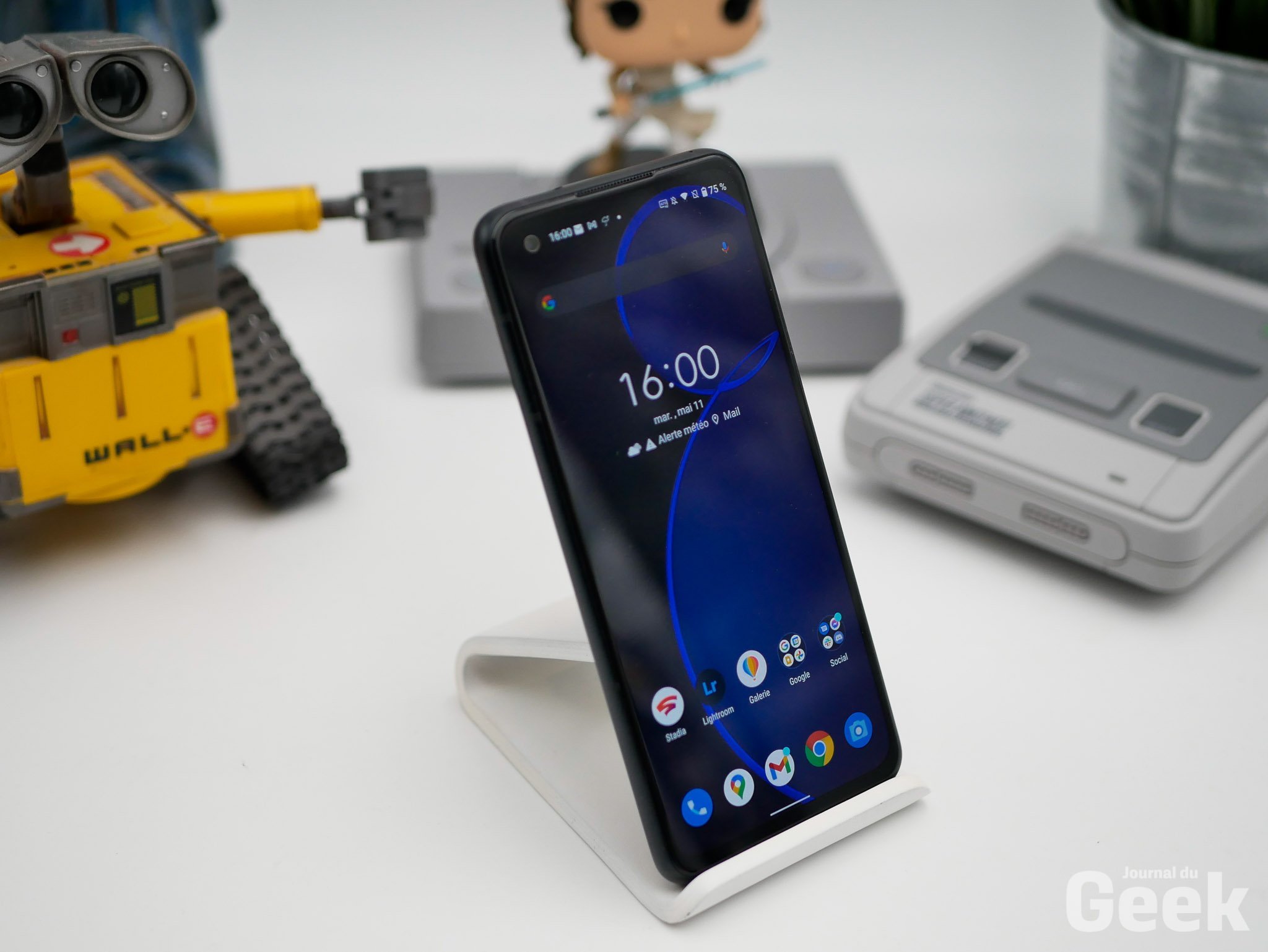 We find all the buttons on the right edge. As on its big brother, the Zenfone 8 offers a fingerprint sensor under the screen and we find the power button and / or standby which can be configured to launch applications with a single press, a double- press or a long press. It is up to the user to choose the action. And as you might expect, the Asus Zenfone 8 is very, very well in hand. This is its primary strength and if we could find the iPhone 12 mini too small, the Samsung Galaxy S21 too wide or the Sony Xperia 5 II too high, it seems that Asus has found the happy medium. We like it a lot.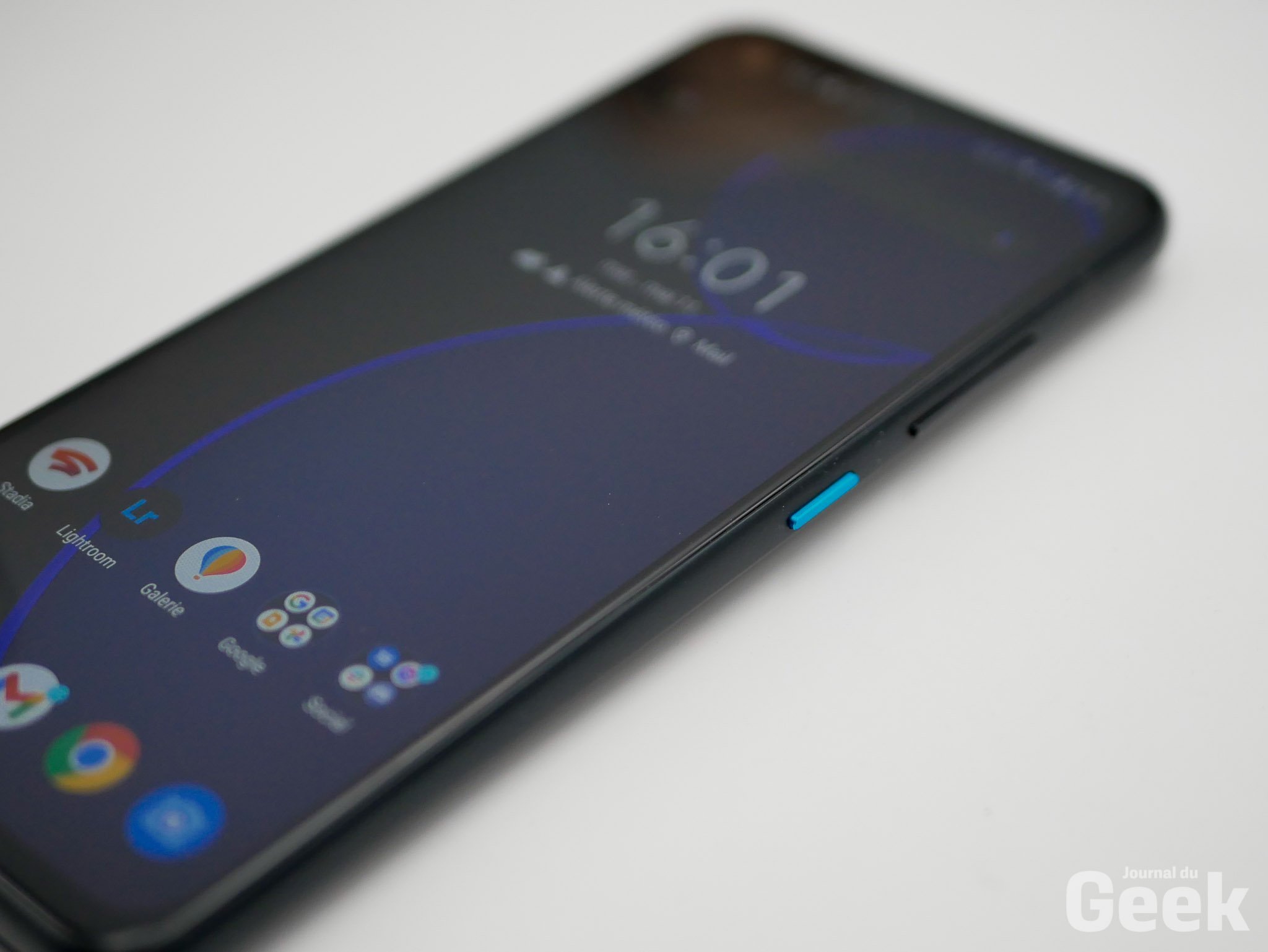 Regarding the screen, it occupies 90% of the front of the smartphone, we would have liked, once again, thinner screen edges but it was not annoying on a daily basis. 2021 requires and given the positioning, the Zenfone 8 offers a Samsung AMOLED screen with Full HD + definition which, on a daily basis, will be more than enough. While the Zenfone 8 Flip is content with a refresh rate of 90Hz, the Zenfone 8 offers a rate of 120Hz! This allows for increased fluidity in the overall experience, whether with Android or applications like Twitter.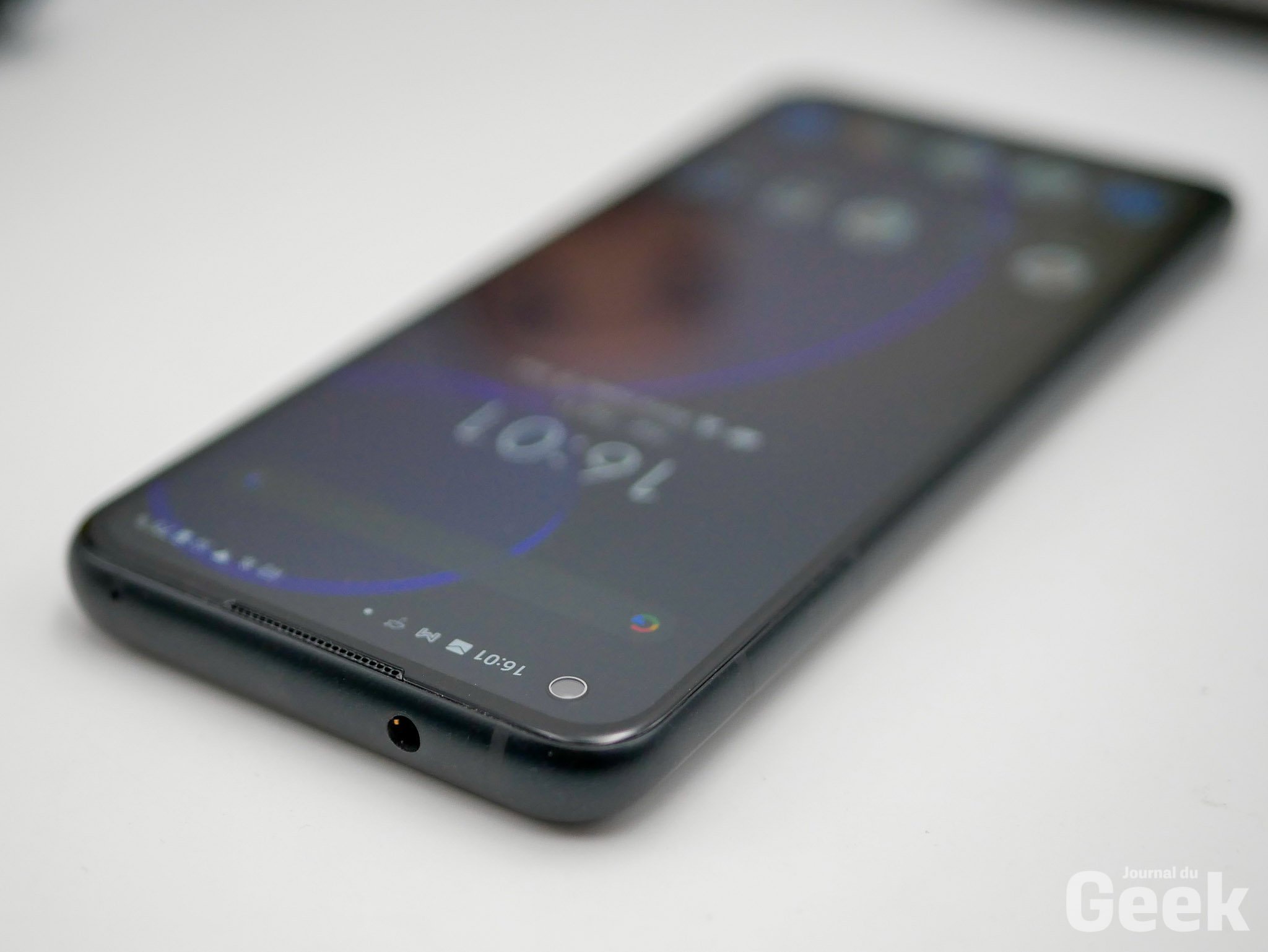 And finally, on the audio side, the Zenfone 8 offers stereo speakers. There is also Dirac HD technology, which allows the Zenfone 8 to do well in terms of sound. We will note two speakers of equivalent power while this is not the case on the Zenfone 8 Flip. There is therefore no longer any imbalance in the sound level in landscape mode. Afterwards, they are only smartphone speakers and they will not replace a good headset or headphones of course. And finally, while the Zenfone 8 Flip does not offer one, there is a 3.5mm jack port on the Zenfone 8. Always practical.
ZenUI 8, Performance and Autonomy
As we have seen with the Zenfone 8 Flip, ZenUI 8 plays the card of continuity. The user experience is still very close to the Android Stock experience. And above all, we realize that being able to do everything with one hand remains a pleasant thing on a daily basis, especially with the small improvements brought by the Asus overlay.
On the performance side, we will not surprise you too much since the Asus Zenfone 8 embeds the best Android SoC of this year, namely the Qualcomm Snapdragon 888. Also, we find results in various very high-level benchmarks. Overall, the results are obviously excellent and similar to what we already know. Whatever your uses, the Snapdragon 888 will do it without batting an eyelid.
And finally, to finish, we could have been afraid with a battery of "only" 4000mAh and we prefer to reassure the most anxious about autonomy. In daily use, we hold very easily for a day and during our tests, we were even able to shoot for up to two days, without being particularly careful. We find the 30W fast charging as on last year's smartphone, we just regret that the Zenfone 8 does not offer wireless charging.
Photo and Video
And finally, for the photo part, let's keep it simple, it's like the Flip Camera of the Asus Zenfone 8 Flip but without the telephoto. Asus has therefore not been specially sprained and we thus find a main camera with a Sony IMX686 sensor, aging but still in vogue and an ultra wide-angle. Note that unlike the Zenfone 8 Flip, the main camera benefits from optical stabilization. The application is the same with HDR + or Night mode, not to mention object tracking or even Pro Video mode where the user can use their own settings. We will always note the presence of an ultra-stabilization mode as many propose and which is similar to a kind of Action-Cam mode.
Because the Asus Zenfone 8 is equipped with a Qualcomm Snapdragon 888 SoC, we find the possibility of recording videos up to 8K at 30fps but also 4K up to 120fps. On the other hand, as on its big brother, no optical stabilization on the main camera. Autofocus and tracking are still efficient and reliable. We find the same changes as on the Zenfone 8 Flip with less saturated videos, which allows for more natural results.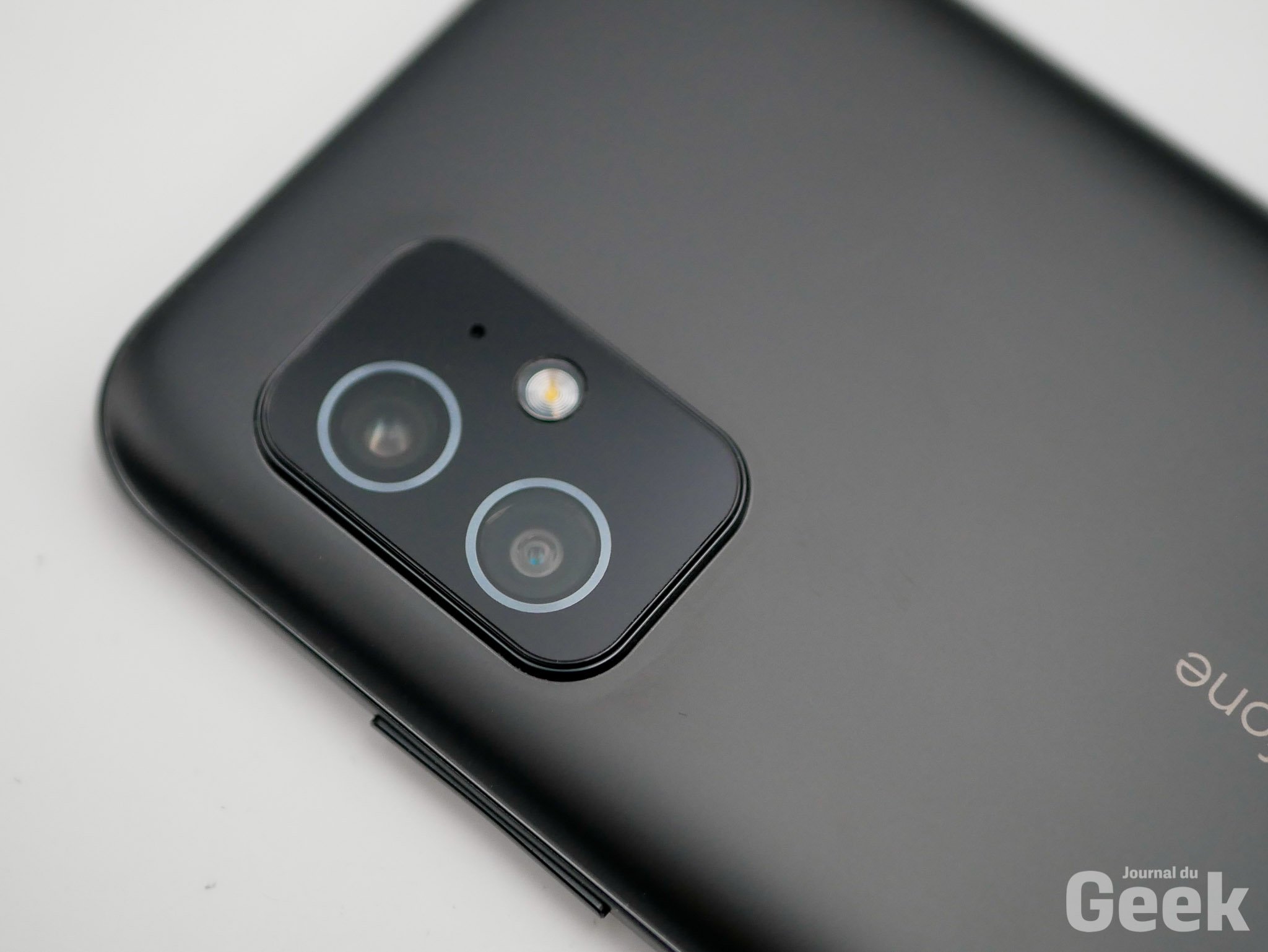 For the photos themselves, when the light conditions are ideal, the Asus Zenfone 8 is doing well. We thought that the Taiwanese manufacturer was going to change its treatment but nay, we always find that the photos are somewhat lacking in contrast but it is above all a matter of taste. Other than that, the photos remain detailed. For low light conditions, while there is one better with sharper, more detailed photos compared to last year's Zenfones, they remain below the competition at this price point. Afterwards, if we do not look for the best camera phone on the market, we can clearly be satisfied with the Zenfone 8 on a daily basis.
Here are some sample photos:
Photo gallery