News
Dating apps offer incentives to get vaccinated
While the vaccination campaign is going well all over the world, the question that will arise is to encourage the refractory. Dating apps offer incentives that could help them take the plunge.
In the United States, a group made up of the most important dating apps have agreed to encourage users to get vaccinated against Covid-19, in case the medical benefits are not sufficient! The apps of the Match group (Tinder, OKCupid…), Bumble or Badoo will offer several incentives.
Badges, premium functions, credits …
These bonuses for vaccinated users range from special badges to features normally intended for paid subscribers, as well as free premium credits. Some applications even go so far as to filter matches based on vaccination status. Each service remains in control of the advantages granted to the vaccinated.
It remains to be seen how these applications will check whether users who report themselves as vaccinated are really vaccinated. Most of them already have verification systems that could be used. But the details are still unclear. It will be necessary to prevent people, attracted by the bonuses, to register as vaccinated when this is not the case.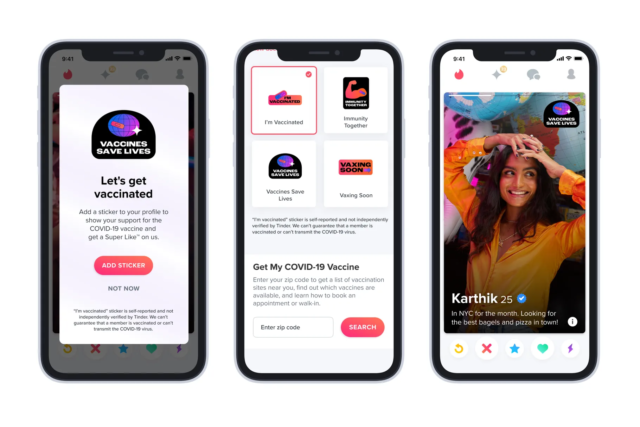 According to an OKCupid study, vaccinated users win 14% more matches. This is undoubtedly the best possible incentive to get vaccinated! Across the Atlantic, companies have taken over from Joe Biden's very offensive speech for vaccination, offering gifts (beers in bars, lottery tickets, etc.) in order to help the country achieve collective immunity.
48% of the American population has received a dose of vaccine, 38% are fully vaccinated. Joe Biden aims to reach 70% of the adult population with one dose by June 4, U.S. National Day.