News
Prime Day: Consumers should spend 1 billion hours on their mobile devices on the biggest shopping day of the year
As the retail industry prepares to recover from a pandemic, time spent on shopping apps is up 30% from the previous year.
Amazon officially announced the Prime Day for June 21 and 22, 2021, and consumers are already gearing up for Amazon's biggest shopping day of the year. Digital commerce has grown dramatically over the past year and is on track to surpass $ 11 trillion in revenue in 2021. Amazon alone recruited 50 million Prime subscribers during the past year. pandemic, due to the closure of traditional stores. High levels of mobile shopping are seen heading into this year's Prime Day as the pandemic habit remains strong, Amazon's Prime Day is forecast to exceed pre-pandemic numbers. Worldwide, outside of China, time spent in shopping apps in the four weeks ending May 22 is up 30% from the same period last year.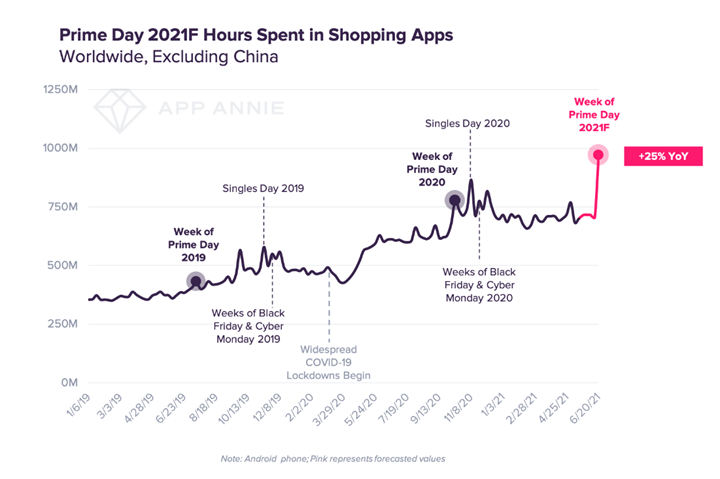 Last year, Amazon's Prime Day event took place in October 2020, after being postponed to the summer due to the pandemic. This two-day shopping event has traditionally been a huge driver of traffic on the Amazon app, surpassing sales on the platform for Black Friday and Cyber ​​Monday combined. The sales period has continued to attract more users and downloads of the Amazon app as Prime Day approaches, since its introduction in 2015. The mobile data and analytics platform App Annie thus expects Prime Day 2021 week to generate 1 billion hours on Android phones worldwide outside of China, a 25% year-over-year increase from Prime Week Day 2020!
Amazon Prime, what iswhat it is ?
Amazon Prime was designed to make your day-to-day life easier. Over 150 million customers worldwide enjoy the many benefits of Prime, including the best shopping and entertainment experience. For only 49 € per year (€ 24 per year for students with Prime Student) or € 5.99 per month, Amazon Prime members benefit from the many benefits of this program which provides access to exclusive and award-winning Prime Original series, as well as popular movies and shows thanks to Prime Video, access in mainland France to more than two million titles ad-free music thanks to Prime Music, access to hundreds of eBooks with Prime Reading, unlimited photo storage on Amazon Photos, many Prime Gaming perks, plus priority access to select Flash, Prime Day and even more.
The Amazon Prime program was developed around free, fast and unlimited delivery. Amazon Prime members benefit from delivery within 1 working day in mainland France (excluding Corsica) and in Belgium on millions of eligible items, same-evening delivery on millions of eligible items in Paris and Ile-de- France to Lille, Lyon, Marseille and Aix-en-Provence, as well as delivery in two hours with the Monoprix store in Paris, Lyon, Bordeaux, Nice, Montpellier and their surroundings
Amazon Business customers – from small to large businesses, government agencies, local authorities, and nonprofits – can also take advantage of fast, free shipping, as well as many unique benefits of Prime with Business Prime. Business Prime subscription is available from 50 € per year, excluding VAT, up to three users, or 150 € per year for up to ten users.