News
this new feature could make you rich
Creators will soon be able to receive money from their fans via a dedicated button, directly from the platform.
Until a few years ago, it might have seemed unthinkable to make a living with youtube. However, it is clear that today, many videographers manage to make a living from the platform, when some have even managed to make a fortune.
However, although YouTube redistributes a large part of the income generated by pre-roll ads to its creators, very few YouTubers can be satisfied with the sum earned thanks to the platform's management to hope to make a living from their activity on the platform. . Many creators must therefore go through the famous branded content, affiliation or even tips to hope to make a living from their channel … but now the platform begins to deploy a new means of monetization for its creators.
"Super Thanks", the YouTube tip
Over the years, many platforms have emerged to help YouTubers earn money from donations from their fans, such as Tipeee, Patreon, or even uTip. Soon, fans will no longer have to go through one of these platforms and will be able to help their favorite creators directly from YouTube.
This new functionality is materialized in the form of a new button "Super Thanks", accessible under the video of a creator, represented by a heart sheltering the symbol « $ ». By clicking on it, it will be possible to pay a "tip" of a value of 2, 5, 10 or 50 dollars to a creator, all accompanied by a small animation then a comment widely highlighted under the video .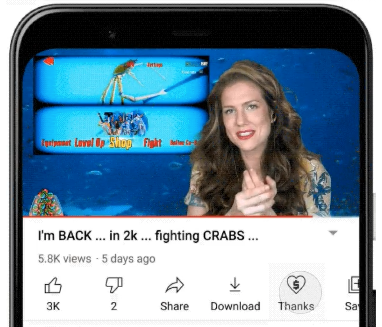 "Creators are at the heart of what we do here at YouTube, and we're constantly exploring new ways to help them get started, grow their businesses and diversify their income." YouTube says about "Super Thanks".
For now, this function is still being deployed, and the platform has not confirmed an exact launch date in our regions. The "Super Thanks" should nevertheless be available by the end of the year for all creators aged 18 or over and registered in the YouTube Partner program.