The new company of Carl Pei, co-founder of OnePlus, is getting ready to present its first product on July 27th, next Tuesday. Then we will get to know the earphones True Wireless (TWS) nicknamed Nothing ear (1) of which we have new information released by an official source.
This young company has made several headlines and aroused the interest of many investors and famous people in the technology world. His presentation is coming soon, however, Carl Pei revealed new product details in an interview with the publication CNET.
Nothing ear earphones (1) arrives on July 27th
We know, for example, that headsets True Wireless will reach consumers in a transparent loading and transport box. It can be seen above, in one of the first images believed to portray this component.
Likewise, we also know that this semi-transparent box will incorporate a battery of 570 mAh. It will also have support for fast charging via USB cable Type C, as well as wireless charging of still undefined power.
The highlight goes to the battery life of these Bluetooth headsets. According to the metrics provided by Carl Pei, autonomy can reach up to 24 hours music playback with active noise canceling (ANC) active.
Up to 24 hours of autonomy with ANC active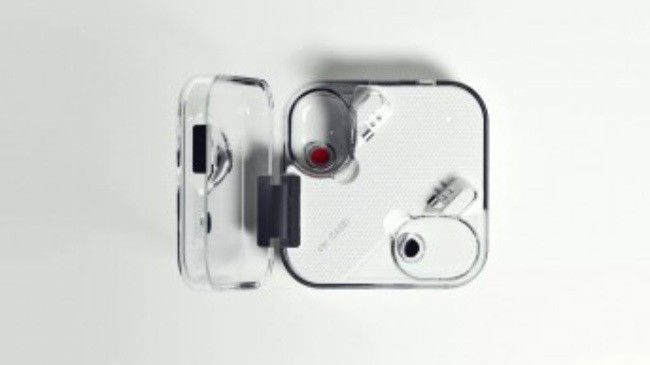 The metrics are quite impressive, even with active noise cancellation active. However, when disabling this option (ANC), the autonomy will increase up to 36 hours. Again, these are noteworthy metrics and virtually unheard of in the market.
More so, according to Carl Pei, with a load of 10 minutes the Nothing ear (1) earphones will have enough power to 6 to 8 hours of music playback.
Nothing's CEO also said that both the carrying case and the headphones themselves will have several transparent elements, something that will have raised serious production difficulties. Even so, Pei will have insisted on pursuing this transparent design.
The casing and earphones will have several transparent elements
Note that both the earphones and the respective box are made up of several elements. Since the drivers, membranes, battery, modules and Bluetooth chips, in addition to microphones, are several components that could be exposed. Well, this required an extra effort to make the interior of these products more pleasing to the eye and, thus, result in an elegant product.
Carl Pei also took the opportunity to justify why his first product was earphones True Wireless (TWS), this being linked to the growth of this market. Given these indicators, Carl Pei decided to bet on this type of coveted product.
On the other hand, the bet on a transparent design is mainly related to the visual impact. Faced with a market full of alternatives from Samsung, Apple, Xiaomi, Huawei, OPPO, OnePlus and several other manufacturers, transparency was the strategy chosen by Carl Pei.
The Nothing ear (1) will thus be Nothing's first product, a company led by Carl Pei. The ephemeris is scheduled for the next 27th of July, and so far, no details are known about the price of sale to the public of this product.
Finally, its arrival on the market will be scheduled for the end of 2021, probably in time for the Christmas season. Confirmations were made recently by the executive to the publication CNET.
4gnews editors recommend: