News
March: Perseverance would have succeeded in its first direct debit
After a first failure, Perseverance lived up to its name by (probably) succeeding its second attempt.
This time it's the right one: after having missed the collection of its first Martian sample last month, Perseverance made honor to his name by (probably) succeeding his second attempt. After its initial failure, NASA ground crews took it to another set of rocks to retry the operation; normally, the collection tube intended to receive the sample should this time contain the precious sesame.
In any case, this is what the images of the rover suggest; According to Gizmodo, engineers have captured photos that show him manipulating a piece of rock. A significant difference with the previous sample, which was certainly very friable; he would then disaggregated before arriving in the collection tube.
This is excellent news for NASA, which for a moment feared a failure of sampling instruments. A terrifying prospect, since this system is immensely important; without him, it would be impossible to hope to achieve the objectives of this mission to almost 3 billion dollars. Its engineers therefore certainly heaved a collective sigh of relief when they saw that the rover had managed to seize material.
Final confirmation still needed
But the previous episode showed that it is better to avoid hasty conclusions; it will still be necessary to confirm the presence of the sample at the bottom of the collection tube; NASA engineers are therefore not entirely immune to another setback. After all, they had already shown each other slightly presumptuous on the first attempt. After observing the hole left by the drill, they initially announced that the collection was a success… before realizing that the sample had never reached the tube.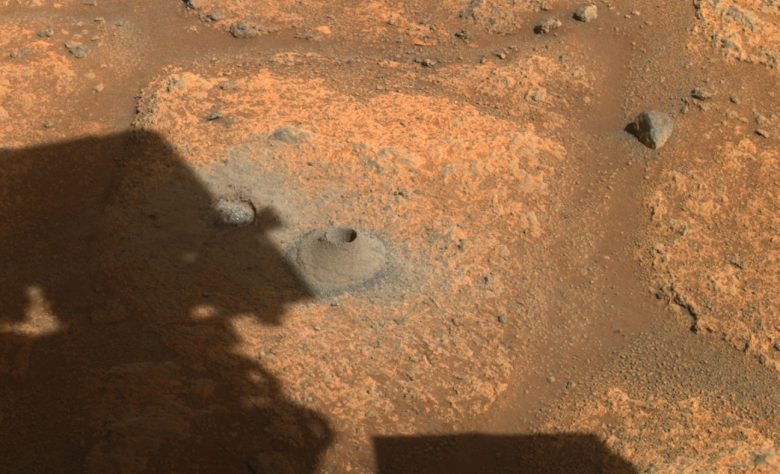 If this last sample has indeed had a more favorable fate, it will still be necessary to wait a certain time before being able to put the sample under a glass slide. The findings of Perseverance will not be recovered for years, when a new device (or astronaut) will take charge of retrieving his priceless finds. In the meantime, the rover should normally have put the tweezers on the jewel of its collection: a sample from an ancient delta, considered our best chance of finding traces of microbial life. Suffice to say that engineers have every interest in taming the vagaries of the sampling system by then!