News
Audi unveils the Grandsphere Concept, an electric and autonomous sedan that is also a show
Ahead of the Munich motor show, Audi has lifted the veil on a new concept car that simply represents the future, according to the manufacturer. The grandsphere Concept may be announcing future models for the brand.
Audi's grandphere Concept is one of the new concept cars unveiled by Audi, after the skysphere which was presented in mid-August. With its much less aggressive look, the grandphere is a sedan with four opposing doors, 5.35 meters long, and with a sporty look.
Living room on wheels
Each wheel of the vehicle is equipped with an electric motor which together develop a power of 530 kW, the equivalent of 720 horsepower. Enough to go from 0 to 100 km in less than four seconds … The electrical circuit is 800 volts, the battery 120 kWh. Ten minutes of recharging can drive 300 km.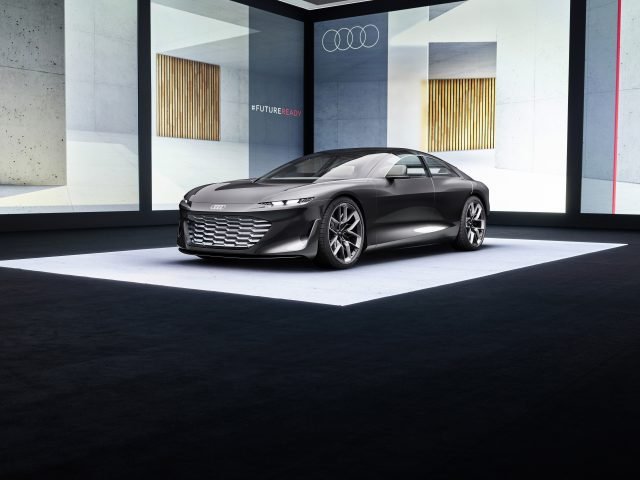 Beyond the design and capacity of the engines, Audi has mainly worked on the interior. The Grandsphere Concept is indeed supposed to be able to transport its passengers almost without the help of the driver thanks to its level of autonomous driving level 4 (level 5 being the highest). When the autopilot is engaged, the steering wheel and pedals retract and the interior transforms into a cozy lounge.
Instead of a screen, the vehicle's operating system projects its information onto the surface of the wooden dashboard, below the windshield. Distractions are therefore limited, enough to reconnect between passengers. The conversion of the passenger compartment is a concern for all manufacturers: when all cars run without the help of humans, it will be necessary to take care of the transport times.
Audi is hoping that some of the technologies developed for its "sphere" concept cars (a third should soon be) can be incorporated into mainstream cars from the second half of the decade.