News
a B-SUV from 23,350 euros with discount
After open reservations in spring, the Toyota Yaris Cross, What is it the SUV version of the Japanese utility, disembarks in the Spanish market with its entire range already complete and that adds the Active Tech access finish.
Thus this crossover, which is only offered with 116 hp hybrid mechanics, starts in the 25.750 euros, that stay in 23.350 euros with the launch discount or 22,000 euros if you opt for the Toyota Easy Plus financing program (185 euros per month).
Production of the Toyota Yaris Cross started in july at the French plant of Valenciennes, where the Toyota Yaris fourth generation on which it is based, and the first units have already begun to be delivered.
It is therefore already available at Toyota dealers in Spain and is offered at five finishes: Active Tech, Style, Adventure, Premiere Edition and the one intended for business fleets Business Plus.
Only 116 hp hybrid mechanics and all-wheel drive versions
In any of its versions, the Toyota Yaris Cross can only be associated with the hybrid motorization that it shares with the Yaris. It combines a gasoline propellant Atkinson cycle and 1.5 liters with one electric to reach the 116 CV delivery.
The Yaris Cross signs a mixed consumption that ranges between 4.5 l/100 km of Active Tech and 5.0 l/100 km in all-wheel drive finishes, their emissions being between 101 y 112 g / km CO₂ respectively.
This B-SUV, which becomes the smallest SUV in the Toyota family, is distinguished from the conventional Yaris by a higher ground clearance (+30 mm) and is slightly larger: it measures 4.18 meters long (+24 cm), 1.76 m wide (+2 cm) and 1.56 m high (+9 cm), although its battle remains at 2 , 56 m.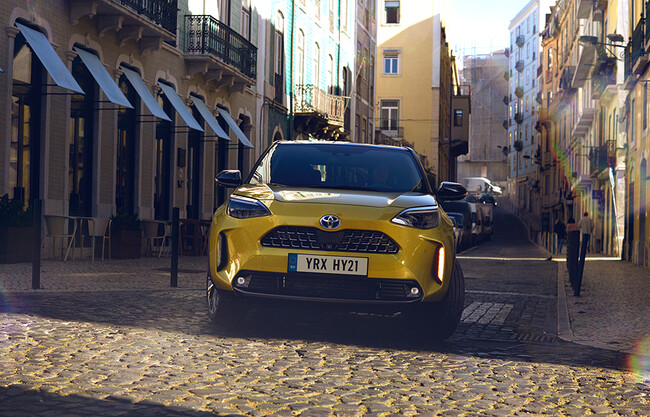 To this is added that it presumes Toyota Intelligent All-Wheel Drive, All-Wheel Drive AWD-i, which to date was the patrimony of his older brothers. Although this system is only offered in the highest and limited finishes Adventure y Premiere Edition.
This system automatically alternates front wheel drive or four wheel drive depending on the situation. And it also has specific driving modes: Trail (track) and Snow (snow).
Eight are the colors for the body In which it is offered: Classic White, Olive Bronze, Iceberg Pearl White, Cobalt Blue, Graphite Gray, Atom Gray, Jet Black and Emotion Red.
However, it can also be selected in bi-tone combinations in the Style options (Emotion Red, Pearl White, Atom Gray, Cobalt Blue), Adventure (Jet Black) and Premiere Edition (Amber).
What equips the Yaris crossover?
In its most basic finish Active Tech, Which is usually the most interesting in relation to equipment / price, the Toyota Yaris Cross includes as standard 17-inch two-tone alloy wheels, automatic climate control, rear view camera, seven-inch digital instrumentation o eight-inch touch multimedia display that integrates the Toyota Touch 2 infotainment system.
And as for the assistance systems Toyota Safety Sense, this version includes without surcharge automatic emergency braking with detection of vehicles, pedestrians (day and night) and cyclists (day).
For his part, Style It is offered with 18-inch two-tone wheels, darkened rear windows, two-zone climate control, wireless charging for mobile devices and the nine inch multimedia screen that integrates the new Sistema Multimedia Toyota Smart Connect, equipped with a wireless connection for Apple CarPlay and Android Auto or the Smart Parking function (shows the availability of places in the street or parking lots).
However, if you add the Style Plus package, you get a panoramic roof, blind spot detector, parking sensors with active braking or the 10 inch head-up display that is projected onto the windshield.
The top of the range is represented by the Premiere Edition, which comes standard with the hands-free opening tailgate, front and rear parking sensors, sistema de audio premium JBL or the rear traffic alert with automatic braking, in addition to the larger multimedia screen or the head-up display, among others.
Other assistance systems are also available such as intelligent adaptive cruise control, traffic signal detector, active lane keeping assistant or intelligent high-beam control.
All prices for Spain of the Toyota Yaris Cross
The Toyota Yaris Cross ranges from 25.750 euros of Active Tech and 33.700 euros of the Premiere Edition, although at its launch it enjoys discounts from between 2,400 and 3,400 euros that leave it at 23,350 euros and 30,300 euros respectively.
In addition, if you adhere to the program Toyota Easy Plus con el Active Tech, which allows you to keep the car or return it or change it after four years and includes warranty and maintenance, enjoy more bonuses.
Thus, its price is set at 22,000 euros, being the monthly fee of 185 euros (48 months). This option requires an entry of 6,079 euros and a final of 11,151 euros if we keep the car.
For their part, acabados Business Plus, 24,000 euros or 25,750 euros with a browser, as they are focused on company fleets, they do not include discounts, but they are offered with the renting all inclusive KINTO One, which sets a monthly fee of 279 euros, to which must be added the VAT.
| | p.v.p | discount | price with discount |
| --- | --- | --- | --- |
| YARIS CROSS 120H Active Tech | 25.750 euros | 2.400 euros | 23.350 euros |
| YARIS CROSS 120H ACTIVE TECH P. Confort | 27.500 euros | 2.400 euros | 25.100 euros |
| YARIS CROSS 120H Style | 27.750 euros | 3.400 euros | 24.350 euros |
| YARIS CROSS 120H STYLE Bi-Tono | 28.650 euros | 3.400 euros | 25.250 euros |
| YARIS CROSS 120H STYLE Plus | 29.500 euros | 3.400 euros | 26.100 euros |
| YARIS CROSS 120H Adventure | 31.000 euros | 3.400 euros | 27.600 euros |
| YARIS CROSS 120H Premiere Edition | 33.700 euros | 3.400 euros | 30.300 euros |
| YARIS CROSS 120H Business Plus | 24.000 euros | – | 24.000 euros |
| YARIS CROSS 120H BUSINESS PLUS navi | 25.750 euros | – | 25.750 euros |
In Motorpasión | We tested the Kia XCeed 1.6 PHEV, a plug-in hybrid car with an ace up its sleeve in addition to its design | We tested the Hyundai Kona 1.6 HEV hybrid, an efficient and comfortable SUV |