News
Nubia presents new smartwatch and several gadgets perfect for Gaming
ZTE today introduced the new generation of gaming products with the star of the event being the Red Magic 6S Pro smartphone, a colossal gaming phone with incredible specs. It was also there that we got to know the Red Magic Watch Vitality Edition smartwatch. The design is elegant and the product is full of features!
But there is even more to be known! The Chinese manufacturer also unveiled several new accessories dedicated to games, among other peripherals. So if you're looking for new gaming gadgets, or custom skins, enjoy this article.
Nubia surprised the world today with the new Red Magic products
In addition to the new smartphones, Nubia introduced us to the new smart watch. It was dubbed Red Magic Watch Vitality Edition and is the second smartwatch to be launched by the Chinese manufacturer after introducing the first generation in early 2021.
The new Red Magic Watch Vitality Edition is lighter, more compact (smaller dimensions), and cheaper. So, for those who are looking for a new smartwatch and looking for a solution at a good price, this new edition will be something to consider.
Among its highlights we point out, for example, the round format with full screen, as well as the metallic construction. It is a good option for those looking for a smartwatch for sports, being available in China in black and white (silver).
Nubia Red Magic Masks, T-Shirts and Collectibles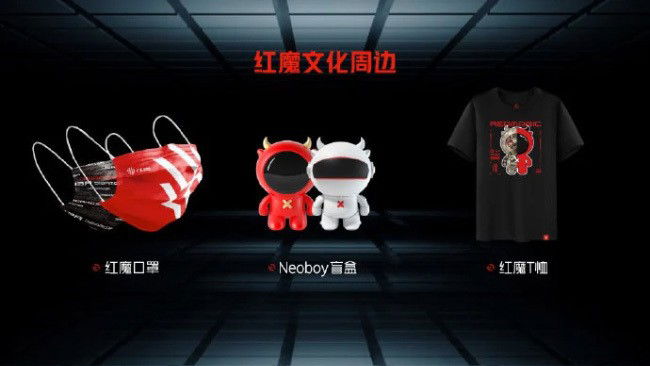 The watch also has two buttons on its side and, above all, it is cheaper than the Red Magic Watch (1st generation). The new watch has a 1.19-inch circular screen, AMOLED technology with AOD (Always On Display). It weighs 23 grams.
This smartwatch (smartwatch) has several sensors capable of tracking and recording the user's physical activity metrics. It is equipped with a conventional range of activity sensors, as well as support for various modalities.
Among these metrics we highlight sleep monitoring, various sport modes and heart rate sensor.
There are new products and gaming gadgets from Red Magic
Nubia also took the opportunity to renew its range of accessories, gadgets and other products dedicated to gaming. We have, for example, new themed T-Shirts, costumes and collectible dolls, as well as personalized protective masks.
There's also a new magnetic powerbank branded Red Magic, for charging mobile devices without the need for connecting cables. The design of this product is inspired by the "Minions" and has a considerable capacity of 10 000 mAh.
Various fast chargers and more gaming products
Nubia also unveiled a new fast charger with four ports and up to 65 W of power with GaN3 (gallium nitride) technology. It is a fast, compact charger that heats up little thanks to the use of this new element.
Likewise, we got to know other chargers with 20W and 30W of power to meet the needs of consumers. In addition, we also have a new Red Magic G1 Controller controller or controller.
Finally, the public sale price of these new products and gaming gadgets has not yet been released by the manufacturer. However, we are counting on the availability of this information, as well as the availability of the products to be revealed soon.
As soon as such information becomes available, we will also report it on 4gnews.
4gnews editors recommend: